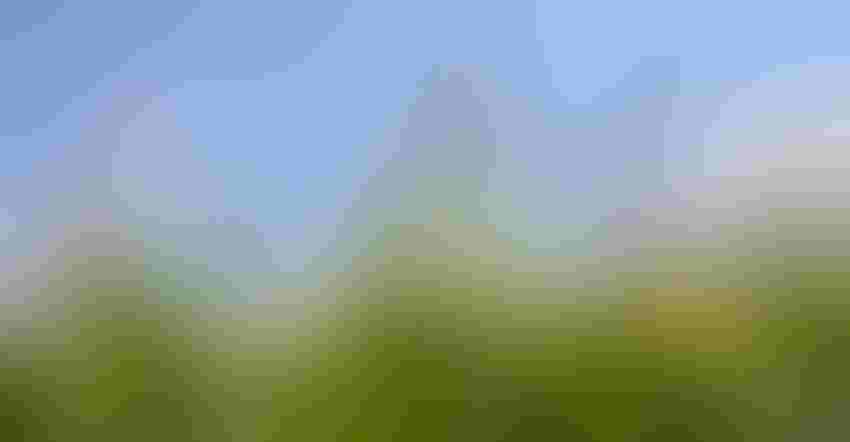 MORE CORN, LESS APPLIED N: A biological product from startup Pivot Bio is producing a consistent corn yield increase across a wide range of field and soil types. It helps boost available nitrogen to the crop.
Willie Vogt
The rash of ag startups in the past five years often feels like a wide range of solutions looking for a problem. Yet there's one area where diverse thinking is hard at work to find a solution — boosting nitrogen availability to corn. There are many ways companies are tackling the opportunity; and after field testing, they're reporting results.
Pivot Bio has developed a biological product called Proven designed to help corn obtain nitrogen by adhering to the roots of the plant. And in 2019 — a challenging year to be sure — the company reports a 5.8- to 6-bushel-per-acre yield boost over fields treated with synthetic nitrogen alone.
"Most of us don't want to relive 2019. It was a challenging year, to say the least," says Daniel Poston, director of agronomy, Pivot Bio. "This was a year we were trying to characterize the microbe; and you've got growers that are struggling to get crops in the field, test products, and they hang in there with you."
And hang in they did, as the company was able to draw information from 14 states and six major land-grant universities. The result was 5 million data points of information to review performance of the biological product over a variety of fields, soil types and growing conditions.
Poston visited nearly 200 grower locations, and in his tests, he found that the microbe was present in the root zone — an important test for a bio-based product. "It was doing what it was supposed to do," he says.
Those visits showed test fields with visible differences, versus non-treated areas including taller plants and greener plants; those plants also had larger roots. "We found that the plants were 21% larger and that there was, on average, 38 pounds of nitrogen in the plants," he says. That presence was higher than the nitrogen available on non-treated fields at a time when the plant can use that boost.
And while yield matters with any input, the Pivot Bio Proven product has another benefit: the ability to reduce use of added nitrogen to the crop. In addition, the nitrogen provided to the crop stays in the root zone, reducing the potential for leaching away from the farm.
Farmer insight
Scott Henry, LongView Farms, Nevada, Iowa, was part of the 2019 test group, but his goal wasn't as focused on yield as it was on nitrogen availability. "Our vision — and our goal — was to look at how we could manage nitrogen use in our crop," he says.
Nitrogen use has been a hot topic in Iowa, with lawsuits and concern about runoff. Henry, who is a fourth-generation farmer, is involved in raising seed corn and interested in the stewardship potential for Pivot Bio Proven. "This is one of the tools in the toolbox to reduce our reliance on synthetic nitrogen, using what occurs naturally in the environment," he says. "This could give us a more sustainable footprint."
Henry notes he was happy with what he saw in 2019, and he is planning on expanding use of Pivot Bio Proven to whole-farm, corn-on-corn acres. "We're really excited about the product, and we want to encourage other growers as well," he says. "We need more wins in this area — in row crop production."
The price for Pivot Bio Proven is about $20 per acre, which technically isn't covered by the 6-bushel-per-acre yield bump, but Henry notes you need to consider the nitrogen benefit when doing the cost calculation for the product. If you're getting 38 pounds of nitrogen at the plant and can reduce your added N application, this must be included in the return on investment calculations.
Henry notes that his farm's experience was on the lower end of the added-nitrogen benefit at about 20 pounds, but it was still a measurable difference.
Pivot Bio Proven is available for farmers in 2020. You can learn more at pivotbio.com.
About the Author(s)
Subscribe to receive top agriculture news
Be informed daily with these free e-newsletters
You May Also Like
---