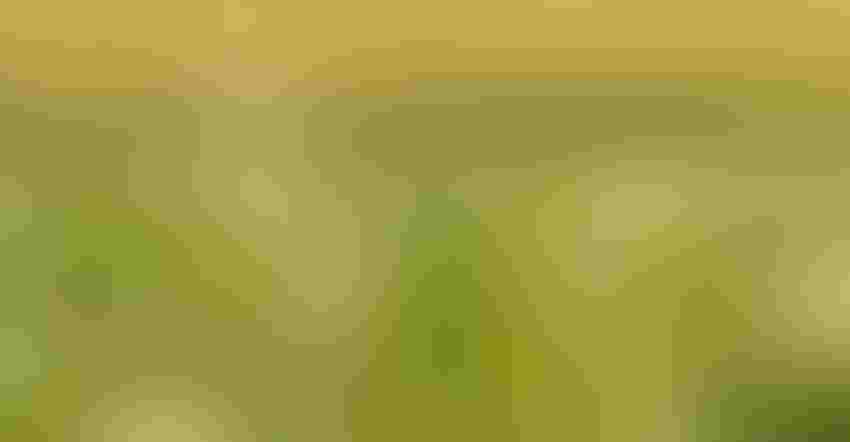 txking/iStock/GettyImages
Large U.S. ending corn stocks could swell even larger this fall, and not just because of increased yields. A bumper crop combined with diminished demand due to the pandemic could boost new crop ending U.S. stocks to the highest level in 33 years.
A new farmer survey by Farm Futures found 2020 corn yield projections to increase 11.5 bushels per acre from 2019 to 178.9 bpa.
Dry growing conditions intensified in some regions this summer, but with 72% of corn rated good or excellent in the Aug. 3 Crop Progress report, it appears that 2020 production will likely continue along trendline forecasts.
Based on updated acreage estimates from USDA's June 30 Acreage report, Farm Futures' 2020 corn yield estimate would raise 2020 corn production to 15.032 billion bushels, 32 million bushels higher than July 2020 WASDE estimates. While 2020/21 ending corn stocks would likely rise to 2.68 billion bushels in the U.S. – the largest volume since 1987 - it raises downside price potential if demand remains stifled amidst the coronavirus pandemic and increases 2019/20 ending stocks.
Old crop corn demand has evaporated by 435 million bushels due to reduced livestock and ethanol demand in the wake of the coronavirus pandemic, leaving many bushels in storage bins around the country. Of the 34% of Farm Futures survey respondents with 2019 corn stocks left in storage, an estimated 27% of those old crop bushels remained in bins as of mid to late July.
USDA's Quarterly Stocks report reflected slowing demand and growing corn supplies. June 1, 2020 corn inventories across the U.S. totaled 5.2 billion bushels – the third largest third quarter stockpile on record. The third quarter usage rate for 2020 turned in the smallest volume since Q3 of the 2011/12 marketing year.
Soybean yields inch up
Soybean yield prospects are also more favorable than last year. Growers in Farm Futures' survey estimated 2020 yields at 51.0 bpa, up 3.6 bpa from 2019. If realized, that would put 2020 soybean production at 4.233 billion bushels, 98 million bushels higher than July 2020 WASDE projections and 19% higher than 2019 production.
Soybeans have weathered the summer's hot and dry weather slightly better than corn. In the latest Crop Progress report from USDA, 73% of the nation's soybean crop was rated good or excellent.
The new 2020/21 crop year is expected to bring record demand to the soy complex, and it will be necessary to use existing stocks. New crop demand is currently forecasted 489 million bushels higher than 2019/20 usage rates at 4.35 billion bushels – a record high, if realized.
But low export demand in the pandemic-riddled 2019/20 marketing year, amid escalating tensions with China, will likely send old crop domestic ending stocks to their second-highest volume on record.
Over one-fifth of survey respondents reported having old crop soybeans left in storage in mid to late July despite a steady flow of cash sales as farmers empty bins in preparation for harvest. Those who still had beans had an average of 34% of old crop bushels in storage at the time of the survey. Third quarter soybean stocks as of June 1, 2020 mirrored this farmer sentiment, with quarterly volumes at nearly 1.4 billion bushels reaching the second-highest level on record.
Large ending stocks overshadow wheat production
Farm Futures survey respondents expect to see a 1.8 bpa drop in wheat yields in 2020 after dry growing conditions plagued the Southern Plains. Growers in the survey estimate cumulative 2020 wheat yields to top out at 49.9 bpa across the U.S.
Farm Futures' estimates are slightly higher than current USDA yield projections by 0.2 of a bushel. But with early harvest test weights from the Southern Plains and Midwest trending slightly above 2019 averages, a sub-50 bpa yield projection from USDA in next week's Crop Progress report may not be surprising.
Very few survey respondents reported having 2019 wheat crop left in bins – a mere 7% of survey respondents. But of that 7%, the average crop on hand totaled 65% of 2019 production. This is consistent with 2019/20 ending stocks, which are slated to end at 1.044 billion bushels, or 54% of 2019 production.
Farm Futures surveyed 1,044 respondents on July 14-27 via an email questionnaire.
Subscribe to receive top agriculture news
Be informed daily with these free e-newsletters
You May Also Like
---