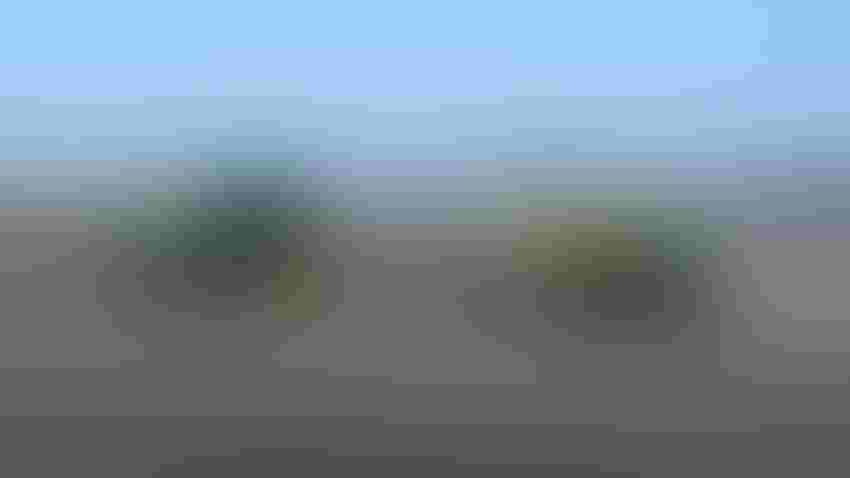 GOOD WEATHER: Iowa's spring weather conditions have helped farmers work ahead of schedule in the fields.
Jennifer Carrico
Forecasters are expecting an El Niño weather pattern to be seen in the Midwest by the end of summer and last throughout the winter, which will cause different weather than has been seen the past few winters when La Niña was present, according to Dennis Todey, director of USDA's Midwest Climate Hub.
"Since the inception of the drought calendar, nearly every year there has been a drought somewhere in the Corn Belt. There is talk of the 89-year drought cycle, and you can peg that since there's always drought somewhere," Todey says.
Current conditions
The current conditions in Iowa show most of Iowa's weather stations reporting deficits of at least an inch of precipitation, with northeast and southwest being slightly wetter, according to Justin Glisan, Iowa's state climatologist. While planting activities are nearing an end, the cooler- and drier-than-normal weather has helped farmers get closer to completion.
Topsoil moisture conditions show 5% at very short, 20% at short, 71% at adequate and 4% surplus. Subsoil moisture is rated at 7% very short, 25% short, 65% adequate and 3% surplus.
"While it seems that Iowa has been getting adequate rainfall, since the water year started Oct. 1 — even with the amount of snow we had — Iowa is mostly below normal for moisture," Todey says. "Minnesota and Wisconsin are the wettest states in our area, and Nebraska and Kansas are very dry. Winter wheat isn't doing well because of the drought."
Several parts of the High Plains and Midwest still show drought conditions. Todey says Iowa has been in some type of drought since the summer of 2020. The U.S. Drought Monitor for Iowa, released May 25, shows two counties in D3, extreme drought; parts of four counties in D2, severe drought; portions of 35 counties in D1, moderate drought; and 64 counties are partly or completely in D0, abnormally dry conditions.
Longer-term weather
He says in the longer term, the national climate assessment says peak precipitation for 2023 will be in June, with a drier shift into midsummer. The current status is neutral, trending toward the El Niño weather pattern.
"We will likely see El Niño by the end of the summer and continuing into the fall and winter months," Todey says. "The warmer-than-average temperatures in late May should help promote root development in crops."
Almost all of Iowa's corn crop has been planted, with nearly 70% emerged as of May 21, which is close to a week ahead of last year. On the soybean side, 84% of the crop has been planted, with half emerged, which is just over a week ahead of last year nearly two weeks ahead of normal.
Farmers are taking advantage of the nice weather and starting to cut the state's first hay crop of the season, with 8% complete. Hay conditions are 66% good to excellent due to early spring moisture. Pasture conditions are rated 58% good to excellent, with livestock being turned out to grass according to the Iowa Department of Agriculture and Land Stewardship.
Todey says when switching to El Niño, a more moderate summer is likely, with longer-term drought in some areas and a moderate to good growing season for crops. For more information from the Midwest Climate Hub, visit climatehubs.usda.gov/hubs/midwest.
Subscribe to receive top agriculture news
Be informed daily with these free e-newsletters
You May Also Like
---