Education programs seek to woo young people to timber industry
Education programs seek to woo young people to timber industry
A series of in-woods logging demonstrations for elementary through high school students is among several programs the timber industry is using to try to attract the next generation of loggers.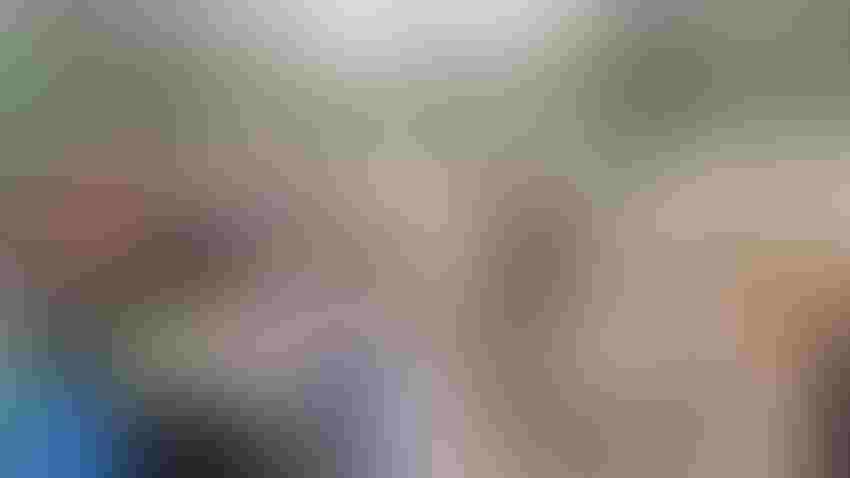 Standing in front, Dennis Garrison (left) of Sierra Pacific Industries and Jim Antos of Creekside Logging talk to fourth-graders from Happy Valley (Calif.) Elementary School.
Fourth-generation logger Loren German knew since he was a young boy that he wanted to work in the woods. But he had one piece of advice for a gaggle of third-graders who had gathered around his feller buncher to learn how it works.
"Learn computers," he told the class from Columbia Elementary School near Redding, Calif. "At the age of 30, I had to learn computers, and it's harder when you're older."
German, who works for Creekside Logging Co., in Redding, was among 16 industry pros who recently provided a unique field trip for Northern California schoolchildren – an inside look at an actual logging operation. About 800 kids from elementary through high school made the trek May 1-2 to a Sierra Pacific Industries-managed timber site near Viola, about 40 miles east of Redding.
The outing is hosted each year by organizers of the Sierra Cascade Logging Conference, which is held in Anderson, Calif., in February. Students go from station to station watching various pieces of equipment in action and learning what they are, and they're also taught about such efforts as water quality control, fire prevention and forest replanting.
Education efforts
The field trip is one of numerous events throughout the year aimed at attracting the next generation of workers to an industry whose labor force is aging. The trips to the woods also help students – and their teachers – "understand it's not what environmentalists say it is," says Larry Strawn, owner of Blue Ridge Forest Management and an organizer of the field day. "It's a managed forest."
Many of the education events are part of the logging conference itself. While a keynote speaker is entertaining attendees at a kickoff breakfast on the first day, about 800 students – mostly fourth-graders – tour the conference's heavy equipment exposition at the Shasta District Fairgrounds. In addition, students from area community colleges and universities take part in logging sports competitions, and several local colleges have booths at the conference trade show.
Also at the conference, FFA students engage in a competition centered on the timber industry. They are tested in map reading, compass use, determining the volume of logs, identifying tree species and calculating acreage – all skills they would need in the field. The conference also holds an art auction to raise funds for education programs.
And in recent years, Sierra Pacific Industries has sent teams to fairs, schools and other venues to lead a game based on the TV show, "Who Wants to Be a Millionaire," that teaches participants about all the different products made from wood.
Teaching teachers
Meanwhile, a summer program geared to teachers has had over 2,600 graduates since 1993. The Forestry Institute for Teachers, developed by the UC Cooperative Extension, other educational institutions and industry groups, provides training that examines current forestry issues while following Common Core and Next Generation Science Standards, according to its website.
The week-long, in-woods workshops provide tools for teaching about forest ecology and forest resource management practices. The teachers pay a $25 registration fee and cover their own travel costs and are provided with meals, lodging and educational materials, according to a brochure.
"The big thing with teachers is the multiplication factor," as each class has as many as 30 students, says Mike DeLasaux, a UCCE natural resources advisor in Quincy, Calif. "Today teachers are being encouraged to change the way they approach science … This gives them the tools to do that."
This year's training sessions will be held June 10-16 at a UC forestry camp near Quincy; June 17-23 at the Sierra Outdoor School in Sonora, Calif.; July 1-7 at Camp McCumber near Shingletown, Calif.; and July 8-14 at Humboldt State University in Arcata, Calif. Visit www.forestryinstitute.org for details.
Growing popularity
The in-woods demonstration for youngsters started about 20 years ago with a few hundred students and has grown in popularity and numbers as teachers have become more enthusiastic about it, Strawn said.
Linda Hellmer, who teaches fourth grade at Happy Valley Elementary School near Redding, has been bringing her class for about five years. She was skeptical at first because of safety concerns, she says, but she was reassured by all the organizers' safety precautions and has grown to appreciate the lessons.
"It gets them excited," she says of her students. "It gives them more information about the timber industry and how it all relates to the biology around it. It all has to be symbiotic."
A few years ago, organizers expanded the logging site tour from one day to two, with the second day geared to high school students and focusing more on careers. Presenters stress the industry's technological advancements as a way to woo tech-savvy youngsters looking for jobs in computers, noting that the new technology makes the work safer while such amenities as cabin air conditioning enhance working conditions.
"There are so many career opportunities out here, and that's what we're showing the kids today," says Delbert Gannon, owner of Creekside Logging.
Another field day
The event's popularity has led to a spinoff. On May 10, about 250 high school students from El Dorado County were to attend a similar program in the University of California-Berkeley's Blodgett Forest in Georgetown, Calif., where presentations were to include forest practice rules, forest safety, carbon benefits and regeneration.
"We have members who wanted to have this show in their region," says Ted James, a forest manager for Sierra Pacific and a past president of the logging conference. The conference's membership stretches from the Oregon state line to the Fresno area, he explains.
For both the Viola and Georgetown events, the conference provides transportation funding to participating schools.
"We're trying to run it at no cost to the school," James says.
All the education efforts are becoming more crucial "as folks get detached from the forest," he said. "We bring kids and their teachers and parents out to show them what is happening in the forest. For high school students, we're really showing them there is a lot of technology in the industry."
So are all these efforts succeeding in bringing new workers to the industry? Organizers say they are.
"I hired a guy three years ago who came through here," Gannon, of Creekside Logging, said of the field day. "He went to it for several years."
Subscribe to receive top agriculture news
Be informed daily with these free e-newsletters
You May Also Like
---