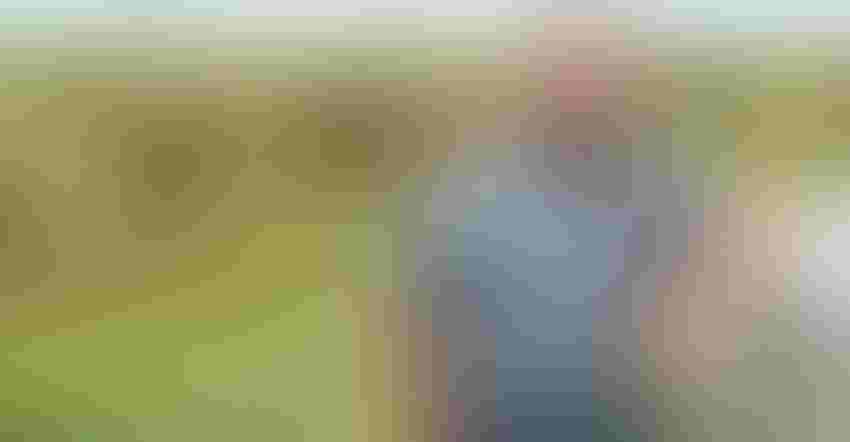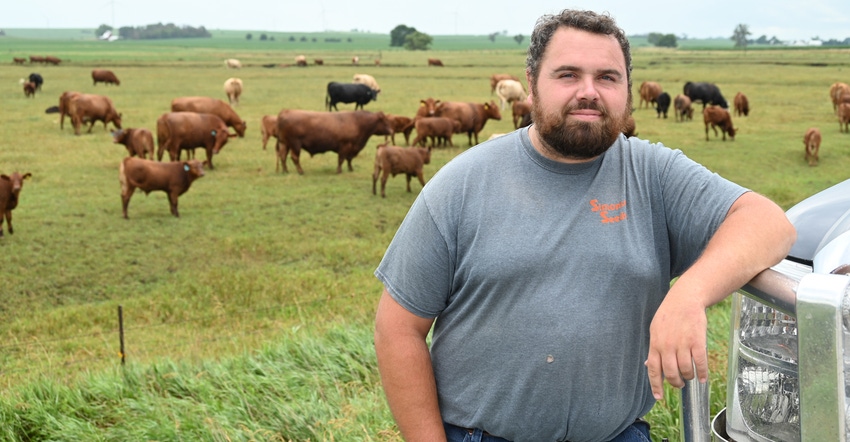 SHORT PASTURES: Rain is needed at Adam Glienke's pastures to help the regrowth of grass, which has been short for the past two years due to drought conditions in Cherokee County, Iowa.
Photos by Jennifer Carrico
Every farmer's worst fear is drought or a similar natural disaster. Dealing with drought when you are both a crop and livestock farmer can really be a double whammy.
Cherokee County, Iowa, farmer Adam Glienke has dealt with drought the past two years.
"I'd say this year, the drought has started off worse than last year, because we didn't have much moisture to start with this year," Glienke says. "In the spring of 2021, we were coming off more winter snow moisture. The cool spring this year set everything behind about two weeks, and that has continued with making hay and crop pollination."
Drought conditions
Several areas of northwest Iowa are suffering from drought conditions, with parts of Cherokee, Woodbury and Plymouth counties all being targeted as D3, extreme drought, on the U.S. Drought Monitor released July 7. Severe drought conditions (D2) extend out into more of northwest Iowa, and dry conditions are seen locally throughout the state.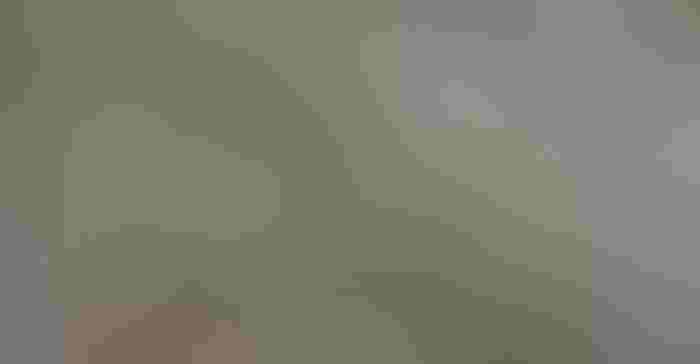 The same area of the state shows 18% of the soils are very short on subsoil moisture, and 27% short on subsoil moisture, with 10% very short on topsoil moisture and 34% short on topsoil moisture as of the July 10 USDA Report. Farmers and livestock producers have dealt with these conditions over the past two years and hope moisture comes to relieve their stresses. The only other areas with close to these kinds of drought measures are local southeast Iowa sites.
Glienke says the fields he has seen hit the hardest from the dry conditions are where he had cows out on cover crops after calving until the end of May when he moved them to pasture. He says the one field with extreme cupping of soybean leaves is likely a combination of drought and could be due to dicamba drift from surrounding fields.
"The low humidity we had the end of June and first week of July, may feel good to people and livestock, but it has sure done a number on our crops and has sucked the moisture right out of them," he adds. Leaves on corn roll to protect as much moisture as possible. Good rainfalls will be needed to prevent long-term damage to the crops.
Livestock feed not suffering as much
The lower humidity has helped with haymaking in the area, as the time hay must sit after cutting is reduced considerably. Glienke chose to chop his first crop of alfalfa due to the unpredictability of rain in the forecast.
"We can't afford to lose quality on our hay crop, especially during dry times. Our second crop looks to be growing back, and we hope to have a decent harvest," he says. The hay crop, along with last fall's silage crop, has provided adequate tonnage for feeding his cow herd. Pasture is the challenge for Glienke, as he must travel up to 30 miles to find enough pasture for his cows. Timely rains in the areas of his pastures after the Fourth of July have helped grass growth. He hopes the rains continue, so he will be able to leave cows on grass until after he pregnancy-checks cows, weans calves and pulls bulls the first part of September.
"I hate having to put cows on drylot — but if the grass is gone, I do have that option," Glienke says. "Calves have access to creep-feed, and I also have liquid protein tanks for the cattle to consume, with hopes that will help extend the pasture."
A good combination of moisture, heat and humidity will help the crops as they move into the pollination stage. Glienke thinks he will be OK by harvesttime if the weather cooperates more than it has in the past year.  
About the Author(s)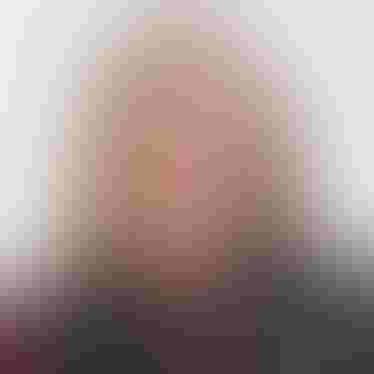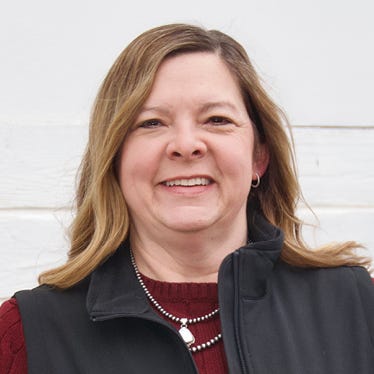 Jennifer lives on a farm near Redfield, Iowa, where she runs a small cow-calf operation with her family. A 20-plus year ag journalism veteran, Jennifer has covered a wide range of agriculture issues. A graduate of Iowa State University, she has worked for local daily papers and other agriculture publishers. She came to Wallaces Farmer from the Iowa Cattlemen's Association. She enjoys writing, managing cattle, and hearing and telling farmer stories.
Jennifer has two children. Kassidy, 21, attends Black Hawk East College, but will transfer in the fall to Oklahoma State University. Son, Klayton, attends Panorama High School where he excels in academics, sports, FFA and 4-H.
"My favorite part of being an ag journalist is to tell the story of the farmer and rancher," she says. "The farmer and rancher do the work to make the food, fiber and fuel for everyone. I want to use our online presence to broaden that message to those off the farm."
Subscribe to receive top agriculture news
Be informed daily with these free e-newsletters
You May Also Like
---