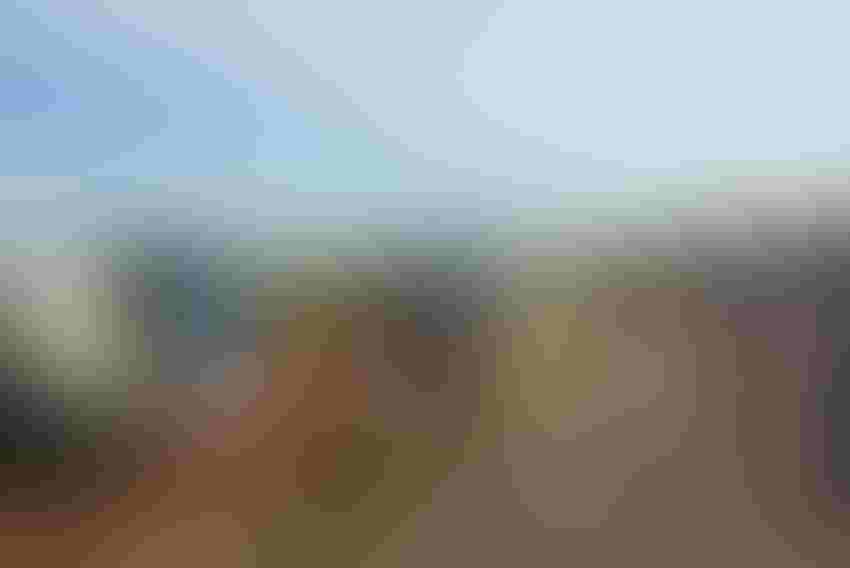 What happens when you inject a cotton plant with a tomato gene? Is it possible to develop value-added traits in sorghum that will make it more marketable to ethanol plants? Are there alternatives to treating livestock with antibiotics?
Experiments to test and answer the above questions and many others were on display for growers, researchers and the general public, at a field day hosted by the USDA-ARS Cropping Systems Research Laboratory, at Lubbock, Texas, August 7. The lab's first field day began with a tour of the CSRL farm, where USDA scientists explained various experiments, and gave attendees an opportunity to ask questions.
In one of the field experiments, Dr. Dennis Gitz discussed a cotton experiment where a tomato gene, which controls sugar metabolism, has been inserted into cotton to test its effect on yield and water use efficiency. Thus far, the study has shown cotton plants with this tomato gene continued to grow and produce fiber under drought conditions where normal plants had stopped growing, according to Gitz. Over the course of a preliminary small-scale pilot study, cotton yield was increased by over 50 percent.
The Lubbock field trial is being conducted to confirm these findings. "We are measuring things like developmental time, leaf area growth and, ultimately, yield," Gitz explains. "I'm excited about it. We'll see what happens at the end of the season."
Sorghum
In sorghum, USDA-ARS Research Geneticist Dr. Chad Hayes discussed how devastating the sugarcane aphid has been to U.S. sorghum and how breeders are working to develop, not only, resistant hybrids but hybrids adapted to diverse places in the U.S. 
See, Images highlighting USDA-ARS Cropping Systems Research Lab Field Day
"We're developing sugarcane aphid tolerant hybrids here which are adapted to the High Plains of Texas and also western Kansas. The seed generated from here, will be hybrid seed we'll test next summer for sugarcane resistance, yield, agronomics — everything important for sorghum production."
Experiments are also underway to identify value-added traits in sorghum. "We're trying to develop hybrids with a higher percentage of amylose pectin starch, that's the way the starch molecules are stacked together. And the reason we want to do this is because if we have these waxy hybrids and we take them to an ethanol plant, they are digested much more easily by the ethanol plant, and end up making more money, more return," says Hayes. 
Afternoon sessions
CSRL's first field-day concluded with presentations from CSRL scientists such as Dr. Veronica Acosta-Martinez, who discussed how soil health can improve production on the southern High Plains, along with Animal Scientist Dr. Rand Broadway, who described what the Livestock Issue Research Unit is and the type of research underway at the unit.
"One of the areas we're working on in livestock issues, is finding alternatives to animal antibiotics, that not only improve animal health and performance, but will also have a positive impact on food safety. Some of the things we are looking at are bacterial and yeast probiotics and prebiotics that have the ability to fight some of these pathogens to improve animal health while simultaneously enhancing food safety," says Broadway.
Agricultural Engineer Dr. Matthew Pelletier addressed the crowd about the issue of plastic contamination in cotton. He says concerns of plastic contamination are contributing to U.S. growers losing a five cents a pound premium compared to most other countries.  
"The marketplace has discounted U.S. cotton in relationship to where it was because we no longer have the reputation for the cleanest cotton in the world," says Pelletier, whose research includes plastic contamination mitigation in cotton processing. "It's been a steady decline over the last eight years, which is when the round moduling systems came online." He says the decline isn't just his opinion but something economists voiced at the National Cotton Council's Plastic Summit in Memphis, TN in May.
Pelletier and his team are working on affordable, effective solutions for growers and gins to identify and reduce contamination.  
Lubbock Lab
Lubbock Agricultural Research Service (ARS):
is the research branch of the USDA

located on the Texas Tech University Campus

conducts its research on its 30-acre farm with seven polyhouses and about 30 wet laboratories 

has 22 full-time PhD scientists, 30 full-time research technicians, and about 60 student technicians

currently runs between 50-60 long-term, high-risk research projects in cotton, sorghum, corn, peanuts and livestock production

collaborates with Texas Tech University and Texas AgriLife Extension on many of its projects
"We do everything from basic molecular biology and molecular genetics to engineering towards sensor development, drone technology and wind erosion, at this facility," says USDA-ARS plant physiologist Dr. Paxton Payton. Additionally, the laboratory includes a gin engineering unit and livestock issues unit near New Deal, Texas.
To those who may have missed the field day, Payton, says they welcome producers, researchers and the general public anytime to visit their Lubbock facility. "This is your tax dollars at work, in terms of agricultural research. If you're curious about what we do, if you want to talk about production ag research, genetic engineering, breeding efforts towards stress tolerance or you want to tour our farm, we are happy to host anyone anytime."
To learn more about the Lubbock CSRL, click here. 
Subscribe to receive top agriculture news
Be informed daily with these free e-newsletters
You May Also Like
---