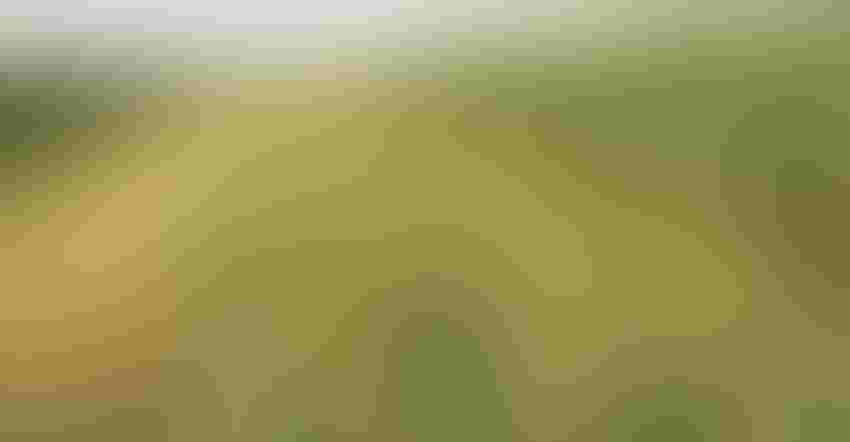 DOUBLE-CROP POTENTIAL: Grain sorghum grows in a plot at the Eastern Nebraska Research and Extension Center near Mead in September.
Alex Rosa
Double-cropping in Nebraska? It's more feasible than you may think, but it doesn't always involve soybeans after winter wheat.
Last year, University of Nebraska Extension planted plots of different cash crops — as well as cover crops — double-cropped after yellow field peas, which were harvested in mid-July.
This includes proso millet, grain sorghum, sunflowers, short-season (70-day) corn, short-season (2.0 maturity) soybeans, forage sorghum and three cover crop mixes — including a single species mix of sudangrass, a winter-sensitive mix and a mix of winter-sensitive and winter-hardy species.
All of these were planted at the Eastern Nebraska Research and Extension Center (ENREC) near Mead.
None of the double crops received any additional inputs — no fertilizer, herbicide, fungicide or insecticide — although the field peas were treated with a preemergence application of Prowl and a postemergence application of Sharpen.
Despite a lack of inputs and a slow start to the growing season, Strahinja Stepanovic, Nebraska Extension educator, notes some double crops yielded surprisingly well.
"We were a little late," Stepanovic says. "We should've been right behind the combine, but we planted about a week later. But it actually worked out well. The proso millet matured first. It yielded as much as the western Nebraska average. It was about 1,725 pounds."
Grain sorghum also yielded well. One hybrid yielded 87 bushels per acre, while another yielded 104 bushels — following 35-bushel-per-acre yellow field peas.
"The idea was to double-crop sorghum, because sorghum has more tolerance to water stress compared to corn," says project lead Alex Rosa, a University of Nebraska-Lincoln Ph.D. student focusing on cropping systems and cover crop management. "That was our concern when we planted late last year. We didn't know how much rain we'd have.
"We didn't have much success with corn, mostly because corn requires more water, and because it needs more growing degree days to mature. Even using a 70-day hybrid, we didn't get the yield we expected. We had a flea beetle problem in corn, and I'm sure that decreased our yields."
While short-season corn yielded 26 bushels per acre, short-season soybeans yielded 15 bushels per acre — likely because of a combination of inadequate growing degree days and flea beetle pressure in corn from an adjacent corn plot.
"With the short amount of time we have, I think proso millet is another crop that can complete the cycle with its growing degree day requirements," Rosa adds. "Growing degree days and water requirements are the main reasons those two crops could work well and consequently outyield corn or soybeans in a double-cropping rotation.
"Another thing we're trying to do is break the disease, insect and weed cycles. Since we're putting a new crop in the system, you're using new modes of action on herbicides, especially with field peas."
Meanwhile, forage sorghum and cover crops such as sudangrass were planted even later — about two to three weeks behind the other crops. However, Rosa notes both sorghum sudangrass and forage sorghum produced plenty of biomass — about 7,000 and 11,000 pounds per acre, respectively.
"If you look at it from the standpoint of a cattle producer, sorghum sudangrass and forage sorghum did very well," Rosa says. "They had much more biomass accumulation than the other cover crops planted after peas. However, we had over 12 cover crop species in the mixes, and they all did very well."
Rosa and Stepanovic are continuing the study this year and plan on making a few adjustments, such as reducing the planting population for short-season double-cropped corn. With a higher planting population of about 40,000 and a final stand count of 37,900 plants per acre, they had issues with shorter cobs and green snap in windy conditions.
They're also hoping to evaluate different aspects of the rotation — including water use by different crops, as well as different soil health benefits.
"That's our next step on that project," Rosa says. "The grain yield and biomass yields were very promising, and now we want to look at the sustainability and profitability of the project. We were relying a lot on the nitrogen that field peas can cycle during their growing season. That's something we want to check with soil samples. We want to see how much the system is actually taking out from the soil, and how much field peas can contribute to those yields for double-cropping."
Subscribe to receive top agriculture news
Be informed daily with these free e-newsletters
You May Also Like
---