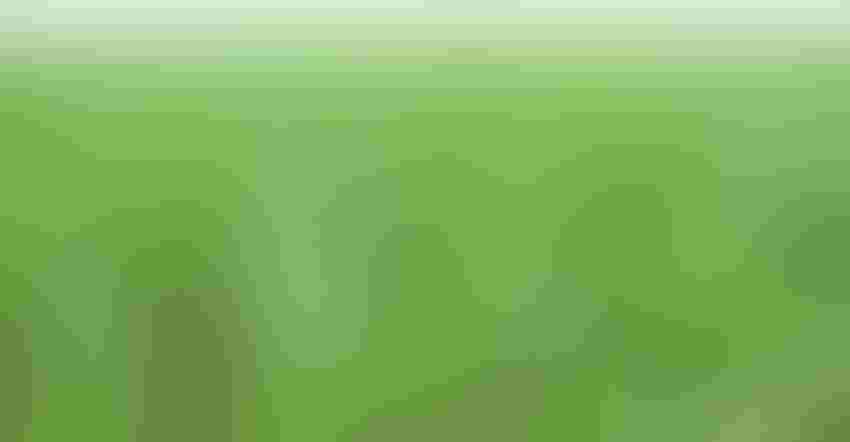 DRY CONDITIONS PERSIST: While there have been some rain events providing some relief for soil moisture reserves, dry conditions persist across much of northern Iowa. However, corn and soybeans were planted in a timely manner — and so far, crops are looking better than expected.
Tyler Harris
Coming off of a year marked by extreme weather events from derecho to drought, the 2021 cropping season got off to a decent start in Iowa. Corn and soybeans across the state were planted in a timely manner. However, soil moisture reserves have quickly been used up, as drought conditions persist across much of the state — especially in northern and central Iowa. Here's a look at how things are shaping up across the state.
Northwest
As of late June, most of the northern part of the state fell under D2, or "severe drought" under the U.S. Drought Monitor. However, Paul Kassel, Iowa State University Extension field agronomist in 10 northwest Iowa counties, notes the corn and soybeans are looking better than expected. However, corn is showing signs of drought and heat stress — and Kassel notes corn plants have shown leaf rolling as early as 9:30 a.m.
"We had a good spring planting season. It's cool and dry, and it was cooler than normal, and a lot of people waited around mid-April to get planted. A lot of fields look pretty good in the grand scheme of things," Kassel says. "We're really short of rainfall in all of my counties. There's a lot of leaf rolling, but it's still not quite as dire as you would think. We do have subsoil moisture. The problem is, we've wasted some subsoil moisture with the hot, dry weather. From mid-April to now we're probably at a 2- to 3- inch moisture deficit."
With hot, windy conditions prevailing for several weeks this summer, Kassel adds that a number of soybean fields are showing signs of herbicide injury. 
"I think the dicamba injury will probably be as bad as ever," he says. "It was bad last year, but we had two days of this kind of weather last year, and had about three weeks of it this year. I think it's mostly from dicamba applied on corn. I think that's going to be an issue."
Northeast
Conditions are similar in northeast Iowa. However, Josh Michel, ISU Extension field agronomist in seven northeast Iowa counties, notes spring was unusually wet and cool for the region.
"It took a long time for seeds to germinate. We had a lot of issues with uneven stands. Things were taking a very long time to get up and going. It was unusually cool, and we had some pretty consistent rains where it kept things wet. Within two to three weeks, it was completely flipped around to where we went from those conditions to unusually hot, and the water completely turned off," Michel says.
"As a result, we have shallow root systems that are trying to find moisture that's no longer there. They don't have the energy reserves they normally would to tap into the moisture that's escaping," he adds. "To make it worse, when it was hot and dry, we had another factor added to the mix — the low humidity levels. With low humidity, it increases the evapotranspiration rate, and those crops are already dealing with high temperatures and limited rainfall."
Thankfully, the region did receive 1 to 1.5 inches of rainfall in mid-June.
"That's going to go a long way, but we need a lot more, because soils were pretty dry. In a lot of areas, that one-and-a-half inches got soaked up quickly," Michel says. "The plants are moving quickly, using a tenth of an inch a day now. If you're using a tenth a day and have only 1 inch to use, you're good for only 1 to 1.5 weeks."
Central
Central Iowa, like much of the state, got off to a good start in spring.
"There were some people that got started early in April because we had a nice window at the beginning of the month. By April 24 and 25, everyone was rolling," says Meaghan Anderson, ISU Extension field agronomist in the region. "Everything was planted in an incredibly timely manner, because soil temperatures were ideal, and weather conditions were right."
However, like counties further north, dry conditions persist in the region.
"In most of my area, we didn't get a lot of rainfall until May, when we had several days of rain in a row. We're still in a deficit, but that rain made a big difference. We have been running a 6- or 7- inch rainfall deficit since April," Anderson says. "Last year, we came into spring with a full soil profile. We were probably less than half of that this spring. It's clear to me we're suffering not only short-term dry conditions, but we're going to live and die by rain this summer, because we don't have the bank of subsoil moisture to draw on like we did last year."
Like other areas further north, Anderson says the hot temperatures and dry conditions have led to leaves rolling earlier in the day. However, she notes recent relief from the heat has helped.
"There have been a lot of herbicide issues this year — specifically carryover issues — likely because of the dry conditions that have persisted," she says. "However, I think overall the crops look pretty good right now, considering all they've been through."
Southwest
For the most part, southwest Iowa has been wetter than counties farther north. Like the rest of the state, however, drier conditions early on made for an ideal planting season.
"We started off in pretty good shape. We were dry over spring, so that allowed guys to get in the field in the early part of April. A lot of it was planted very timely, in dry conditions," says Aaron Saeugling, ISU Extension field agronomist. "We got some rain to get it germinated and going. We had a cool week in May, so that slowed crop progress down a little bit. We got some warmer temperatures at the end of May and beginning of June, and that gave us some heat units. We don't have the leaf rolling some other regions are dealing with, but it is dry."
There was some relief in late June, although this rain event also brought hail to some in the region, although there haven't been reports of severe damage apart from leaf tearing, Saeugling says.
Rainfall, while heavy in some places, has been sporadic across the region. Meanwhile, Saeugling notes the soil moisture profile is running dry in many parts of the southwest, and some rain will be needed to get through the rest of the growing season.
"Some areas in Union County received 3.5 to 4 inches in late June, while parts of Cass and Pottawatomie got 1 to 1.5 inches," he says. "There are small pockets that have missed everything. We're going to need a little rain as we go throughout the growing season."
Southeast
While east-central Iowa has been drier than usual, some parts of the region received ample rainfall earlier on in the season — specifically, parts of southern Washington County.
"While most farmers were able to get in the fields and get crops planted in a timely fashion, there were some farmers in southeast Iowa that struggled to get their crops in because it was actually too wet," says Rebecca Vittetoe, ISU Extension field agronomist in the region.
However, many parts of the region are dealing with persisting dry conditions.
"In mid-June, corn was starting to roll and show stress, even where it had been too wet earlier in the season. The corn roots in the wetter areas didn't have to go down to find the moisture earlier and didn't develop as much, and that's probably why they were showing stress more recently," Vittetoe says. "There have been a few cases of floppy corn, where it's dry in the top part of the soil, and the nodal roots couldn't go down and anchor that plant. So, the corn would flop over."
Parts of the region were also affected by a hailstorm on the weekend of June 19-20, resulting in hail-damaged fields in Benton, Linn, Washington, Keokuk, Wapello, Jefferson and Van Buren counties.
For information on hail damage resources, visit bit.ly/isuhaildamage. 
Subscribe to receive top agriculture news
Be informed daily with these free e-newsletters
You May Also Like
---