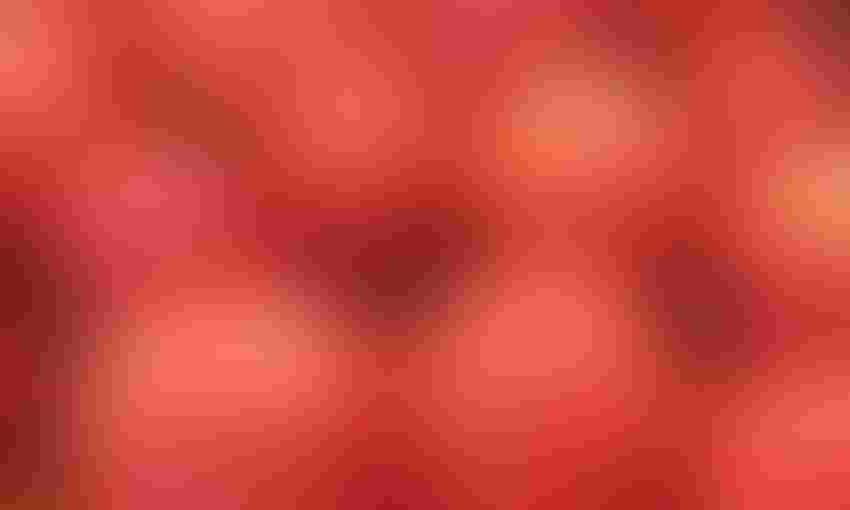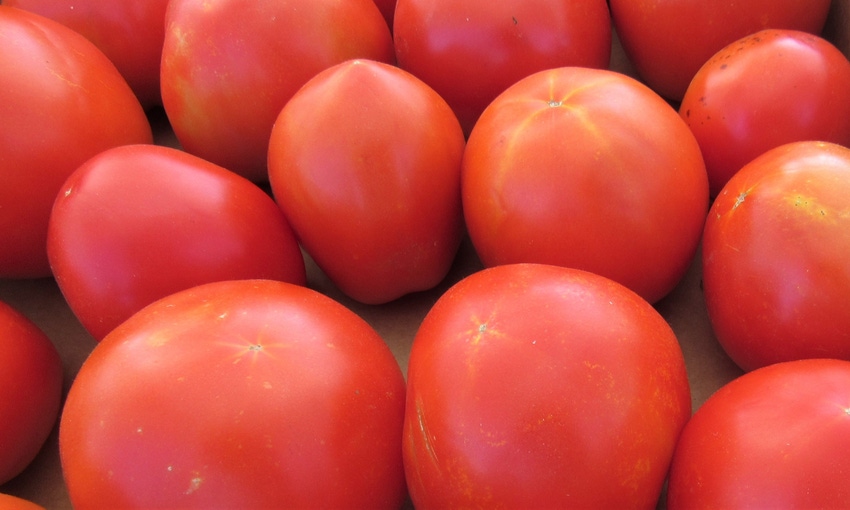 Tomatoes grown in Northern California fill a tray.
Tim Hearden
California's hot summer has affected processing tomato yields, but not to the extent that they won't end up higher than last year's total, a USDA agency predicts.
Contracted production for the state's processing tomatoes is forecast at 11.4 million tons, averaging 49.6 tons per acre, according to the National Agricultural Statistics Service.
That would be a 2.4 percent increase from 2019's contracted production, although it's 5 percent below NASS' May forecast. This year's projected acreage is 230,000, an increase of 1.3 percent compared to last year, according to the agency.
"There were no significant issues with planting, but higher-than-average temperatures through most of summer have lowered expected yields, especially in the early crop," NASS' Pacific Regional Office in Sacramento observed. "Due to a lack of rain this year, water availability continues to be a concern. However, pest and disease pressure was low."
Harvest started slowly in mid-July after inconsistent weather patterns during the growing season, but production caught up by early August. Shipments reported by the Processing Tomato Advisory Board were running about even with 2019 up until record heat and wildfires in late August and early September affected harvest activities and transportation, NASS reported.
Fresno saw triple-digit temperatures in 18 days in August, peaking at 112 on Aug. 16, while Sacramento had a stretch of seven straight triple-digit days in mid-August and reached 109 on Sept. 7, according to the National Weather Service. After a heat wave over Labor Day weekend set records in many areas, temperatures cooled dramatically starting Tuesday.
The processing tomato harvest comes as marketers say the products have sold well during the COVID-19 pandemic, as people are preparing more meals at home, according to the California Farm Bureau Federation.
The tomato estimate is funded each year by the California League of Food Processors, in cooperation with the state Department of Food and Agriculture.
Subscribe to receive top agriculture news
Be informed daily with these free e-newsletters
You May Also Like
---