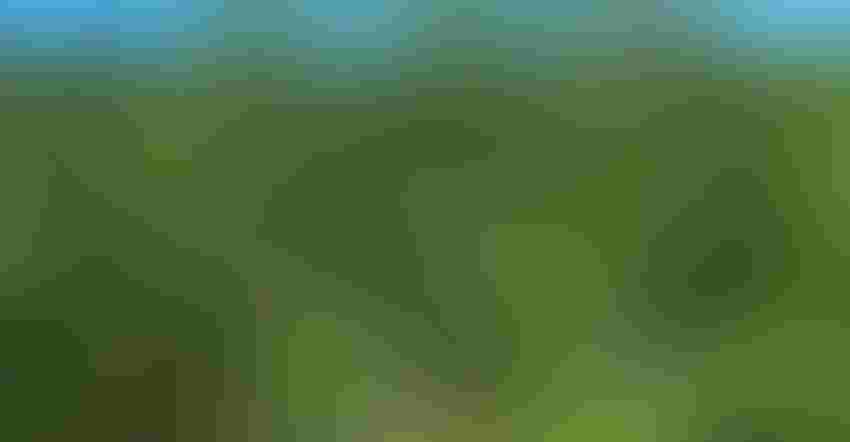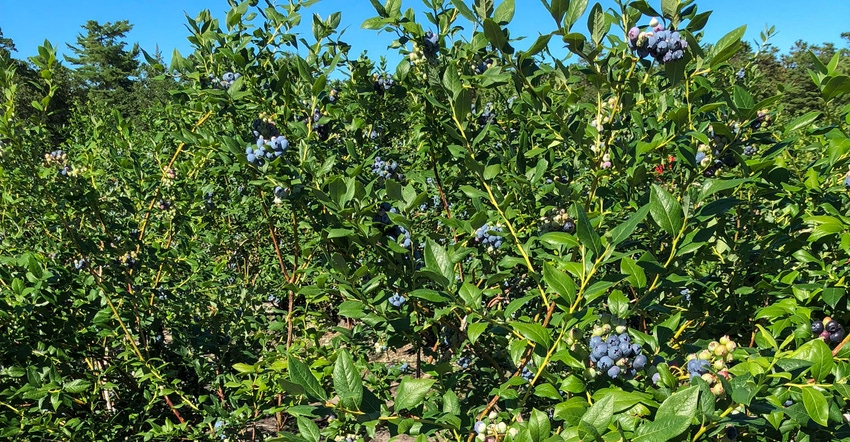 READY FOR PICKING: Blueberries are ready for harvest, such as these blueberries at D.G. Doyle Farms in New Lisbon, N.J. Growers expect a good harvest this season, but concerns over COVID-19 have forced growers to make many changes to their housing and packing operations.
Photo courtesy of Denny Doyle
When it comes to blueberry quality in the Garden State, "Everything is pretty optimistic here," according to Gary Pavlis, agriculture and natural resources agent for Rutgers Cooperative Extension.
When it comes to labor and social distancing due to COVID-19, that's a different story.
"We'll see how they handle the labor situation. Will there be enough labor and how much does this tie their hands?" he asks.
Pavlis says that the relatively mild winter set growers up for a good crop this spring. Then the frosts of late April and early May hit. Early varieties such as Duke were greatly affected with some growers reporting losses of between 10% and 15%.
Cooler temperatures extended flowering and pollination, so harvest has been pushed back this season.
"The cool spring delayed harvest. We are running about a week later than originally expected. We will start around June 18. Crop looks pretty good, there was some patchy frost but otherwise looking like an average crop," according to Art Galletta, sales manager for Atlantic Blueberry Co. in Hammonton, N.J., one of the largest blueberry farms in the state with 1,000 acres.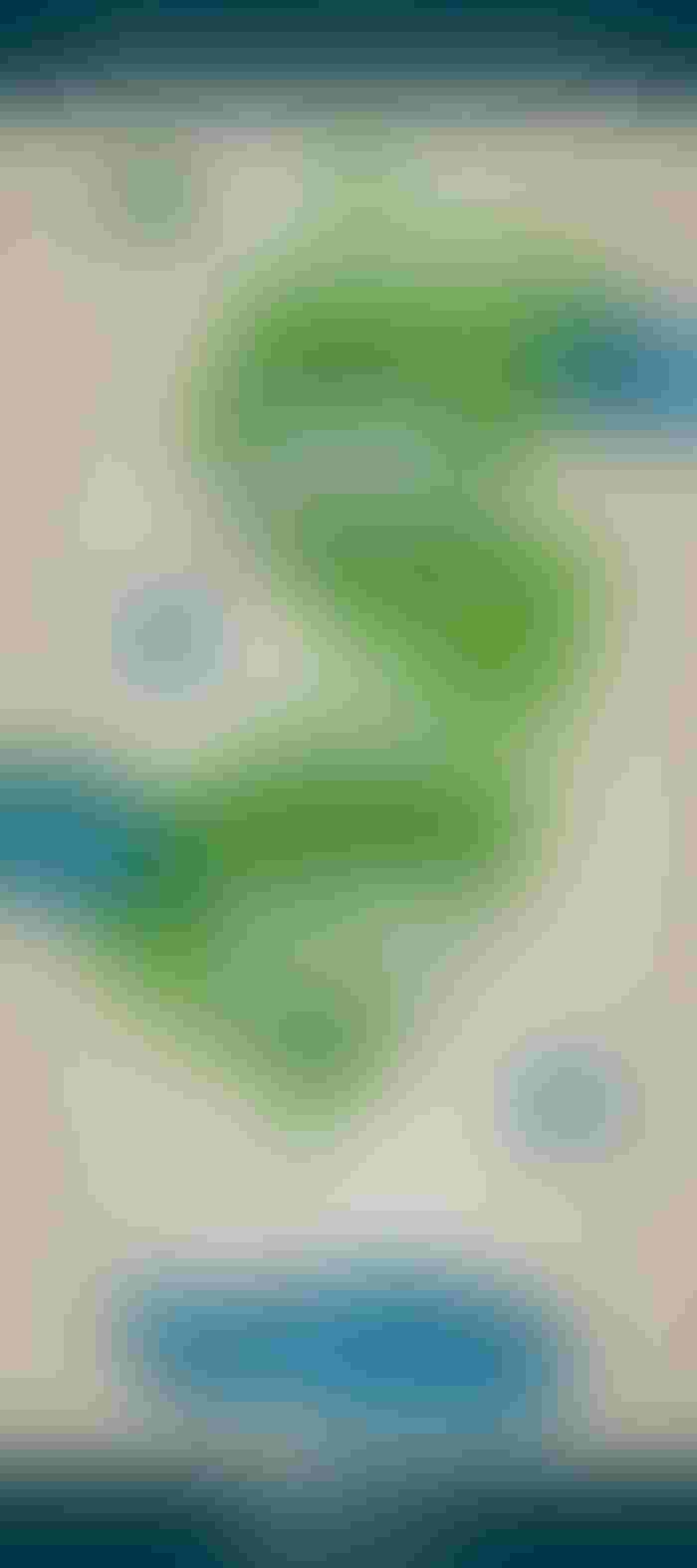 Pavlis says that most growers he's talked to have seen dryer-than-normal conditions, reducing disease pressure. Recent rains, though, have left ruts in fields because of bad drainage. Many growers have had to go back and grate fields to allow trucks in for harvest.
Pickers return
Thousands of pickers migrate to New Jersey each year from Georgia, North Carolina and other locations to pick the more-than-9,000 acres of blueberries in the state, most of which are in Atlantic and Burlington counties. They started arriving this week to start picking early varieties.
These workers live in often packed housing provided by farms and are bussed every day to the fields to pick fruit. On the surface, it seems like the perfect breeding ground for a COVID-19 outbreak.  
The New Jersey Department of Agriculture's COVID-19 guidelines for migrant and seasonal farmworkers, released in May, require 6 feet of space between beds in houses or the installation of a barrier — shower curtain, sheet or other barrier — in spaces where 6 feet isn't possible; staggered bath and meal times to lessen crowding; 50% less capacity on busses; and the requirement that all employers provide masks to their workers.
Denny Doyle, who runs D.G. Doyle Farms in New Lisbon, N.J., and is chairman of both the Good Practices Committee for the U.S. Highbush Blueberry Council and the New Jersey Blueberry Advisory Council, says that growers have been largely proactive in getting ready for the harvest.
Shields have been placed on sorting lines to separate workers, and housing and bus capacities have been cut.
"I would say that most of the work is completed within the packing houses," he says. "It's gotta be understood that we've been doing food safety for 12, 14, 15 years with hairnet and gloves."
Harvesting out in the field won't be much of a problem, he says, because it's outside and there's lots of room to separate people. Extra wash and sanitizing stations have been installed on many farms.  
In houses, if a unit has the capacity to hold 50 people, now it can only hold 25. If busses have capacity to hold 48, they can now only transport 24. Doyle says that many growers have had to purchase extra busses for their workers.
The cost of these extra precautions is "certainly in the thousands of dollars. It certainly is going to be more expensive to do it this way," he says.
But having pickers is crucial to getting the best quality fruit from bushes, and that means more money. Mechanically harvested fruit often goes for processing, which brings $.44 cents a pound compared to $2.15 a pound for fresh market, according to 2019 USDA data.
The machines are getting better; Doyle says they can now sort by color and softness, and many of the largest growers in New Jersey have them in the fields and in packing houses.
"And this allows less people in the packing house, so the technology that's coming our way is really, really big. We've embraced the technology," he says.
Galletta says that Atlantic Blueberry will be getting 500 to 600 pickers this season. Getting the farm's packing lines and houses ready has been a priority.
"This certainly has been the added focus this year. We have installed plexiglass barriers on the production lines, increased sanitation practices, established protocols for masks, social distancing, etc. We are having the employees tested and are monitoring temperatures, etc.," he says. "Production lines already have sanitation practices in place, but we are adding an additional layer to break areas, contact surfaces, etc."
If employees get sick, Galletta says that they have enough mechanical harvesting to get the job done.
"There is a good portion of mechanically harvested fruit that can go to the fresh market, but yields are better when hand-harvested," he says.
Subscribe to receive top agriculture news
Be informed daily with these free e-newsletters
You May Also Like
---