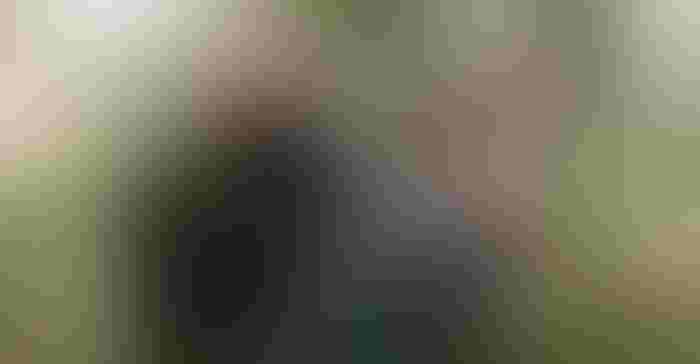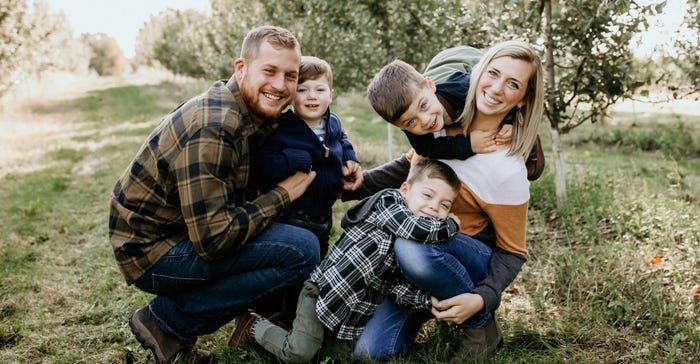 The idea of offering a Community Supported Agriculture program — home delivery service of fresh fruits and vegetables — had been mulled for about four years at Sunny Harvest Farms.
"We wanted to start providing some produce to our local community," says Kyle Froehlich, who farms with his wife, Jessica, in Eau Claire, Mich.
While COVID-19 brought much anguish, it also brought opportunity, as more people were at home eating. "It was a great year for us to start," Kyle says.
The CSA was a way to expand the business, which Kyle started in 2012 after graduating from Central Michigan University. He grew up on a fruit and vegetable farm in Berrien Center and wanted to venture out with his own operation.
"My grandpa was still in farming at that time, but was wanting to get out, so I leased 10 acres of older apple trees and 15 acres of open ground from him and my grandmother," Kyle says.
He went to work building a farming resume by raising a cornucopia of fruits and vegetables that first year. He showed a small profit selling direct to consumers twice a week at two different Chicago farmers markets.
With that first crop in the ground in 2012, a nearby 40-acre farmstead with a house and a barn went up for sale. Kyle's then-fiancée and now wife fell in love with the rustic house, while Kyle saw the potential of the property, although it was run down. The couple closed on it right before Christmas 2012.
Sunny Harvest Farms, which includes a woodlot, now has two high-tech, temperature-controlled 30-by-96-foot greenhouses that Kyle built, which allow their heirloom tomatoes to reach consumers two months before field-grown tomatoes. They are grown hydroponically with using just coconut fiber as a base.
The farm also includes six varieties of high-density apples, peaches and high-density raspberries, along with open ground for vegetables and cut flowers.
"People who saw this place eight years ago wouldn't recognize it now — we're pretty proud of it," Kyle says.
While the older apple trees were borderline profitable, a late frost in 2012 that decimated almost the entire apple crop in Michigan somehow spared several of his trees, meaning the demand would surely drive prices. It looked like a promising start.
Kyle's parents gave him space in their walk-in cooler, "which I was fortunate they let me do," he says.
His hope and ambition were soaring when Mother Nature notched it down a bit. Only two weeks before harvest, the apples he so vehemently cared for were pummeled with hail and had to go into the less-profitable juice market.
"I was so down. I remember my grandpa saying, 'This happens, and it won't be the last time it happens,'" Kyle recalls. "After that year I told myself, if I can get through this year, I can do anything. And we've progressed every year since."
Implementing CSA
The CSA program is a good example of that determination. The couple started by advertising online and with flyers in the community. "We always had social media before, but this made us create a website for sign-ups and payment," explains Kyle, while adding that customers have the option of full-size or half-size produce boxes.
Delivery is weekly June through October, and customers can consult a maturity chart online to see what is available throughout the season.
"Our CSA is different than most because we have both fruits and vegetables," Kyle says. "Throughout the season, things change. We start the season with strawberries and end with apples. Our goal is to give our customers the best balance between fruits and vegetables, while at the same time trying to get them the proper quantities of those varieties."
Customers can pick add-on items, too. "All of our subscribers follow us on Instagram, where we post a picture of their box the day before delivery," Kyle says. "There were times when customers said they didn't know the item, but since they had it, they tried it and enjoyed it."
All customer addresses are inputted into a navigation app, which makes an efficient delivery route.
While the CSA is doing remarkably well, Kyle says the farmers markets are what got them going, and he's committed to continue to serve those markets. 
"As soon as you reach the next step in life, and you forget all the little things that got you to where you are, you can stop progressing at that point," he says. "So, we want to grow, but we want to grow at a responsible pace, while at the same time maintaining customer relations we've built in years past. There are customers at our farmers markets that have been shopping with us for eight years straight. They're good people — almost like family to us."
Moving forward
Kyle and Jessica were wed June 1, 2013, the summer after closing on the farmstead. In addition to her full-time, off-farm job at the Berrien Regional Educational Service Agency, Jessica works on the farm and also manages social media and the operation's website.
They still lease Kyle's grandparents' ground. However, all but 2 acres of the apples were removed. They have leased other orchards along the way, and are currently leasing 10 acres of apples in Niles. They also have a 25-year lease on 4 acres they planted to tart cherries. Since they are trying to use every square foot they have, everything is planted high-density.
"We have a couple acres of raspberries that we bought all new equipment to fit in between those raspberries — very small tractors," Kyle says.
As Sunny Harvest Farms continues to grow, Kyle and Jessica are considering offering sales from the farm. They also are looking to build more storage and buy a larger walk-in cooler. In the meantime, they are leasing space for this season.
Their family also is growing. They welcomed their fourth son, Tate, in December. He joins 5-year-old twins Everett and Finn, and 3-year-old Hayes.
"It's busy, but that's how we're wired — that's how we want it," Kyle says. "Thank goodness the boys are all good sleepers."
Subscribe to receive top agriculture news
Be informed daily with these free e-newsletters
You May Also Like
---