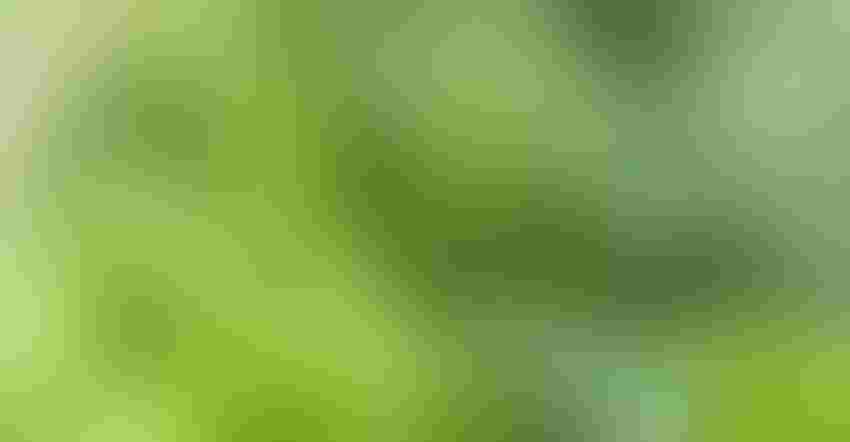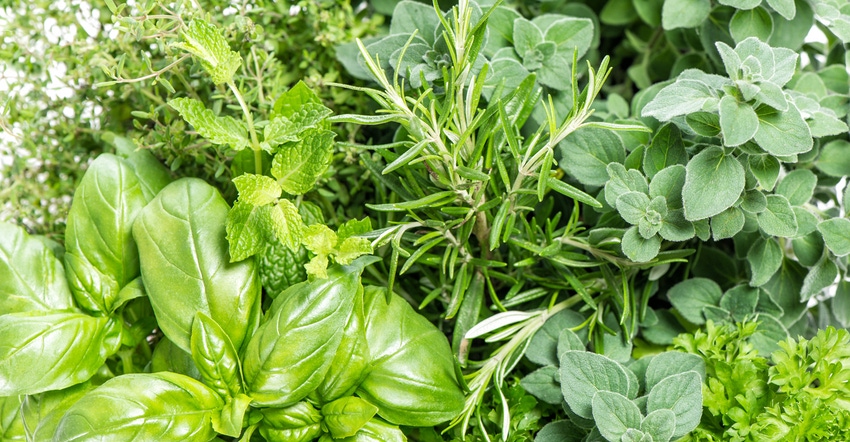 HERB EXPANSION: Michigan State University will lead a new $3.4 million research project to evaluate controlled-environment agriculture of both potted and fresh culinary herbs.
LiliGraphie/Getty Images
Could a specialty crop such as culinary herbs be expanded through indoor cultivation to complement U.S. field production and capture some of the nearly $300 million imported each year?
Given Michigan's burgeoning greenhouse industry — third in the country — it makes it a natural fit to lead a new $3.4 million research project to evaluate controlled-environment agriculture (CEA) of both potted and fresh culinary herbs.
Funding through the Specialty Crop Research Initiative of the USDA National Institute of Food and Agriculture will allow Michigan State University researchers to lead a team to evaluate this small specialty crop, which includes leafy plants such as basil, cilantro and parsley that add flavor, aroma or garnish. It's an industry that has been largely overlooked in terms of research to allow for expansion.
"Consumer demand for locally grown, pesticide-free, safe produce drives our team to provide growers and distributors with information to fuel their growth and profitability," says project lead Roberto Lopez, an associate professor and controlled environment Extension specialist in the MSU Department of Horticulture.
The multi-institutional research and outreach collaboration, called CEA Herb, includes investigators from MSU, Iowa State University, North Carolina State University, Texas Tech University, the University of Tennessee, and the USDA Agricultural Research Service.
A lack of dedicated research and uncertainties of the return on investment have prevented many potential growers from taking the plunge to controlled-environment agriculture, Lopez notes.
The goal of the four-year project is to show current and prospective growers that there are production and sustainability benefits that cannot be replicated in the field by educating growers on cost-effective production techniques to help boost yields, improve flavor and increase postharvest shelf life, while increasing food safety and more.
Understanding market demand
But first, the project calls for a study of the market — what is it demanding and what's it willing to pay. About 1,700 U.S. consumers will be surveyed from around the country representing the population of interest (e.g., age 18 or older, the primary grocery shopper of the household).
The survey touches on varying production methods, sensory experiences and marketing strategies. The questionnaire will assess perceptions of the product and willingness to buy fresh, high-quality culinary herbs at premium prices.
Participants will taste-test an assortment of culinary herbs and provide input on which sensory characteristics they value. A product choice experiment using eye-tracking technology will also provide insight into the traits gravitated to by customers.
"Consumer profile development will allow for the identification of new markets and aid in increasing demand for U.S. controlled-environment-grown, fresh culinary herbs," Lopez says. "It's important that this project is a holistic research and outreach effort."
Secondly, researchers will perform controlled-environment studies to identify practices that increase growth, quality, shelf life, disease management and food safety.
"We hypothesize that there would be some price differences depending upon the customer's preferences, herb usage and demographics, and we are going to address these questions during this research project," says research partner Alicia L. Rihn, assistant professor in agricultural & resource economics at the University of Tennessee.
According to the U.S. Agency for International Development, popularity of the specialty crop increased 10% to 12% annually from 2004 to 2014 and has continued to climb. At this point, domestic field production and imports have been used to keep pace with demand.
Culinary herbs are divided into two market segments: fresh cut for the leaves and stems, and potted plants. About 69% of domestic fresh-cut herbs are field-grown in Arizona, California, Florida, Hawaii and Texas, while the rest is imported. But both field production and imports, Lopez notes, face mounting challenges, such as diseases, droughts and floods, foodborne illnesses, environmental impact, and supply chain disruptions.
"Controlled-environment agriculture provides a unique opportunity to distribute production across the U.S. by taking seasonal climate variability largely out of the equation," Lopez says.
Commercialization and use of high-intensity, energy-efficient LEDs will give growers control over plant architecture, height, flavor and aroma by adjusting light colors and intensities.
Other participating MSU researchers are Bridget Behe and Erik Runkle, MSU professors in the Department of Horticulture, and Mary Hausbeck, a distinguished professor in the Department of Plant, Soil and Microbial Sciences at MSU.
About the Author(s)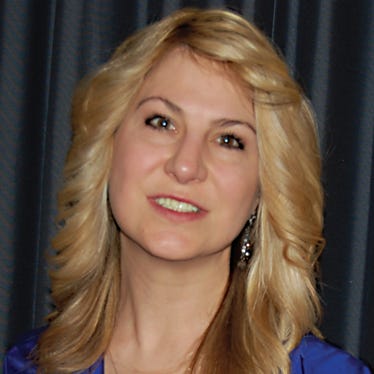 While Jennifer is not a farmer and did not grow up on a farm, "I think you'd be hard pressed to find someone with more appreciation for the people who grow our food and fiber, live the lifestyles and practice the morals that bind many farm families," she says.
Before taking over as editor of Michigan Farmer in 2003, she served three years as the manager of communications and development for the American Farmland Trust Central Great Lakes Regional Office in Michigan and as director of communications with Michigan Agri-Business Association. Previously, she was the communications manager at Michigan Farm Bureau's state headquarters. She also lists 10 years of experience at six different daily and weekly Michigan newspapers on her impressive resume.

Jennifer lives in St. Johns with her two daughters, Elizabeth, 19, and Emily 16.
Subscribe to receive top agriculture news
Be informed daily with these free e-newsletters
You May Also Like
---