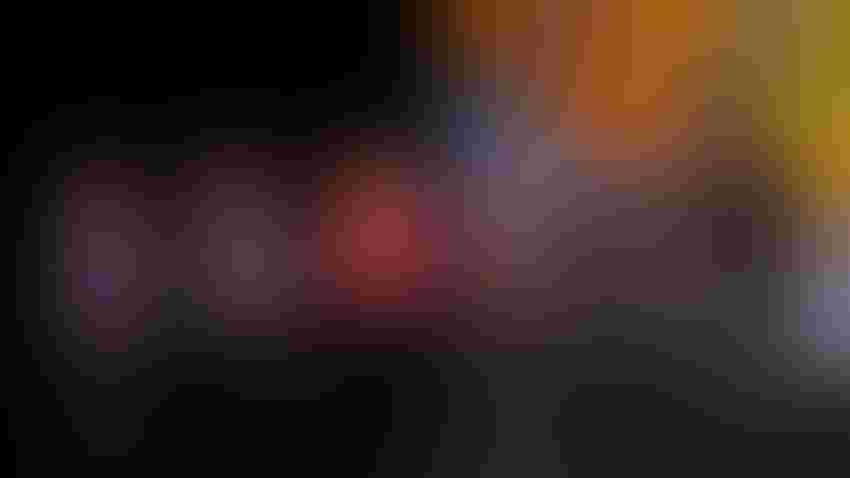 From left, National Sorghum Producers Chairman Craig Meeker; National Corn Growers Association President Tom Haag; National Association of Wheat Growers President Nicole Berg; Association of Equipment Manufacturers Ag board chair Bill Hurley; and American Soybean Association President Daryl Cates discuss the 2023 farm bill with moderator Ross Shafer during the general session of Commodity Classic March 10 at the Chapin Theater at the Orange County Convention Center in Orlando.
John Hart
At a Glance
AEM leader stresses need for precision ag provisions in farm bill.
The 2023 farm bill was top of mind for leaders of commodity groups at Commodity Classic March 9 to 11 in Orlando.
The need for a strong safety net and crop insurance protection in the new farm bill was emphasized by the president of the National Corn Growers Association (NCGA), the president of the American Soybean Association (ASA), the chairman of National Sorghum Producers (NSP) and the president of the National Association of Wheat Growers (NAWG). The ag board chair of the Association of Equipment Manufacturers (AEM) stressed the need for support of precision agriculture in the farm bill.
The five leaders from the associations that sponsor Commodity Classic discussed their farm bill priorities among other topics in a panel session during the March 10 general session held at the Chapin Theater in the Florida Orange County Convention Center. The discussion was facilitated by General Session Moderator Ross Shafer, comedian and former TV host.
Both NCGA President Tom Haag, an Eden Valley, Minn. farmer, and ASA President Daryl Cates, a Columbia, Ill. farmer, said their members want crop insurance protected in the new farm bill. In addition, Cates said funding for the Market Access Program and Foreign Market Development Program needs to be doubled for soybeans because the export market is vital to them, with 60% of the crop exported.
For sorghum, the 2022 crop was hit particularly hard with historic drought. NSP Chairman Craig Meeker, a Wellington, Kan. farmer, said the severely reduced 2022 crop illustrates the need for an even stronger safety net in the next farm bill. He said he hopes there will be new baseline dollars to bring reference prices up to where they are level with the cost of production.
NAWG President Nicole Berg, a Patterson, Wash. farmer, said all commodity and farm groups need to be active on Capitol Hill when the farm bill debate begins. "I don't care if you're wheat, corn, or sorghum, we have to go up and tell our story for agriculture. All of us need to be there. We're a small group of people in agriculture, but we're very loud and mighty at times."
Bill Hurley, the ag board chair of AEM and vice president of distribution for AGO Corporation in Duluth, Ga., said his association also supports the need for a strong safety net and crop insurance in the farm bill, as well as provisions that expand the use of biofuels.
But more specifically, Hurley said AEM supports provisions in the next farm bill that will accelerate the implementation of precision agriculture because it is the bedrock and a key element of being able to solve the challenges of production agriculture moving forward.
Hurley said AEM backs two pieces of legislation, the Precise Act and the Precision Agriculture Loan Act or PAL Act, which were recently reintroduced in Congress. He said it is vital precision agriculture provisions are implemented in the farm bill.
"We've got to make sure that our lawmakers truly understand the role that precision ag will play with our producers as we go forward, whether that's reducing inputs, helping them to be better stewards of the land through water management, those types of things, along with that continued focus on rural broadband connectivity," he said.
Hurley said increased rural broadband connectivity is particularly important because farmers cannot even begin to utilize precision agriculture technologies without access to broadband.
Moderator Shafer asked the commodity group leaders what makes them optimistic about the future of agriculture.
NCGA President Haag said he is in the process of turning over his operation to his son and said he is optimistic about all the new agriculture technology being exhibited at Commodity Classic.
"When my son was going to come home to farm, I said, 'Do you want all of this new technology,' and he said 'yes.' I said 'I will show you how to run the corn planter, but I will not run the corn planter' because he wants three or four screens in there. This young generation coming up is fantastic when it comes to new technology," Haag said.
NAWG President Berg said she is hopeful for the future for the next generation, but she said a farm bill is needed "that has a safety net with small little holes in it, and not those big deep, deep holes." She encouraged all farm groups to work together on the farm bill to help the next generation.
Meeker said he is fortunate to be the sixth generation of his family to farm. "I have to say thank you to the generations that walked in my footsteps before. It's a blessing, and I'm lucky enough to have the seventh generation coming behind me, whether it's my son or two daughters.
"I'm blessed beyond means to have somebody that loves the farm and loves the way of life the way I did. I guess I am the next generation on my farm. My dad is at home taking care of things while I'm down here, and I appreciate that. I know one thing, if we don't have a faith, and we don't have a respect, and we don't know Jesus Christ as our personal lord and savior, not any of this stuff is worth anything," Meeker said, to applause from the crowd that filled the 2,643 seats of Chapin Theater at the Orange County Convention Center.
Subscribe to receive top agriculture news
Be informed daily with these free e-newsletters
You May Also Like
---