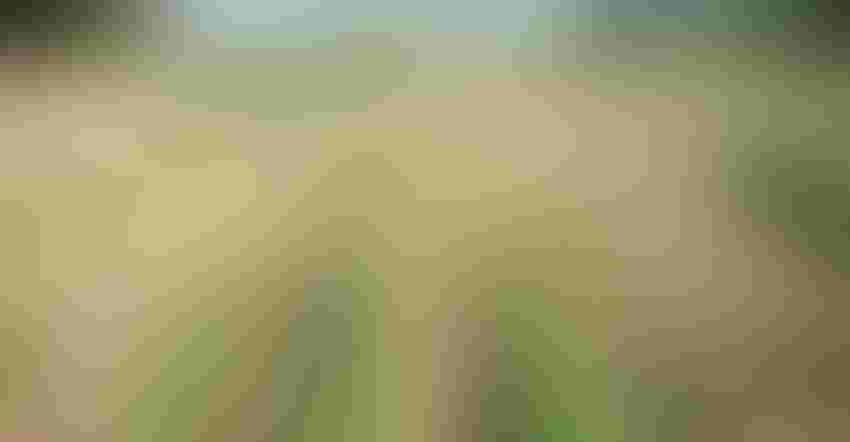 CRIMPING FIRST: Triticale crimped before planting green beans.
By Rich Little
Conventional growers can terminate a cover crop at any time before planting soybeans to avoid yield penalties — typically anywhere from 0.25 to 0.63 bushels per acre for each day planting is delayed after May 1. Likewise, green bean growers can avoid cyclical market price depression by marketing an early crop.
Growers who rely on crimping to terminate cover crops need to crimp by late flowering of the cover crop for adequate weed suppression and by early-milk stage to minimize volunteer cover crop seed production.
Based on current literature and two years of experiences at the South Central Ag Lab (SCAL) near Clay Center, Neb., and at three cooperating farms, best management practices for crimping a triticale or rye cover crop to suppress weeds in soybeans include:
• Avoid using this system on acres with perennial weed or legume regrowth problems.
• Precede the rye or triticale with a nitrogen source such as manure or a legume that will provide enough nitrogen the following spring to produce at least 3.6 tons per acre of biomass. Manure should be free of weed seeds.
• Plant an early-flowering winter small grain at the optimal date recommended for a grain crop.
• Crimp the cover crop at the late-flowering to early-milk stage to minimize regrowth and volunteer seed production.
• Use a no-till drill with adequate weight to cut through the mulch.
• Increase the soybean seeding rate by 30% compared with planting in tilled soil.

PLANTING FIRST: Triticale was pushed up by bean growth when planting green beans before crimping.
Practices for early bean planting
Planting soybeans or green beans by mid-May into a mulch crop requires planting into the cover crop within two weeks by roller-crimping or using an early-flowering small grain crop crimped before or after planting.
In 2016, soybean yields were 16% to 55% less at SCAL, and green bean yields were 14% to 33% less on a cooperating farm (depending on the triticale cover crop cultivar) by planting into the triticale before crimping compared with roller-crimping the triticale before planting.
The roller-crimper threw biomass at an angle across the planted bean row. In places where biomass was thick, bean emergence was impeded, and the beans pushed up the mulch.
Early flowering small grain cover crops
Elbon rye, the earliest flowering commercial rye cultivar adapted to southern Nebraska, flowers from May 12 to 31, depending on the year. Commercial triticale cultivars flower up to two weeks later.
However, rye can be considered a noxious weed, as seed produced by volunteer plants can contaminate wheat grain. So, researchers focused on triticale instead, and screened 28 early-flowering, high-biomass experimental triticale lines for use as a mulch crop.
These were narrowed down to seven promising lines. The earliest experimental triticale lines flowered five to seven days later than Elbon rye.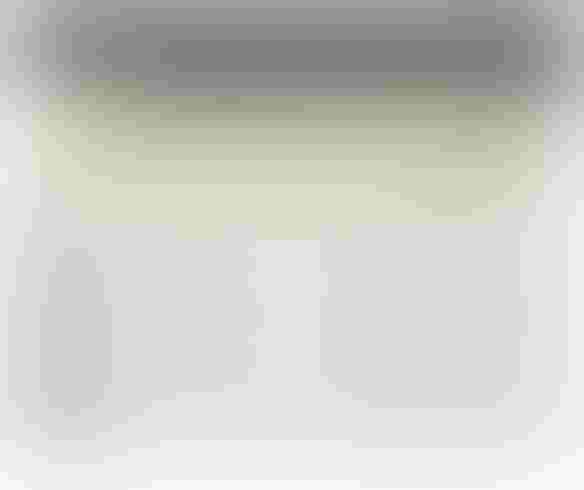 Performance of triticale mulch and soybeans
In 2017, research plots at SCAL were crimped before planting soybeans. The soybean seeding rate was 210,000 seeds per acre, but the final stand was only 112,500 plants per acre. Control plots were hand-weeded and rototilled May 31 before planting and hoeing July 5 to remove early-season weeds.
Weeds were counted in all plots July 24 before hand-weeding control plots again. Early-season weeds were effectively suppressed by the mulch crops, while late-season grass weeds were reduced by 50%, and broadleaf weeds were reduced by 67% for the crimped mulch compared with the control plots (see Table 1). Soybean yields were similar when planted into triticale NT15407, Elbon rye and in control plots.
The experimental triticale lines, NT14407 and NT15421, flowered up to six days earlier and performed better than NT15407 and NT13443 in other environments.
Because early triticale flowering is important to enable early soybean planting, NT15421 seed has been increased for further research. NT14407 performed well in conventional breeding and forage trials.
Little is a research technologist at the University of Nebraska-Lincoln.
This report comes from UNL CropWatch, which is solely responsible for the information provided and is wholly owned by the source. Informa Business Media and all its subsidiaries are not responsible for any of the content contained in this information asset.
Subscribe to receive top agriculture news
Be informed daily with these free e-newsletters
You May Also Like
---