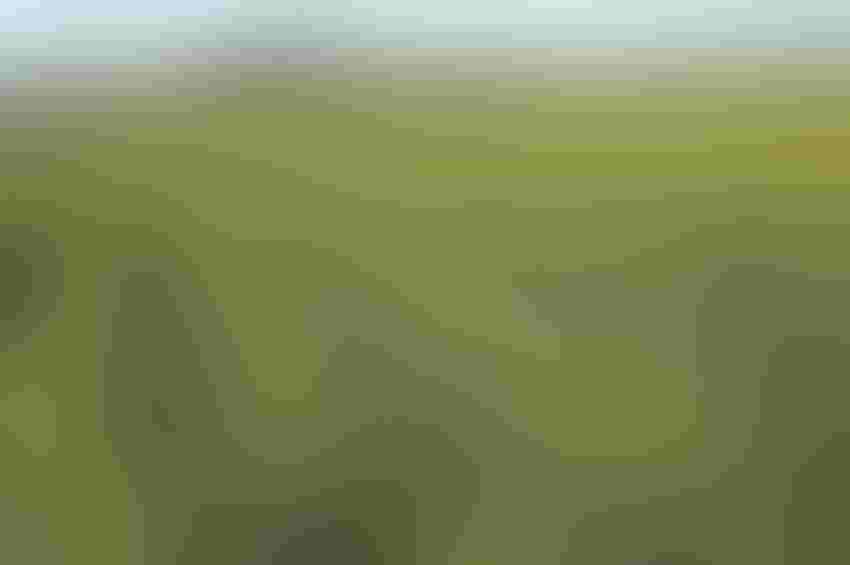 Canola may be a viable winter crop for Texas.
Winter wheat has long been a standard, go-to crop for many Texas farmers who have benefited from crop rotation and the added revenue wheat can provide during the normal off-season of native warm weather crops.
Despite signs of a possible modest improvement, wheat prices have been stable for a very long time. While input costs have increased significantly over the last decade, year-to-year wheat prices have failed to inch forward by much, meaning wheat producers have absorbed the increased costs of production, prompting some to explore possible alternative cool weather crops.
Canola is a possibility and historically has done well in cooler climates like Canada and the upper U.S. Midwest. In fact, Canada is the world's largest producer of canola, which contributes more than $6 billion annually to its agricultural economy, according to the Canola Council of Canada.
Over the last several years Texas A&M AgriLife Extension and Research scientists have been running field trials on canola across the state. Currently, canola trials are being staged at the Texas A&M AgriLife Research and Extension Centers in Bushland, College Station, Corpus Christi, Vernon and some in producer's fields in the Southern High Plains and Blacklands. Canola testing has been on-going in the Lubbock area since 2005.
Mild Winters an Advantage
While summer heat can quickly devastate canola, the milder winters of central and south Texas seem to provide the right climate to nurture canola since it has proven to be cold weather tolerant. The crop prefers temperatures under 86 degrees Fahrenheit or else heat stress can occur. And Extension officials say the Blacklands area of north Texas is another promising area for canola.
Canola was first developed in Canada in the 1970s after breeders removed unhealthy components of rapeseed to produce a product suitable for consumption. It is grown for use in a variety of products for both human and animal use. The plants produce small pods containing seeds that are crushed to make canola oil. Canola can also be used in a variety of edible and inedible products for humans, as well as made into meal to feed livestock, and is also used in the production of biodiesel.
Along with oil, canola is used in sandwich spreads, coffee creamers and other edible products. Canola meal is processed into pellets and mashed to make feed for livestock and poultry. It is a versatile product used in pesticides, lubricants, printing inks, cosmetics and other non-edible products. But almost all canola grown in Texas is shipped and processed in Lubbock, though some in Oklahoma may go to Goodland, KS for use in feed stocks.
 Canola in Texas
Clark Neely, Texas A&M AgriLife Extension State specialist for oilseeds, says canola is considered primarily an oilseed. While yields vary with soil conditions and other factors, he says canola trials in Central and Southern Texas typically yield between 1,500 to 2,000 pounds of seeds per acre.
"I would say canola is a great alternative to winter wheat, though it is a high maintenance crop. It has its strengths and weaknesses, but overall is proving to be a promising crop," Neely said.
Another advantage is the going price for canola seeds.
"Right now, last time I checked, canola was bringing $7.58 a bushel, but those are pre-harvest numbers. Once harvest arrives, that price generally increases. The North American canola market is driven by Canada which plants canola in the spring and harvests in the fall. That means canola prices are generally at their highest around the time Texas is harvesting in May and June," he said. "But input costs are greater because more fertility is required, and a producer must guard against early insect pressure before flowering stage."
Neely says producers should strongly consider a fall planted spring cultivar or facultative type versus a winter cultivar in central and south Texas. Early on, we conducted trials using winter canola, but had vernalization issues in the Waco and College Station area the past two years. Longer maturity spring cultivars and possibly facultative types seem to have a better fit in this region, while winter cultivars are the dominant type grown in the northern half of the state," he said.
 Upcoming heat-tolerant varieties
Addressing a report that recent research has identified methods that may lead to a more heat-resistant variety of canola, Neely said that would be a promising improvement and an advantage for Texas growers.
Research at the University of California-Davis recently made what may be a breakthrough in bringing about heat-tolerant canola varieties. Dr. Johanna Schmitt, Professor of Biological Sciences, UC-Davis,  says new discoveries could provide a path to altering heat-resistance in canola plants, which could reduce shattering of oilseed pods in warm-weather conditions.
Even in Canada, where growing temperatures are much lower than in Texas, hot daytime weather can cause seedpods to shatter. Why canola seedpods disintegrate rapidly in hot weather has long been a mystery, but research suggests that rising temperatures may trigger a genetic cascade in the plant that leads to premature fruit development.
As seedpods mature, their walls weaken to allow the release of seeds. Schmitt says it's possible that wild plants accelerate the process during extreme heat so they can disperse seeds before the heat wave kills them.
"It's in the [wild] plant's best interest to deposit seeds in the soil before the conditions get too hostile," Vinod Kumar, an author of the study, said in a recent interview on National Public Radio.
He warns if the domesticated seed crop falls on the ground, it becomes unusable. Often, if the seedpods do not break on their own, prolonged heat waves leave them weak enough that heavy precipitation or winds can finish them off.
 Researchers discovered the weakness after Canadian growers lost a significant part of their crop in 2012 following a midsummer heat wave followed by a major storm. Canola farmers worldwide lose from 15 percent to 20 percent on average of their yield because of this shatter phenomenon, Kumar noted.
Even if research provides ways to make canola more heat-tolerant, the extreme summer heat of Texas would be too harsh for even heat-resistant varieties. But Neely said it would make canola easier to grow in the Texas winter season, where even winter temps can be much warmer than other spots where canola acreage is large.
 Transporting seeds to crushing plants
"Producers considering canola as a winter wheat alternative need to understand that only limited seed crushing plants are available across the Southwest. One facility is available near Lubbock, another in Goodland, Kansas. I tell growers that transporting seed to Lubbock adds about a dollar a bushel to the cost of producing and shipping the seed in most of Texas," Neely said.
But Jason Ott, Nueces County AgriLife Extension agent in the Texas Coastal Bend, says a great deal of canola arrives at the Port of Corpus Christi for shipment around the world, and Neely said he thought global buyers of canola could buy uncrushed seeds and not only save their operations money, but also provide efficiencies for U.S. producers trading internationally.
Neely said he is aware of a buyer in Mexico who is interested in contracting canola acres in the Rio Grande Valley. Thanks to the North American Free Trade Agreement (NAFTA), shipping routes in and out of Mexico are abundant, and shipping is easy, at least until possible changes in NAFTA. Texas canola headed into Mexico is currently shipped uncrushed. Crushing is performed at the buyer's plant.
 Currently between 30,000 and 40,000 acres of canola was planted in Texas last fall, and Neely says most of this is located in the northern Rolling Plains. But he believes the market could support a great deal more.
"It's a robust, forgiving crop, and is fairly drought tolerant, a good consideration as an alternative to wheat."
Subscribe to receive top agriculture news
Be informed daily with these free e-newsletters
You May Also Like
---