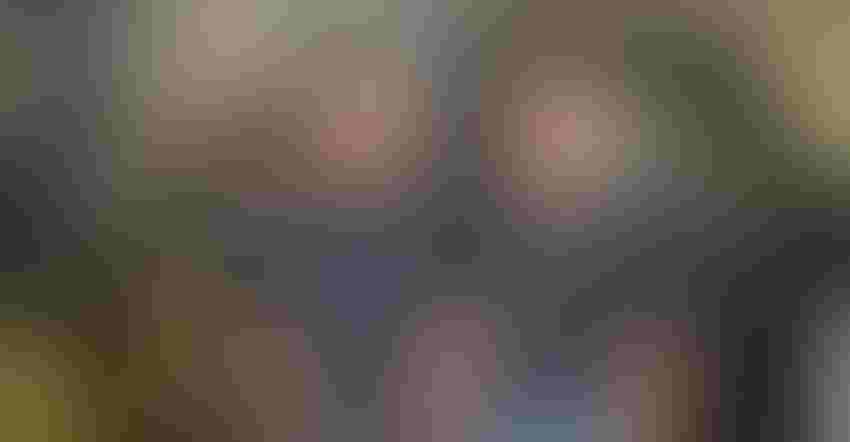 CONSISTENT SAMPLING: Brothers Benjamin (left) and Troy Fiechter display the robotic soil sampling machine they constructed at the Fort Wayne Farm Show.
Troy and Benjamin Fiechter won't argue with you about which soil sampling technique is best. Whether you believe in sampling by 2.5-acre grids or you think it's more accurate to sample by soil type, that's OK by them. But they get passionate about making sure soil samples are pulled consistently each time.
"Otherwise you can't track results over time accurately," Troy says. "We've seen that on our own farm."
The brothers are part of a farming operation near Keystone in Wells County, Ind. Both have ag engineering degrees from Purdue University. They became interested in finding a more consistent way to pull soil samples once they realized that inconsistency introduces variability into results.
"It makes it hard to track soil-testing results and trends over time in a field, and explain what's happening," Troy says. Doing their own detective work, they discovered that even if sampling cores were pulled only 20 feet away from the original sampling location, it could introduce considerable variability. That's because soil nutrient values, including pH, often aren't uniform across a field, or even within a small sampling area.
Build the solution
The Fiechter brothers put their ag engineering skills to work and built an autonomous soil sampling machine that can operate on its own as a robot, collecting samples within a field.
"The hard part wasn't figuring out how to have it guide itself to the exact locations,' Benjamin says. "The more difficult part was figuring out how to develop the soil sampling portion of the machine."
They built their first robotic sampler using an ATV as the base. It operates as an unmanned, GPS-guided, remotely controlled mobile device. It's equipped with lidar-based obstacle-avoidance technology to help avoid running into something.
The sampler uses an auger to drill into the soil and obtain soil samples. "We can turn it loose and get soil cores from the exact location where we pulled cores the last time the field was sampled," Troy says. "It greatly reduces variability in sampling results."
They typically pull cores in a random pattern within the sampling area, not just from one location where the robotic sampler parks. Some early protocols for grid sampling consisted of driving an ATV to the center of the grid and then pulling six to eight cores around the ATV at that one location to form a sample.
Payoff
Just how consistent is the robotic sampler in returning to the same locations where cores were pulled before? "We have even had it hit the exact same hole," Troy quips. "Our process is very accurate."
The brothers call the sampler the SmartCore solution. They operate as Fiechter Brothers Ag. Their website is agnext.com.
The brothers are just starting to display their soil sampler at trade shows. Their new goal, Benjamin says, is to attach the sampler on a rig that doesn't have a cab or operator's platform. They used the ATV because it was available and gave them a place to start, he explains. They envision building affordable soil-testing units that don't need an operator's platform.  
Subscribe to receive top agriculture news
Be informed daily with these free e-newsletters
You May Also Like
---