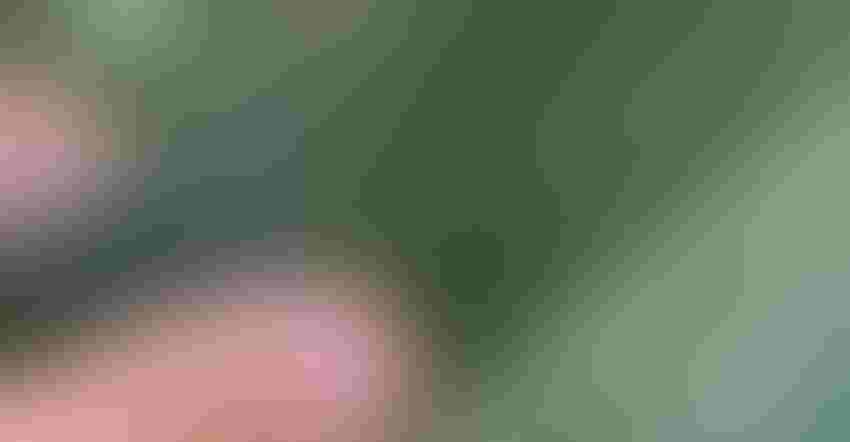 HARD TO SPOT: Catching a crop disease like tar spot early helps control it before it does too much damage. Disease Alert from Intelinair adds thermal imaging to conventional image capture from airplanes, and when combined with machine learning, the system can spot disease areas in fields (like the small dot on this corn plant) and help target spraying and weed control.
Courtesy of Intelinair
Illinois and Indiana farmers will be on the cutting edge of a new technology from Intelinair that can help spot crop diseases early. The company's AgMRI platform offers Disease Alert, which provides a kind of early warning of trouble in your fields.
The program, which is starting in those two states this year, will expand over time, according to Kevin Krieg, director of product marketing for Intelinair. He shares with Farm Progress about how this disease alert system works and what it brings for farmers who can use it in 2022.
"AgMRI works at the high level of taking in imagery, weather data and machine data together," he says. The high-resolution remote imagery feeds through a computer system, and machine learning works to understand patterns.
To help detect disease, a thermal camera is used with other imagery and machine learning. "We have this relative temperature detection even when flying over the fields," he says. "We're looking at where there's a good, healthy crop in the field. But if the temperature is higher than the relative temperature of other plants within the field, that's a sign of trouble," he says.
The thermal properties show a specific pattern if crop disease is present. "Our engineers built analytics around a lot of different factors, but those are at the high level of an increased temperature with a unique pattern as it's impacting the plants," Krieg says. Almost like a fever in humans, those warmer plants are a warning that disease is present, he adds.
Airplanes at work
Intelinair is using fixed-wing aircraft to fly fields and gather data. The company is primarily in Illinois and Indiana, where it can put those thermal cameras to work. Combined with other imagery, the plant temperature tips off trouble.
As for moving beyond the two-state area? "So the challenge with this is that we need thermal information from a disease perspective," Krieg says. And while Intelinair has looked at satellite imagery, the airplane-based approach has been most successful for now.
Going forward, he notes that the company is looking at how to bring that same value to other areas and expand it in the future.
Krieg says the system isn't identifying the disease, but rather the potential for disease presence in a field when those temperature indicators rise. "We don't know if it's tar spot or any specific disease," he notes. "Our whole thing is that we identify an area of the field that has the probability for some disease. Then you scout the field to figure out what it is."
Tar spot is the attention-grabber right now, and early detection is key to getting control. However, Krieg notes in 2021 during tests, they found soybean rust, brown spot and other diseases. The key was identifying impacted fields earlier for more targeted scouting.
There's even the potential for more "early warning" as planes fly an area, Krieg says. "We're not just flying the customer's field that has signed up for the service; we're flying the complete area," he notes. That means if they spot disease potential in a neighboring field, that can be a scouting advantage, too.
"If they're seeing tar spot in other places or disease setting in, then [the retailer] can start looking at fields that are susceptible to that as well," Krieg says. "So a neighboring field might have disease — that gives the retailer a cue that it is in the area and to be on heightened alert."
The value of imagery and machine learning to recognize patterns in imagery can advance a range of crop management practices for disease identification. The more imagery captured and matched with ground truthing through scouting, the better these models will get.
For farmers outside the two-state area, Intelinair does offer other monitoring services that can be used now. You can learn more about the system and what it brings to scouting by visiting AGMRI.com.
Subscribe to receive top agriculture news
Be informed daily with these free e-newsletters
You May Also Like
---