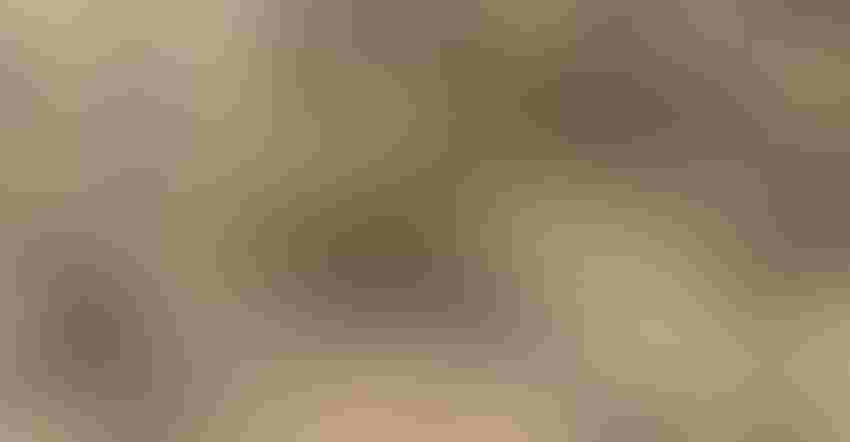 YIELD-ROBBER: The American grasshopper can wreak havoc on your crops. While 2016 was a mild year for the pest in Colorado, managing small infestations can help prevent big trouble.
Whitney Cranshaw, Colorado State University, Bugwood.org
The West has had its share of trouble with grasshoppers. The dry, arid conditions are just right for these pesky critters to take hold and cause trouble. But in 2016, this insect nuisance didn't cause too much trouble; the key for 2017 is make sure you don't have big trouble by stopping problems quickly.
In a recent report from Assefa Gebre-Amlak and Frank Peairs, Colorado State University Extension, the key for managing grasshoppers is to monitor populations before they get out of hand.
USDA has an informative web page on managing grasshopper-specific hazards in local areas across the West.
The Extension specialists know that generally, grasshoppers have one generation per year. Eggs are deposited in the ground in the fall, and they hatch the following spring and summer — from late May through early June. The hatch for grasshoppers is dependent on soil temperature, which differs for different species.
Weather plays a key role in determining how much damage potential will occur from an infestation. The more damaging outbreaks are usually associated with several years of dry conditions.
Economic threshold
While there are simple numbers for determining economic thresholds, there are other considerations.
First, Gebre-Amlak and Peairs note that the simple economic threshold for grasshoppers in rangeland is 15 to 20 nymphs per square yard. That number is about equal to finding eight to 10 adult grasshoppers per square yard. But the economic importance of an infestation is affected by a range of factors including species, range condition, cattle prices and treatment costs.
CARMA (for Case-based Range Management Advisor) is a computer program allowing landowners to include those factors in building a treatment plan. You can go to the CARMA website to download the tool and put it to use for your operation.
Treatment options
In open rangeland it's pretty expensive to treat large areas, but one approach is reduced agent and area treatment. The RAAT strategy results in untreated swaths and swaths treated with reduced chemical rates. Using lower rates and leaving untreated acres reduces treatment costs by up to 50%, and helps preserve biological control, the specialists said.
Since grasshoppers are constantly on the move, this approach assures they will enter a treated swath, and that levels of control will be similar to complete coverage applications. Large infestations can be treated with malathion, carbaryl or diflubenzuron. Smaller infestations can be controlled with RAAT treatments applied by air, or by using an all-terrain vehicle that's appropriately equipped to apply carbaryl or diflubenzuron. Be sure to note any grazing restrictions when applying any insecticide.
You can learn more about ATV or UTV use in controlling grasshoppers by visiting the ATV-RAATS website.
ATVs and UTVs can also be used for spot treatments of egg-laying sites including pastures, ditches and untilled field margins. Grasshopper nymphs tend to remain concentrated in their hatching areas for some time after they emerge.
Diflubenzuron treatment of grasshoppers should be applied in the second and third instar stages, because this growth regulator insecticide does not control adults. If you have grasshoppers in crop areas, the specialists suggest you visit the High Plains Integrated Pest Management Guide at highplainsipm.org.
Source: Colorado State University Extension
Subscribe to receive top agriculture news
Be informed daily with these free e-newsletters
You May Also Like
---