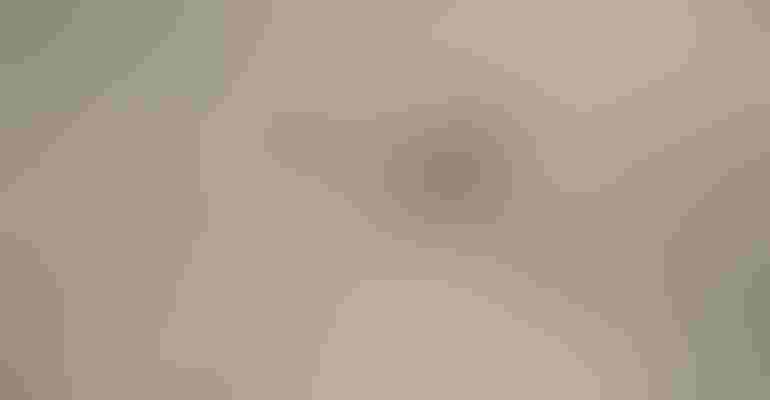 SUPER SPRAYER: Germany-based equipment maker Amazone is testing its version of the smart sprayer developed by BASF and Bosch. The joint venture is official, and other equipment makers, including Agco, are already testing the tech.
Courtesy of Bosch BASF Smart Farming
Late in 2020, news broke that BASF and Bosch were forming a 50-50 joint venture to accelerate the advancement of new ag technologies to market. Late in June, the joint venture received official approval and was named Bosch BASF Smart Farming (BBSF).
Bosch, long known for its automotive technology and allied industries, has been developing a range of precision agriculture approaches, often displayed at Agritechnica in Germany. BASF, which acquired the digital ag platform Xarvio when it was spun off during the Bayer-Monsanto transaction, has continued to invest in that platform.
During a virtual media conference, Florian Gwosdz, a managing director of BBSF, notes that the two companies started working together in 2016. "We have been working in the area of smart farming and in 2019 we bundled our research and development," Gwosdz says.
The firms — with research facilities in Campinas in Brazil and in Stuttgart, Germany — have been working on smart spraying and intelligent planting. Today, BBSF has intelligent planting tools at work in Brazil deployed under real-world conditions.
Related: Joint venture to bring new tech to market
Gwosdz explains that the joint venture will bring together key strengths for each company. Bosch will develop hardware, software and connectivity solutions. BASF brings the digital farming technology and "strong agronomic confidence and solutions."
But farmers won't be buying a BBSF sprayer or planter, instead the tools will come to market through other equipment makers. The joint venture is already working with Amazone, a global farm equipment manufacturer based in Germany, and Agco recently announced it was working with BBSF on sprayer technology.
Drivers of collaboration
Silvia Cifre Wibrow, managing director at BBSF, who co-directs the business with Gwosdz, explains that that there are global challenges driving the need for more smart farming tools — from the rising population to the drop in available arable land for farm production.
"The amount of land available for food production will from 0.4 hectare per person to 0.2 hectare per person [by 2050]," she says.
The smart sprayer is also getting a lot of attention because it is focused on spraying just the weed, not the crop, reducing the amount of herbicide needed to produce food. That's important because Cifre Wibrow adds that while there are more people in the world that need to be fed, up to 40% of the global harvest is lost to weeds and resistant weeds are an increasing concern. The challenge is to raise more food while beating weeds and using less herbicide.
In Europe, the Farm to Fork 2030 strategy is aiming for a 50% reduction in pesticide use. It's those policies that drive the need for more precise sprayers, like the smart spraying tools from BBSF.
Intelligent planting tool
A lot of attention is being paid to the smart spraying tool under development by BBSF, but in Brazil, farmers are already deploying the Intelligent Planting solution. The system is designed to optimize seed and fertilizer placement using Bosch electronics and software. The machine uses sensor and agronomic data to plant. BASF's Xarvio technology drives field-zone and variety-specific seeding rates, and zone-specific in-furrow fertilizer application.
Based on the optimized seeding tech, BBSF is showing up to a 13% yield increase. "Intelligent planting is a lot about the soil and data," says Jens Koenig with BBSF. He explains that the holistic approach of tying field information, variety-specific data and in-season conditions together on the fly will allow the planter to get the right seeding and fertilization rate for crop conditions.
Brazil is the focus for this planter today, though testing for North American and Europe is planned later this year and into 2022.
The smart sprayer
With more attention on smart spraying technology, Amazone and Agco are testing their tools in the field.
Koenig explains that the holistic approach of the sprayer involves Xarvio Field Manager, which pulls together information and has an agronomic decision engine that can develop a plan for spraying. Bosch sensors can detect weeds using that agronomic information to drive individual spray nozzles to actuate as the machine moves through the field at speed. And the sprayer application information is then stored in the cloud for analysis.
Related: Collaboration to focus on targeted spraying
The equipment list for the system for a 120-foot spray boom includes:
72 to 73 field lighting units

one connectivity control unit
"Every sprayer can have different benefits; it depends on what the manufacturer has going on," Koenig says.
For example, in the Agco trial, Raven Industries technology is also included to provide pulse-width-modulation spraying capability. Each original equipment manufacturer will engage BBSF technology in its own way.
The sprayer can be used in two ways, Cifre Wibrow explains. "It can be used in a green-on-brown application, or green-on-green for row crops," she says.
In the preemergence green-on-brown application, the sprayer is used for selective burndown, detecting any living plants on bare soils, like summer fallow. The benefit here is a boost in productivity since the sprayer can be used even at night to get the job done. It can "see" in the dark, allowing producers to get spraying done more efficiently.
In the postemergence use in growing crops, depending on field conditions, farmers could see a 70% reduction in herbicide use. "You're applying the herbicide only where it's needed," she says.
In the green-on-brown application, the tool is available for all crops. For green-on-green, initial crops are soybeans, corn and sugarbeets. Sunflower and cotton will be next. And further down the road would be wheat, barley, pulses and canola.
Gwosdz notes that several equipment makers are interested in introducing the technology in the United States, but the tools are still undergoing proof-of-concept and field trials. "We're not clear when it will be available in the U.S.," he notes. Stay tuned.
Subscribe to receive top agriculture news
Be informed daily with these free e-newsletters
You May Also Like
---