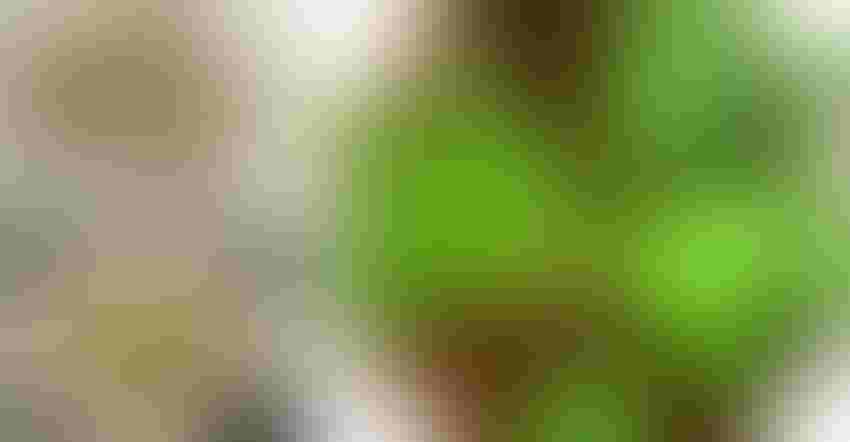 Pictured, from top left: hemp seed pod, hemp seed and hemp plant.
Photo courtesy of USDA ARS
A new cooperative research and development agreement between Agricultural Research Service scientists and the Midwest Bioprocessing Center aims to develop a new market for hemp.
The 2014 Farm Bill allowed for pilot programs of hemp production and the 2018 Farm Bill opened the door to hemp production across the country. USDA published a final rule in January 2021 that establishes the regulations for growing hemp in the United States effective March 22, 2021.
The new agreement focuses on uses for hemp seed oil, said David Compton, lead scientist at the Agricultural Research Service's National Center for Agricultural Utilization Research Renewable Technologies Research United in Peoria, Illinois. Hemp seed oil comes from hemp seeds. The 24-month agreement went into effect in April 2021.
A patented process that a team of chemists with the ARS center developed is at the heart of the agreement. The process, called "biocatalysis," involves using enzymes and heat to cause reactions that bind natural antioxidants like ferulic acid to lipids in soybean and other vegetable oils.
In prior research, the team used the process to create a class of compounds called feruloyl soy glycerides (FSGs) from soybean oil. These were subsequently licensed and commercialized for use as ingredients in skin- and personal-care products because of the ultraviolet (UV) absorbance and antioxidant properties that they offered.
Under the cooperative agreement with Midwest Bioprocessing Center in Peoria, Illinois, the ARS team will explore creating similar ferulic-acid-based ingredients from biocatalyzed hemp seed oil, potentially broadening the market for this crop. The Midwest Bioprocessing Center specializes in organic chemical and pharmaceutical manufacturing. As part of the agreement, the MBC will get the first right to use any innovation developed. Collaboration is one of the ways they fulfill their mission as agricultural research scientists, Compton said. They can do small-scale testing, but they need a partner to scale-up production and enter the market.
The ARS-MBC team will focus on bio-catalyzing hemp oil to make "cosmeceuticals"—skin-care ingredients that perform specific functions, like protecting skin from UV light, retaining moisture, or stabilizing other active ingredients used in skin-care formulations. Potential markets include not only the skin care industry, but also the entire personal care industry.
"Collaborating with industry partners like MBC, which has expertise in enzymology and the infrastructure for scale-up, is critical to exploring expanded uses for our original technology," Compton said.
Hemp seed oil from hemp grown in the U.S. will be used in the research.
The research unit in Peoria where Compton works is one of seven comprising the National Center for Agricultural Utilization Research that collectively specialize in researching value-added uses for agricultural commodities as well as the byproducts of their manufacture into other processed goods.  
In addition to opening the door to the cosmetics and personal care markets, NCAUR scientists are researching ways to better process hemp into fuels, lubricants and adhesives, as well as functional food ingredients and fiber products.
Subscribe to receive top agriculture news
Be informed daily with these free e-newsletters
You May Also Like
---