Alternatives available for fertilizing pastures, hay fields
Alternatives available for fertilizing pastures, hay fields
• There are fertilizer alternatives, but none of them are cheap.• Each producer will have to look at his or her resources, and level of grazing management, to decide which alternative works best on their farm.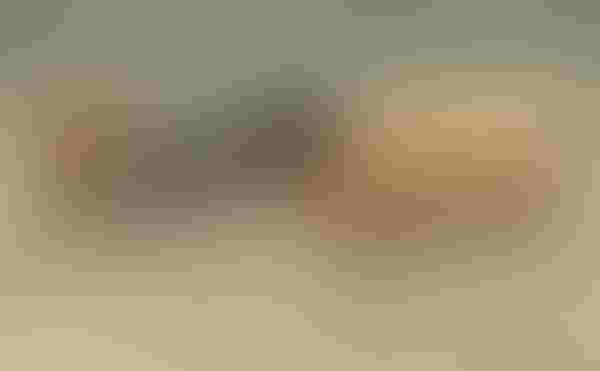 The roller coaster that is fertilizer prices appears to be headed back up for 2011, after reaching a peak in 2008 and dropping rapidly in 2009.
And not only is this trend troublesome to row-crop producers but also to cattlemen.
"What is an Alabama cattleman to do?" asks Charles Mitchell, Auburn University Extension agronomist-soils. "We depend on forages to support our cow-calf and stocker operations. Without fertilizers, we'd have to go back to running cattle in the piney woods of south Alabama like settlers did in the 1800s and early 1900s."
Fortunately, there are alternatives, but none of them are cheap. "Each producer will have to look at his or her resources and level of grazing management to decide which alternative works best on their farm," he says.
Several factors are causing the increase in fertilizer prices, says Mitchell. Most manufactured nitrogen fertilizers are made from fossil fuels. "We are aware of the gradual increase in gasoline prices so why would we not expect a similar trend in urea, ammonium nitrate, UAN solutions and other materials?"
There has also been a lot of speculation about phosphate prices increasing because of declining resources and increased world demand. All phosphate fertilizers come from limited rock deposits in Florida, North Carolina, North Africa, and a few other spots around the globe, he says. All of the high quality, easy-to-get-to phosphate rock has already been mined.
"Almost all our potash in now mined and imported from western Canada. We compete with China, Brazil and the rest of the world for these supplies and it takes fuel to transport this potash from Saskatchewan to Alabama. Thus, we see potash prices rising as well."
Facts to keep in mind
Regardless of nutrient sources, here are some facts to keep in mind, says Mitchell:
• A dry ton of grass forage contains about 50-10-40 pounds N-P2O5-K2O. These nutrients must come from the soil either as residual nutrients or direct fertilization. Because our soils are typically low in soil organic matter, we must provide almost all the N needed by the crop.
• We can grow a little grass without fertilization because Mother Nature usually gives us about 20 to 30 pounds of N per acre per year in rainfall.
• Legumes can provide up to 150 pounds of N per acre, enough to produce up to 3 tons of dry matter per acre.
• Soils high in organic matter are more productive. They hold moisture, drain better, and provide mineralized N to the growing grass crop. The University of Missouri soil testing lab recognizes this by crediting between 5 and 40 pounds N per acre per percent soil organic matter depending upon the soil texture and the season of the year.
• How much a producer fertilizes usually depends upon how much forage he needs and how much he can afford to spend.
• Grazing livestock recycles nutrients. They don't remove much from the land. Therefore, good grazing management is important to get as much out of applied nutrients as possible.
• Removing hay removes a lot of nutrients.
Keeping these facts in mind, says Mitchell, Alabama producers can get the most out of their fertilizer budget with one of several available alternatives.
First, he advises, producers should soil test. Applying fertilizer without having taken a soil test amounts to guessing how much fertilizer is needed. Applying too much fertilizer is a waste of money; applying too little will result in less-than-optimum forage production.
"Auburn University's soil test recommendations assume a high level of management and production and are based on the assumption that the forage produced can and will be used. Be sure to follow liming recommendations on soil tests. More than half the soil samples for forage tested at the laboratory at Auburn University have a pH too acid for best production and need agricultural limestone to correct this.
Less available with low pH
"Fertilizer nutrients are less available when the soil pH is low. If you can only afford lime or fertilizer but not both, apply the lime. Phosphorus and potassium will build up in all our soils. If the soil tests 'High' in one of these, then research has shown that applying more as fertilizer is a waste of money."
The single most beneficial technique for lowering N fertilizer costs is to grow forage legumes, he says.  Some legumes are grown in a pure stand, such as alfalfa or sericea lespedeza, but many species of clovers work best in a mixture with forage grasses.
"In addition to providing biological N, legumes offer other potentially important advantages. In some cases a legume/grass mixture may produce more dry matter per acre than grass alone, particularly as compared to grass receiving little or no N fertilizer. The distribution of forage growth in pastures may also be more favorable, thus helping reduce the need for stored feed. However, the single most valuable advantage forage legumes offer is better forage quality on average than grasses, which usually sharply increase animal gains and may enhance livestock reproductive rates," he says.
Producers also may use broiler litter or other organic materials, says Mitchell. "Alabama produces more total nutrients annually in broiler wastes than are in all the fertilizers sold in the state, and many producers are taking advantage of this relatively abundant source of organic fertilizer. On the average, a ton of fresh broiler litter will contain at least 60-60-40 pounds N-P2O5-K2O. In other words, it is at least a 3-3-2 grade fertilizer."
In addition, says Mitchell, there are other municipal, industrial, and agricultural organic wastes that may be available to producers.
"The feasibility of using organic waste materials depends on two factors. First, is the value of the nutrients in the material high enough to justify the cost of obtaining and applying it? To answer this question requires knowing the level of nutrients in the material as well as how much will actually become available to plants.
"The second factor is whether the material contains any pathogens, heavy metals, or other undesirable components that could be harmful to animals, humans, or to the soil."
Producers also can be more efficient in pasture fertilization through practicing better grazing management, says Mitchell. "Research has shown that in many poorly managed continuous grazing situations, less than half the forage produced in a pasture ends up being consumed by livestock. On the other hand, with controlled grazing management, the percent of utilization of the forage produced may be 20 percent to 30 percent higher. This is the same result that would occur if 20 percent to 30 percent more fertilizer was applied.
There is no single answer to the problem of higher fertilizer costs, says Mitchell.
"Different livestock producers will need to take different approaches based upon their location, resources available, and type of operation. In fact, a given producer may need to take different approaches at different times or in different fields including using soil testing, legumes, organic wastes, alternative sources of fertilizer N such as urea, timing of fertilizer application, and improved grazing management.
Subscribe to receive top agriculture news
Be informed daily with these free e-newsletters
You May Also Like
---