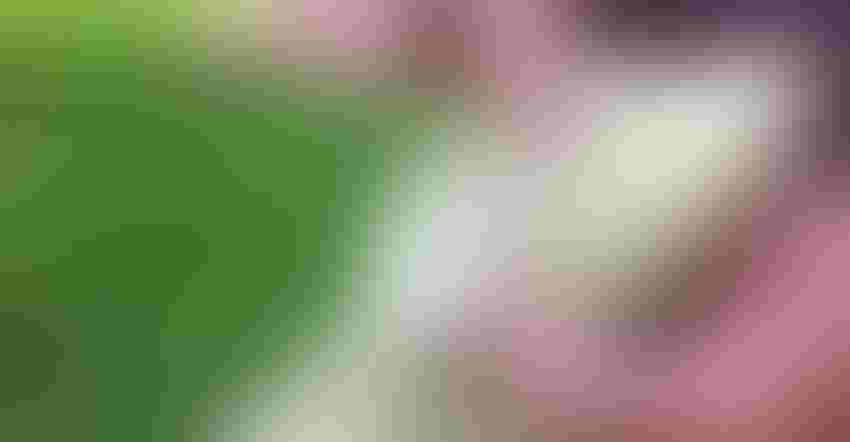 LOOK FOR WEEVILS: The alfalfa weevil may come to fields earlier this year due to warmer temperatures this winter and spring.
MU Extension
Above-normal temperatures in late winter and early spring may speed the development of the alfalfa weevil and the potato leafhopper in alfalfa fields, according to Max Glover, a University of Missouri agronomy specialist. Each of these insect pests reduce alfalfa yield and, in some cases, increase stand loss.
In a recent Ag Connection newsletter, Glover explains the alfalfa weevil growth stages and offers scouting and management tips. Here are his thoughts on handling the alfalfa weevil this growing season.
The weevil
Alfalfa weevils grow through four worm (larval or instar) stages on their journey from egg to adult weevil. Adult weevils generally lay eggs inside alfalfa stems during warm days during fall, winter and spring.
Eggs hatch from early to late spring, with first-stage larvae crawling to the top of alfalfa plant stems to feed inside plant terminals. Larvae continue to feed inside plant terminals through development of the second instar. Third and fourth instars feed on foliage, causing substantial decreases in forage yield and quality.
Scouting tips
Producers in northern Missouri should scout alfalfa fields starting the last week of April to determine weevil numbers. Proper scouting is the key to obtaining good estimates of weevil numbers.
Farmers should have a 3- to 5-gallon bucket and a sharp knife when scouting. Take a sample of 10 alfalfa stems at five random locations in a field, or 50 stems per field. At each of the five locations, cup the terminal end of each alfalfa stem to prevent larvae from falling off. Then, cut the stem off near the soil surface.
Next, place the stem carefully inside the bucket and tap to dislodge any larvae present. Most weevils found by this scouting method will be in their third or fourth larval stages of growth.
Farmers should note that eggs laid on south-facing slopes often hatch first in the spring due to receiving more heat units because of their location. If the alfalfa weevil population reaches the economic level of one or more larvae present per stem of alfalfa (50 or more larvae per 50 stems), and 30% or more of the alfalfa stems show feeding damage, then control is justified.
Management tips
Several management options are available to famers. However, a foliar rescue insecticide is the most common. In addition to insecticides, early harvest, grazing and biological control are other viable options depending on larval numbers, plant growth stage and field conditions.
One alternative to insecticide is early mechanical harvest if the alfalfa is within seven to 10 days of the normal harvest stage of one-tenth bloom. Early cutting will cause the death of most alfalfa weevil larvae through mechanical crushing by hay conditioners, or dehydration from the sun, following the removal of the alfalfa canopy. After forage removal, the field should be monitored to detect a possible resurgence in larval numbers.
Some Missouri producers use grazing to reduce the numbers of alfalfa weevil eggs and larvae. Grazing is initiated when weevil numbers reach, or are approaching, the economic threshold, and the alfalfa plants are more than 6 to 8 inches in height.
As the alfalfa is grazed to normal harvest level, eggs and larvae present are destroyed. Data from Missouri indicate alfalfa weevil larval numbers are reduced by about 98% with mechanical harvest, and about 90% by cattle in an intensive grazing system.
These reductions in larval numbers can effectively eliminate the risk from alfalfa weevil as long as most spring-laid eggs have hatched. This method of alfalfa weevil control has risks. These risks include damage to wet fields and bloat.
Producers should continue to scout alfalfa after grazing to determine whether larval or adult alfalfa weevil numbers again reach economic levels and require further control.
Source: Ag Connection
Subscribe to receive top agriculture news
Be informed daily with these free e-newsletters
You May Also Like
---