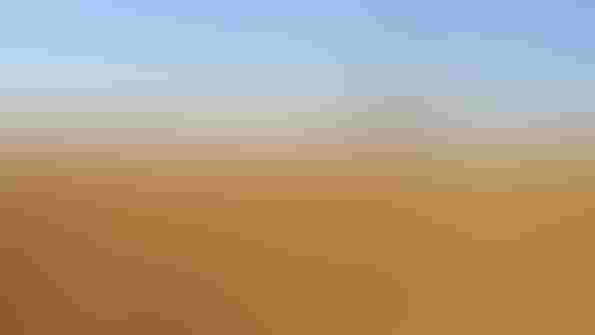 <p>Verell&rsquo;s weather stations in his corn and soybean fields are solar-powered; he reads the data on his cell phone.</p>
Think Different
Despite how critical too much or too little water is to corn and soybean production, it's an input in precision agriculture that's easy to get wrong on a particular field or part of a field. Ever more volatile weather patterns point to a combination of more on-farm weather stations, more rain gauges, more cooperative sharing of rainfall amounts with neighbors, and more use of modeled rainfall to get more accurate data.
--------------
It's ironic that the most limiting input for successful crop production—water—is one of the most elusive to precisely measure on the farm. Precision ag tools can measure crop yields accurately (given good calibration) across a whole field as well as zero in on multiple points in that field. Yet, it's often difficult for a farmer to say with certainty how much rain a certain field received from a given storm, let alone account for the variability of rainfall within that field.
Sharp precipitation boundaries
"There's not much distance between mud and dust with severe thunderstorms," says Tyler Williams, University of Nebraska Extension educator. "There are sharp precipitation boundaries. You might know it rained on a field, but the amount can vary across the field, and vary considerably from one field to another. You can guess, but it's better if you can measure it. And the more measurements you can have, the better."
That's why west Tennessee farmer John Verell added a fifth weather station this year across some of the irrigated fields of corn, soybeans and wheat on his 4,500-acre farm. "We decided ten years ago to add irrigation systems to some of our land to maximize production," Verell explains. "But the timing of when to irrigate has been one of our challenges. We installed four weather stations with soil moisture sensors a few years ago, and now we're getting a better understanding about how to read the data. We're looking forward to automated watering from this system so our irrigation is more science instead of a guessing game."
"There's so much variability in rain showers," Verell says. It's not one inch across the board on our land—it can range from three-tenths to an inch." That's the reason Verell likes the weather stations better than the interpolated readings he could get on the Internet. "It's usually a range of rainfall on those readings," he says. "I just like the more accurate local measurement."
​Verell can read current weather conditions from all his weather stations on his cell phone. "We can monitor the wind speed and direction at those fields for chemical applications," Verell says. "We use soil moisture readings to help guide nitrogen application timing." And since his weather stations also record temperature and track growing degree-days, Verell uses data from the stations for fungicide applications.
Spoon-feed nitrogen
Weather stations with soil moisture sensors and automated recording of soil moisture and temperature could furnish accurate, key data to farmers who spoon-feed nitrogen. Temperature, rainfall, and nitrogen application rates all affect nitrogen loss, and the ability to track them could help guide decisions of whether and when to apply more nitrogen.
 "A weather station 20 miles away is good, but it's better to have your own information," says Dr. Roger Elmore, University of Nebraska agronomist who specializes in optimizing crop yields and water use. A 2014 University of Nebraska study shows how the interaction of temperature and saturation affects nitrate losses. The longer a soil is saturated, the more nitrate loss occurs. But if temperatures rise in saturated soils, nitrate losses from denitrification occur even more quickly.
The study showed soil with a temperature of 55-60 degrees F that was saturated for 5 days lost 10 percent of the total N applied; when the soil was saturated for 10 days, the total N loss rose to 25 percent. However, if soil temperatures reached 75 to 80 degrees, the same saturated soil lost 60 percent of the total applied nitrogen in only 3 days.
General soil temperatures in your state or area are available online to help determine when fall temperatures are cool enough to apply nitrogen, or in the spring to gauge soil temperatures before planting. You could go to the field to take temperature readings yourself, but if you want to have the information available and track it daily without going to a field or fields, a weather station is handy.
Weather models improving
While Elmore sees value in on-farm weather information, he believes in coupling that data with weather prediction models, which he says are improving in general. "We now have some pretty accurate ten-day forecasts," Elmore says. And while it may not come in his lifetime, he believes the time will come when 30-day forecasts hit the mark consistently. "Can you imagine what that would mean to agriculture?" he asks.
He says improved models use more data. "We need to know the past and the present. Even the older models we've used looked at data for 30 years. Crop models coupled with both good current and historic weather data will be invaluable as we go forward."
Williams owns a basic, inexpensive solar-powered weather station he's placed near his home. "It works great. It measures and tracks rainfall online, and I know what the weather conditions are right here," he says. "But it could be challenging and expensive to place remote weather stations with more sensors like soil moisture and temperature in every field."
Williams suggests using a series of rain gauges as a cheaper option. "Temperature and wind speed aren't likely to change much from field to field, so if you want to just do a little better job of tracking rainfall, you might want to try one weather station to test its value, and then place rain gauges at other fields to compare," he says.
Fill in the weather gaps
Before you invest in your first weather station, Williams suggests taking advantage of free online weather data. Information is available from Universities or the National Weather Service—but it won't have rainfall specific to your farm. "These are radar estimated rainfall values," Williams says. They use a multisensory approach that compares radar precipitation estimates with 10,000 volunteer weather observer precipitation gauges. They fill in the gaps, and are more reliable than gauge-only or radar-only sensors.
There are a number of commercial crop management companies that include rainfall and weather predictions in their software packages, too.
Register a rain gauge with neighbors
If you work well with neighbors and want to share rainfall amounts with each other for more accurate information for all to use, consider getting together to join the Community Collaborative Rain, Hail and Snow Network (CoCoRaHS). The grassroots volunteer network of weather observers is the largest provider of daily precipitation observations in the United States. Online maps show locations of each rainfall station report. It's free, and would be a way for neighbors to compare rainfall amounts each time it rains by recording their rain gauge amounts and then looking online for neighboring amounts. More information online at cocorahs.org
How remote weather stations work
As weather station technology has grown over the past 20 years, options have expanded. Weather stations with multiple sensors for wind, rain, temperature, humidity, etc. can be placed at remote locations within a field. A solar-powered, weather-protected wireless receiver contains a modem that uploads data to a smart phone or computer. Besides up-front equipment costs, a recurring annual service plan must be purchased to download, read and archive the data. The service plans are more expensive as upload frequencies increase—one popular brand has upload frequencies of 1 hour, 15 minutes and 5 minutes.
Some farm-specific integrated sensor suites include soil moisture and soil temperature sensors that are buried in the soil. A leading brand of farm weather stations, Davis Instruments, offers a Vantage Pro2 system that ranges from about $1,000 to $2,000, depending on the number of sensors included. Farmers can install most weather stations.
About the Author(s)
Subscribe to receive top agriculture news
Be informed daily with these free e-newsletters
You May Also Like
---