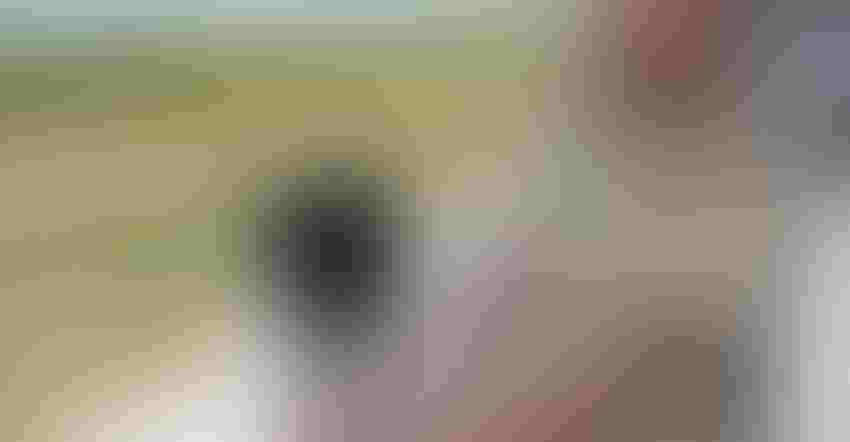 FLY AND LEARN: Using his controller, Alex Helms prepares to fly a UAV over corn.
You're not going to be an expert the first time you fly your unmanned aerial vehicle over crop fields next spring. But Alex Helms says if you stay with it and learn about your UAV, and how to look at what you're seeing, you can discover a variety of things that you couldn't have found without the help of a higher view of the landscape. 
Helms, who works with technology at the Southeast Purdue Agricultural Center near Butlerville, Ind., used a DJI Phantom UAV for the first time this year. Bob Nielsen, Purdue University Extension corn specialist, also worked with his own DJI Phantom UAV. Both believe they picked up valuable information about crops that they might not have seen otherwise.
Here's a point worth noting. Nielsen observes that the Federal Aviation Administration's official designation for these craft is sUAS, which stands for small unmanned aircraft system.
8 things to see
Here are just eight of many things either Helms or Nielsen saw in crop fields this year, thanks to their UAVs.
1. Corn plants' stage of growth early in the season. "We flew as low as 6 to 10 feet above the crop at the V3 to V4 stage," Helms says. "At that point we saw really good resolution of the plants and could get a good handle on growth stage."

CLOSE ENOUGH TO TOUCH: Well, it looks like it, at least. This view from 6 to 10 feet above the corn let Alex Helms learn about stage of growth, health and consistency of stand.
2. Missing plants or early leaf issues. Flying the UAV over the field at such a low altitude, it was possible to pick out where plants were missing in the stand, Helms says. It was also easy to see if any issues were developing on leaves, such as signs of injury from nitrogen application or an early nutrient deficiency.
3. Differences in strips in a starter fertilizer trial. Flying at the maximum 400-foot altitude can provide a full view of a smaller field, Helms says. In one field in a starter fertilizer trial this spring, it was easy to pick out which strips had and hadn't received starter fertilizer early in the season, he notes. That may not mean the differences correlate to yield at the end of the season, but it does confirm that starter applications can at least provide visual differences.

STRIPS EASY TO SEE: From a high angle, the lighter-colored strips with less overall growth in this fertilizer trial are easy to pick out.
4. Variability in soil types. Flying a UAV early in the season over V3 corn, Nielsen says it's possible to pick up differences in soil type. Crops on lighter soils tend to be lighter green when viewed from the air.
5. Old fencerows and unusual variations based on the past. If you know there was once a fence line in the field but aren't sure where, it will likely show up in growing crops viewed from the air, Nielsen says. Other unusual patterns you might pick up in crop growth can often be explained by what may have happened in the field in the past.
6. End row issues. One farmer who often applies nitrogen in a planned application with a high-clearance sprayer late in the season is still perplexed at how to minimize end-row damage during that application. The damage shows up clearly in a midseason UAV flight after tasseling.
7. Areas of nitrogen deficiency. Areas in cornfields that are turning yellow later in the season due to nitrogen deficiency show up well during UAV flights, even with regular cameras, Nielsen says. You don't need Normalized Difference Vegetation Index, or NDVI, imagery to pick out spots deficient in nitrogen.
8. Replant areas. This was the year of replanting in Indiana. Some farmers replanted only parts of a field. Wherever crops were replanted, it was easy to pick them out from the aerial view provided by UAVs, Nielsen says.
Subscribe to receive top agriculture news
Be informed daily with these free e-newsletters
You May Also Like
---