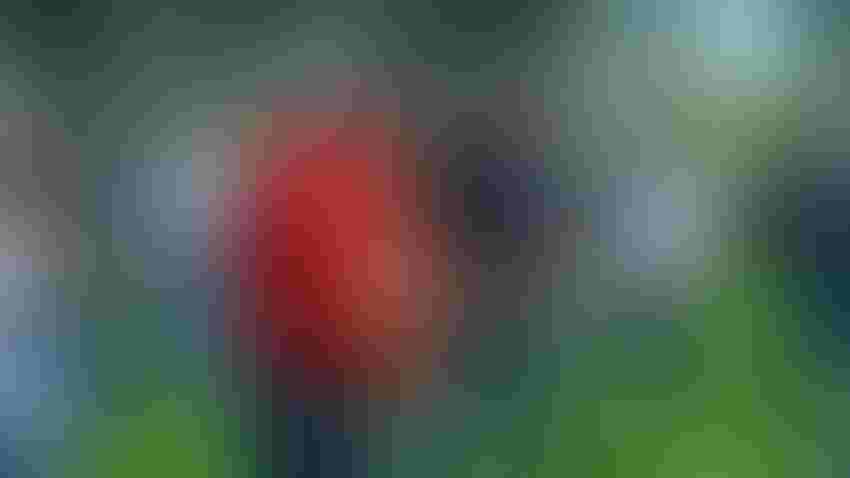 FOCUS ON SOIL HEALTH: Paul Jasa, Nebraska Extension biological systems engineer, talks about soil health at a Bow Creek Watershed field day on Jeff and Jolene Steffen's farm near Constance, Neb., last spring. This year, two field days will focus on soil — with 4Rs looking to improve nutrient management and Bow Creek Watershed studying the building of soil health and microbes in the soil.
Curt Arens
Understanding nutrients in the crop field can be a daunting task. This year's University of Nebraska-Lincoln 4Rs Nutrient Stewardship Field Day will help answer your questions, with a focus on up-to-date research information and demonstrations on nitrogen, phosphorus and potassium.
The field day is set for 8:30 a.m. to 3 p.m. July 6 at the Eastern Nebraska Research and Extension Center near Ithaca.
The 4Rs is a nutrient management and water stewardship approach that emphasizes fertilizer use with the right source, rate, time and placement of fertilizers. This science-based approach focuses on the best nutrient management practices and sustainable crop production, increasing crop yield and profit while protecting the environment.
Key advantages of following 4Rs Nutrient Management Stewardship include:
an efficient and effective soil fertility program for optimizing crop nutrient requirements

reducing the cost of fertilizer inputs while ensuring crop nutrient needs

increasing synchrony of soil nutrient availability and crop growth and development

reducing the potential for nutrient loss to surface water, groundwater and air

enabling efficient water utilization with the combined interaction of nutrient availability, crop growth and water use

improving soil organic matter and soil health benefits with more crop biomass production

increasing nutrient use efficiency by minimizing nutrient losses
Speakers across UNL and Iowa State University will be presenting. The event counts as 4.5 continuing education units on nutrient management. Attendance in the event will count toward Lower Platte North NRD nitrogen certification.
The field day is free, but registration is required for participation. More information is at agronomy.unl.edu.
Bow Creek field day set
Bow Creek Watershed is hosting a field day June 29 in the Crofton area. Speakers include microbiologist Elaine Ingham, who founded the soil food web approach, and Jimmy Emmons, Oklahoma farmer and president of the Oklahoma Association of Conservation Districts — along with a panel of local farmers who are testing the soil food web theories by making compost and spraying compost extracts on their crop fields, with promising results.
"From Elaine, learn about the soil food web — what it is, what it does and how that can help farms and ranches increase profits," says Becky Ravenkamp, watershed coordinator. "Jimmy will share his farming experience working more in line with nature's examples, and local farmers will explain how they are making compost and extracts for use on the farm."
After lunch, the group will visit the farm, where attendees will help make compost piles, see compost extraction and how sprayers are set up to spray extracts over large fields.
Following the field day, a more in-depth soil learning lab will take place over two days, June 30-July 1.
Ravenkamp says this learning lab is a "deeper dive into the soil food web, making compost, extract and teas." Time will be spent working in small groups with microscopes to learn how to identify microbes, check the soils to see what microbes are there and which ones are needed, and then using that information to build compost and evaluate compost to see if the microbes needed are present.
There are producers using these extracts on cornfields this season, so harvest data will be available by fall on its effectiveness. For event registration information, call Ravenkamp at 402-254-6758.
Subscribe to receive top agriculture news
Be informed daily with these free e-newsletters
You May Also Like
---