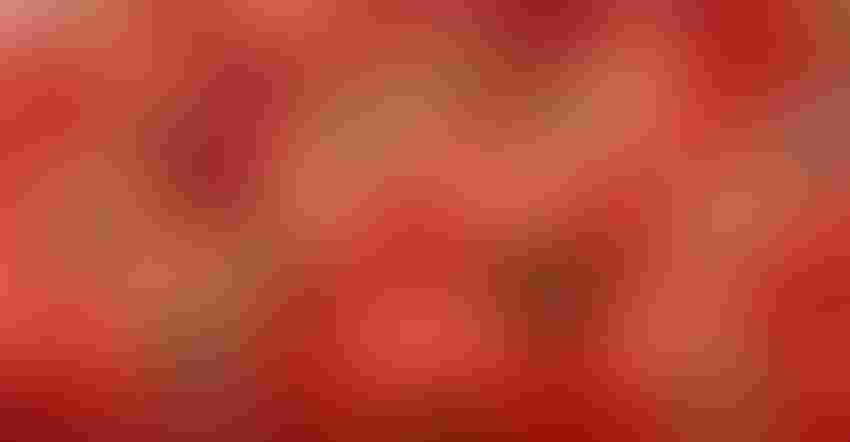 BEEFSTEAK, NOT BEEFCAKE: Chef's Choice Red, a beefsteak tomato, earned top All-America honors for 2018.
nrqemi/iStock/Thinkstock
Farm marketers are always on watch for new plant varieties to offer gardeners or try as fresh market produce. Here are eight new vegetables picked as 2018 All-America Selections. They're described by Leonard Perry, retired horticulturist at the University of Vermont.
Yes, Perry knows tomatoes technically are fruit, not vegetables. Just go with him on this.
To be an AAS winner, plants must show improvements over similar existing cultivars, he notes. This year's eight national vegetable winners include a sweet corn, pak choi, three peppers and three tomatoes. Here's Perry's quick peek at each:
• Sweet American Dream. This bicolor sweet corn has large ears with super sweet kernels. It can be eaten fresh, roasted, grilled, canned or frozen. Plants grow six- to seven-feet tall. Ears mature about 77 days after planting.
• Asian Delight. It's a Chinese pak choi cabbage with yields twice or more than other varieties. Much later to bolt, its small to mid-sized heads have a tasty, tender white rib contrasting nicely to the dark green leaves. Figure on 30 to 50 days from sowing seeds to harvest, or 25 to 40 days to harvest after setting out transplants.
• Red Ember. This early-maturing cayenne is good choice for cooler climates and shorter growing seasons. It produces many bright red, thick-walled fruits with rounded ends, about 4 inches long and an inch wide. It's described as spicy, but tastier than traditional cayenne. Plants are compact, under two feet high and bear 25 to 50 or more fruits. Since it needs about 130 days from sowing until fully ripe, it might be better to start them indoors, and then set out as transplants. Figure on about 75 days to fully ripe from transplanting.
• Roulette. This bright red habanero pepper winner has a tasty citrusy habanero flavor, but no heat. A plant will produce about 10 fruits at a time, up to 100 a season — acorn-shaped, 3 inches long and a bit over an inch wide. Bushy plants grow up to 3 feet high. Again, it may be best to start these indoors, and then transplant. Figure on 85 days from planting to fully ripe.
• Mexican Sunrise. It's a Hungarian pepper that performed best in the Southeast and Southwest, Perry says. Varied-color fruits are conical to 6 or so inches long, and hang on bushy plants about 20 inches high. They can be used ornamentally and for eating or pickling, but are semi-hot. Figure on 80 days or more in order to fully ripe from sowing directly, or 60 days or so from transplanting.
• Chef's Choice Red. What makes this beefsteak tomato special is its firm flesh, good balance of acidity to sweetness and many fruits (30 or more, a half-pound each) on strong plants (5 feet tall and indeterminate), plus some disease resistance. Figure on about 80 days to bearing from transplanting.
• Red Racer. This cocktail-type tomato has resistance to several common diseases. Fruits mature in clusters about a week earlier than similar varieties, are uniform sized and are slightly larger than cherry tomatoes. They have a good balance of acidity to sweetness. They're determinate and will grow about 3 feet high. Figure on about 57 days from transplanting until they start bearing.
• Valentine. It's a very sweet, deep red grape tomato that produces fruit about 55 days from transplanting, and can last quite well on the vine without cracking or losing flavor. It has some resistance to early blight disease. Indeterminate plants are vining and will need staking. Expect 100 or more fruit per plant.
You'll need to buy these seeds from catalogs. Find more details at all-americaselections.org.
All-America Selections, the 85-year-young non-profit plant trialing organization, trials new varieties throughout North America by professional, independent, volunteer judges, growing them next to comparisons considered best-in-class.
Source: University of Vermont
Subscribe to receive top agriculture news
Be informed daily with these free e-newsletters
You May Also Like
---