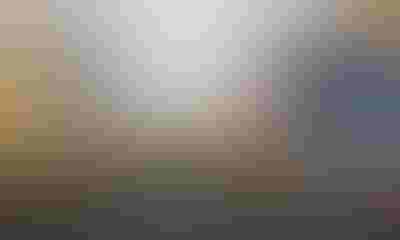 How would you do if you were asked to scout fields, identify insects and diseases, and come up with possible solutions to the problems you found? You may do this in your own fields every year, but your competition is probably your checkbook, not other people trying to come up with better solutions than you do.
Learning to identify crop problems through scouting and then thinking through possible solutions is the concept behind a crop scouting competition for high school students in late summer each year. A relatively new competition, it's held at the Purdue University Crop Diagnostic Research and Training Center at the Purdue Agronomic Center for Research and Education.

Corey Gerber is director of the diagnostic center and helps organize the contest. He was assisted this year by Anna Noveroske Freije, a Purdue Extension crop pathologist.
Tough competition
Eleven teams competed in this year's state event, Noveroske Freije notes. They were: South Central FFA, Union Mills, which entered two teams; Westview FFA, Topeka; North Harrison FFA; Southwestern FFA of Shelby County; Whiteland FFA; Eastern Hancock FFA; Trinity FFA from Jackson County; Heritage Hills FFA, Lincoln City; South Newton FFA; and Connersville FFA.
The contest consists of several stations, with a score given at each station. This year's stations included corn nutrition, soybean diseases, crop scouting in soybeans, insect and weed identification, corn and soybean production, calibration, and cover crops.
"We added the calibration and cover crops stations this year to update the contest," Noveroske Freije says.
"At the field scouting station, one thing they do is scout the field and come back and report what they find," she notes. "This includes growth stage for the plants in the field and notes on any disease or insect problems.
"They work as a group most of the time. They also can use the Purdue Corn and Soybean Field Guide as a reference in all but a few sections of the contest," Noveroske Freije says.
"The contest is a lot about whether or not a team can figure out the answer to a question. They don't necessarily need to know everything from memory," she adds.
The top three teams in the Indiana contest this year were Southwestern, South Central and Eastern Hancock.
National competition
For the first time, the top two teams from Indiana competed in the first-ever regional crop scouting competition in Iowa. Two teams from three states — Indiana, Iowa and Nebraska — competed in the event, held soon after Indiana's state contest.  
"My kids were elated to win the state contest," says Pam Meyer, Southwestern FFA advisor and team coach. "They put in a lot of time studying, but they weren't sure what to expect.
"We would have liked to do better in the national competition, but it was a great experience," she says. "We included side trips to places like the Caterpillar factory, and contest organizers secured tickets so we could attend the Farm Progress Show in Boone, Iowa. These extra activities added to the overall educational value of the trip."
South Central FFA's team placed third in the new regional contest.

About the Author(s) Editor, Indiana Prairie Farm
Tom Bechman is an important cog in the Farm Progress machinery. In addition to serving as editor of Indiana Prairie Farmer, Tom is nationally known for his coverage of Midwest agronomy, conservation, no-till farming, farm management, farm safety, high-tech farming and personal property tax relief. His byline appears monthly in many of the 18 state and regional farm magazines published by Farm Progress.

"I consider it my responsibility and opportunity as a farm magazine editor to supply useful information that will help today's farm families survive and thrive," the veteran editor says.

Tom graduated from Whiteland (Ind.) High School, earned his B.S. in animal science and agricultural education from Purdue University in 1975 and an M.S. in dairy nutrition two years later. He first joined the magazine as a field editor in 1981 after four years as a vocational agriculture teacher.

Tom enjoys interacting with farm families, university specialists and industry leaders, gathering and sifting through loads of information available in agriculture today. "Whenever I find a new idea or a new thought that could either improve someone's life or their income, I consider it a personal challenge to discover how to present it in the most useful form, " he says.
Subscribe to receive top agriculture news
Be informed daily with these free e-newsletters
You May Also Like
---