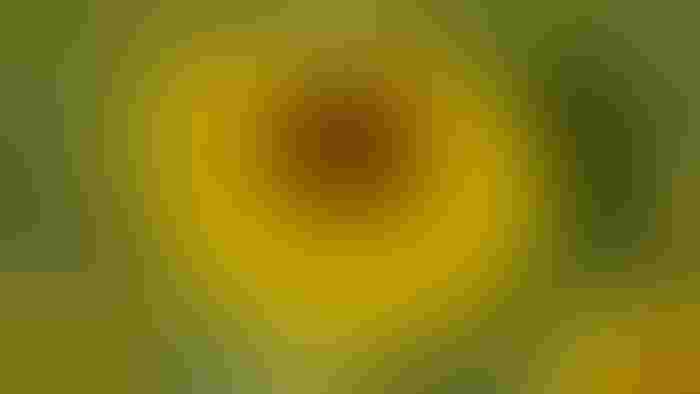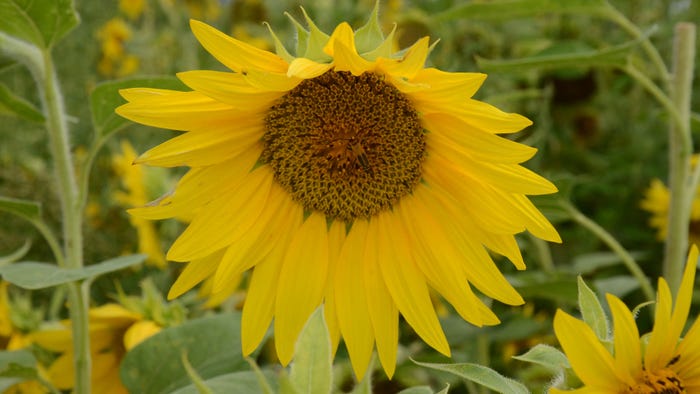 Photo by Jennifer Kiel
When you grow wheat, it's becoming common practice to follow it with some kind of cover crop. But wouldn't it be nice to get a little more income off those acres? It's not unusual for farmers to double-crop beans, but what other options are there?
Seventh-generation Ohio farmer Trent Watkins — who farms with his dad, Mark, and uncle Brian Watkins — tried sunflowers last year with the help of Aaron Travis at Midwest Wheat Consultants out of Converse, Ind.
"I'm not a fan of double-cropping soybeans because the yields are very inconsistent, and it's a pain because by the time it's mature and ready to harvest, it's late November, it's wet and sometimes it's real difficult to get your beans off at that point," Watkins says.
Sunflowers are easier to take off, he adds. "They don't need as much water as beans, so the yields are more consistent."
The Watkins are farming 5,000 acres of corn, 5,000 acres of soybeans and about 1,000 acres of wheat. They also raise 6,000 head of wean-to-finish hogs at three locations. Watkins mostly heads up operations and agronomy.
Eighty percent of their ground is in no-till, and an array of cover crops have been part of the operation for more than a decade, especially on their rolling hills. Several acres are in the Lake Erie watershed, which has allowed them to capitalize on government assistance in planting and managing cover crops.
Planting
The sunflower seeds went in a little later than Watkins would have liked on 125 acres. "Ideally, we'd like it planted immediately after the wheat is harvested, but we got ours in about July 15," he says. "We got some rain and needed it to dry out. We used a dragline to put the hog manure down and no-tilled the sunflowers in with our corn planter.
"We got special plates for the corn planter and planted in 30-inch rows. I was told spacing is important for yield, and our corn planter worked really well."
Watkins says he was advised to plant 24,000 seeds per acre about an inch down, which required 70 pounds of nitrogen. "Our hog manure provided plenty of nitrogen, so I had that covered," he says. "That really made the whole thing work. If you had to buy 70 pounds of nitrogen, that cuts into your profit a bit. But if you have the manure, and you're applying it on the wheat stubble anyway, then essentially that nitrogen is free. It worked out really well."
Right after planting, he followed with a spray of Roundup and Dual for herbicide. Weeds were not terrible, but Watkins says he had quite a bit of volunteer wheat.
"That really didn't bother anything, and it provided a good mat of wheat growing underneath that served as a cover crop," he says.
Don't delay in ordering seed and look for an early maturity, he advises. "We were late coordinating our seed, and we got a medium maturity seed," Watkins says. "It took a long time to dry down."
Watkins used his soybean platform head for harvest. "We had no problem cutting and had it tipped all the way back because the sunflowers are real light," he says. "Even so, we probably lost 20% that rolled or bounced off the front. So, if you want to get serious about sunflowers, you definitely have to buy a separate head. They make one built for sunflowers, or John Deere has an all-crop head that I'm told works well, but we didn't have either of those."
Harvest
Luckily, a dry November allowed Watkins to get to 13% in the field. "But the buyers want 10%, so it's best to have a way to dry them down because 18% in the field is ideal to limit head loss and bird damage."
Watkins used a dryer bin to get to the desired 10% moisture and stored them in a bin. As of mid-May, he was waiting on a small grains buyer from ADM to take them to a processing plant in Michigan. About 95% of sunflower seed grown in the U.S. is marketed for bird seed, and the 10% moisture is needed for bagging and storage life.
Travis advised Watkins to expect about a ton per acre, but given the wet planting conditions and the loss at harvest, he fell shy of that benchmark. "But the sunflower market is like $24 per cwt, so you can make just as much money as a good double-crop bean yield as long as you have the right head and a dryer available," Watkins says.
He followed the sunflower crop with beans this year. "It went well, and the sunflowers mellowed the ground," he says. "I talked to a guy from Kansas who double-cropped sunflowers, and he said he had his best corn yields following those sunflowers. Because the roots loosen the soil so much, corn is able to follow those roots and get a lot of moisture out of the ground."
While beans are readily marketable, sunflowers are a little trickier and need to be thought out. "But as long as that goes smoothly, I think the actual growing of the crop, sunflowers seem less prone to the drought stress that comes in July and August," Watkins says.
This year, he's taking a break from the sunflowers as the bin he rented for drying is no longer available, and he wants to acquire the proper harvest head.
Beyond keeping the ground covered with life, Watkins says, "Sunflowers served as unification — a community type thing. I had probably 30-plus people ask me when they were popping up what I was growing. And, once they were blooming, they really got some attention for about a month and people commented on how they appreciated the sunflowers driving by — and the neighbors enjoyed them."
Watkins is not done with sunflowers. "I think it could be a really positive thing for the community, and if I can make decent money and beautify the county, I think those are two good things."
Subscribe to receive top agriculture news
Be informed daily with these free e-newsletters
You May Also Like
---