It's all about taste for sweet corn producer
It's all about taste for sweet corn producer
SLIDESHOW: Farm-grown sweet corn is a favorite of many who travel across Iowa. More than 3,000 acres are planted in the state each year and Knoxville farmer Dan Dennison has increased production over the years to provide a tasty treat for his customers.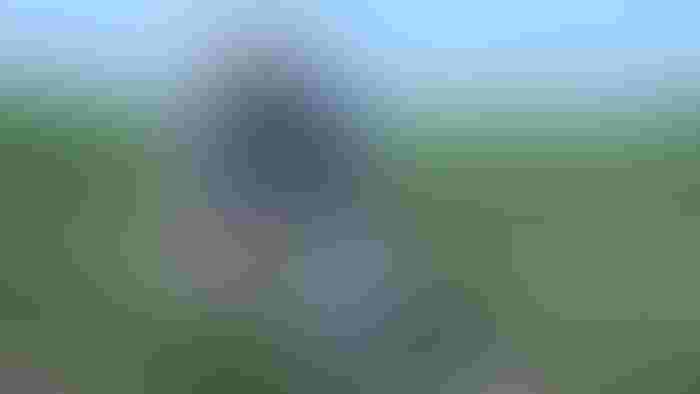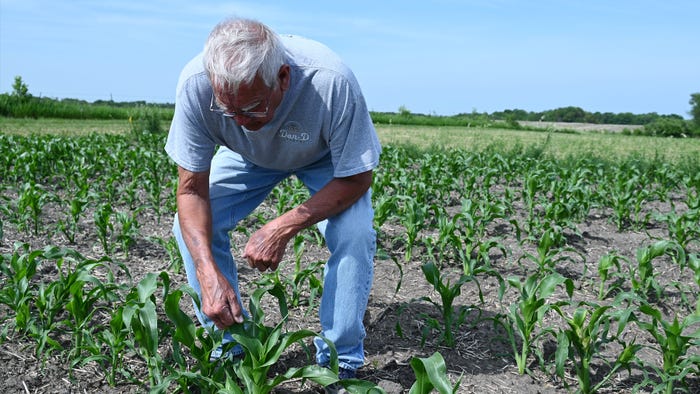 CHECKING CORN: Dan Dennison, of Knoxville, Iowa, checks for a tassel on the early sweet corn he planted on his farm. He says the tassel will come soon, and this corn should be ready the first part of July. Jennifer Carrico
It's all about taste when it comes to raising sweet corn. Dan Dennison, of Dan-D Farms near Knoxville, Iowa, doesn't even cook the sweet corn he raises; he eats it fresh off the plant in the morning, at noon and at night. "If I don't like the taste of it, neither will my customers," he says.
Dan and his late wife, Jana, started raising sweet corn in the early 1980s, along with several other types of vegetables, in the family's truck farm in south-central Iowa. The farm where he grew up still has other field crops, a cow herd and pasture, but it has been best known for the tasty sweet corn raised there the past 40 years. Over this time, the patch has grown from a few acres to now 35 acres with harvest from early July through Labor Day.
Planting typically starts at the end of March and continues through May. Dan says he will plant several rows each week throughout planting season. "I have to plant different maturity lengths and various varieties to be able to have corn available throughout the summer," he adds. Using a four-row planter, he keeps the rows at 38 inches to be able to get down them easier during picking.
He says raising sweet corn isn't a whole lot different than raising field corn, but sweet corn doesn't emerge as strong and typically isn't as hearty. Weed management is still one of the biggest challenges he faces, and if weeds get out of control, it can affect the growth of plants as well as making harvest more difficult.
While the goal is to have the first corn harvested for Fourth of July celebrations, sometimes it's a little before or after that time frame. He has one selling stand in Knoxville. When production is excessive, he will take extra to local grocery stores to sell.
The relationships
The trick is knowing how much is needed for different celebrations or events throughout the summer months. The Marion County Fair always draws extra people to the town, but the big attraction is for four days in August — the Knoxville Nationals sprint car races.
"We have people from across the country who have been buying corn to take home to their families for years. They'll buy as much as a hundred dozen or more," Dan says. "They come for the races and end up making friendships. I'll get calls every now and then from people just checking in. We like that."
Dan's daughter Dee McKenna says, "I believe the biggest impact he has is on the kids that pick for him. They pick because they love spending time with him."
His other daughter, Debra Kearney, who runs the greenhouse and pumpkin patch part of Dan-D Farms, agrees, "All the kids that work for him, love him. He always has snacks for the pickers to eat in the morning. Often, kids come early just to visit with him."
Mickayla McGill is one of those who helped at the sweet corn patch for a very long time. Her family is also neighbors to Dan Dennison. She recently graduated from Iowa State University and now works for the Iowa Soybean Association, but began helping Dan back when he had a corn maze and she was a small child. While the corn maze has now been phased out, she helped pick corn for seven summers.
"Dan has always been a great neighbor for my family and is always willing to do anything for his neighbors," Mickayla says. "He is a very selfless person, which makes working for him easy and fun. Dan's advice is the best, which is how we started every day before heading out to the field to pick, and we ended picking for the day with a few wise words."
Dan appreciates his pickers and tries to attend local events for those kids. "I like to celebrate the kids who help me. Instead of a senior sports banner, they get a corn picking senior banner from me. It's important to get the work done, but have fun doing it," he says.
Picking season
Starting in the first part of July and all through the summer until Labor Day, pickers show up at Dan-D Farms before 6 a.m., meeting in the shop and sharing some knowledge and snacks before moving into the field to start picking. Depending on how much needs to be picked, there will be at least four pickers each day.
Dan says the pickers walk down the rows collecting ears from each plant and stacking them in their arms. Once their arms are full, they put the ears in the tractor bucket. When the tractor bucket is full, Dan will empty it into the truck and when they have enough corn for the day, they are done. They will pick 200 to 800 dozen by 8 a.m. Corn is only picked once it has filled in the ear all the way to the tip.
"We want to provide a full ear. Our customers deserve a good ear of corn," Dan says. "They deserve to get what they are paying for."
Sweet corn producers don't have specific regulations in Iowa, where more than 3,000 acres are planted each year. Since the corn is sold with husks on, it is considered to be naturally packaged, which keeps it from needing rules.
The sweet corn patch location is rotated every year. A rye cover crop is planted after the corn, and the following year, the patch is across the road. Dan says being able to have two separate places to have the sweet corn helps prevent the problems he might see if the crop was continuously planted in the same place.
The future
Dan says he isn't sure how much longer he will continue to plant sweet corn but figures he will as long as he can. Debra added the greenhouses to the business in 2022, selling bedding plants and vegetables. In the fall, she also sells mums and pumpkins. This fall the family plans to have a haunted corn maze on a 4-acre patch of corn. Christmas trees are also sold during that season, and Debra leads workshops on wreaths and other holiday decorations.
Dan-D Farms continues to be a family business. Debra's three children have helped in different areas of the farm. "They know when it's time to plant corn or pumpkins, they will likely need to help," she says. "This year we are using a planter to plant the 80 varieties of pumpkins, but my backup plan is always getting them in the ground — even if it is by hand — and then we would need all the help."
Daughter Dee's three girls make it down to Dan-D Farms from their northwest Iowa farm to help. Dan's son, Doug, who lives in Virginia with his family, will help if he's in the area during the right time.
"The sweet corn helped pay off debt early on from the 1980s farm crisis," Dan says. "Since then, it has helped put all three of my kids through college. I think it would make Jana happy to see where it has come." Dan lost his wife, Jana, to ovarian cancer in 2010. Since then, they have the annual Nana Jana Fun Run each September to honor her memory, with all proceeds going to ovarian cancer research.
"Farming is a great way of life and a great way to raise a family. The sweet corn business has been good to us," Dan says. "What else can you do where people buy something from you and thank you at the same time? It's very rewarding."
Subscribe to receive top agriculture news
Be informed daily with these free e-newsletters
You May Also Like
---