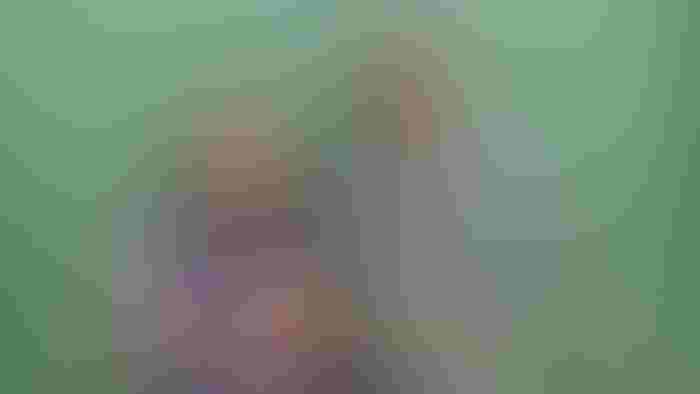 Photo by Chris Torres
Out of the 2,400 acres farmed by Carl and Betsy Long, potatoes make up only 415 acres — about 2%. But those spuds are big business.
"It's our biggest crop," says Carl, who dreamed of owning his own farm even before he graduated high school in 2003. He's expecting a good year for his spuds, which will go in the ground sometime around May 15 in his fields in and around Potter County — in Pennsylvania's Northern Tier.
"What makes Potter County great is, we get cool nights, we normally have enough moisture, and so our potatoes are higher in solid content," he says.
But potatoes were not part of his original plan. He thought he would be a dairy farmer and own his own dairy farm by now.
Running a successful and profitable business, and raising three children, comes first for this young farming couple, who were recently named one of four recipients of the National Outstanding Young Farmer Award by Outstanding Farmers of America. The Longs have learned to make changes when needed and to find opportunity in places they never expected.
Dairy dreams
Carl, 38, thought his future was as a dairy farmer. He first worked for his seventh-grade science teacher, who also happened to have a dairy farm, for three years. He then worked for another dairy farm before deciding that he wanted his own animals.
At age 15, before he was even legal to drive, he applied for and got a Farm Service Agency youth loan for the maximum $5,000 to buy calves.
Dairying was in Betsy's veins, too. She is 39. Betsy grew up on 500-cow dairy 6 miles away from the couple's home farm, but later attended Lehigh University with hopes of getting a degree in chemical engineering. She later switched her major to psychology.
She started dating Carl in college and, after they married and had their first child, took a more prominent role on the farm helping with office work, balancing the books and serving as the farm's public spokesperson.
Carl went full-fledge into farming after high school but sold his animals thinking that he could not scale the business to a level that he could afford. He instead focused on crops, scoring a contract with Lancaster County-based John Copes to grow 90 acres of sweet corn on rented ground.
Soon after, a retiring farm owner, whose partnership with his brother had fallen apart, approached Carl with the idea of leasing his operation.
"So, it worked out that he rented me the farm, and I took over his green bean contract," all while still growing sweet corn, he says.
In 2006, Carl and Betsy bought the farm, which is today the main Long Farms location. They have grown their operation through buying and selling land, but most of the land they farm is leased.
"I always wanted my own farm, and things just worked out," Carl says.
Focus on potatoes
Although Coudersport, located in northern Pennsylvania, has a relatively short growing season, the couple tried growing corn and soybeans. But 2013 was a hard year, with low grain prices and a challenging growing season.
"We lost a lot of money in corn. We can't get the high yields with the short season, and that's when I thought I didn't know what we were going to do," Carl says, adding that they also just purchased an adjoining 205-acre farm.
Luckily, the former owner of the farm they first purchased, who just happened to work for the couple, had an idea: Grow potatoes. It was something Carl's employee did up until about 1993, but Carl didn't know a thing about growing spuds. Still, in 2013, he put his first plot in the ground.
"We had really good luck, and it was fairly profitable," Carl says. Old potato storages that stood empty for years were remodeled, and he and Betsy went full-fledged into potatoes.
The couple leased more acres, eventually growing their operation to more than 2,000 acres. Potatoes are grown in a three- or four-year rotation depending on variety and how far fields are from storage. Three-year rotations are potatoes, oats, clover. Four-year rotations are potatoes, green beans, wheat, and clover or timothy.
Ground that can't grow potatoes is in a three-year rotation of green beans, wheat and timothy. The green beans, which are contracted for processing, fit well in the operation, Carl says, because they are short-season — they only need 60 days from planting to harvest — and the area usually has ample rainfall.
Winter wheat is the couple's biggest crop by acres — more than 500. Most of it is sent for milling, while straw goes to a neighboring farmer. Seed oats are grown for a company in Lancaster County, while timothy hay is sold to another neighboring farmer who uses it for dry hay.
"We're trying to keep the ground covered," Carl says of his crop rotations. Red clover fits well, he says, because it helps to build soil health.
Prepping for planting
Growing and storing potatoes is literally a yearlong process, Carl says, not unlike a grower who grows grain, stores it and then markets it at a later time.
"There is not a lot of time when we're not worried about potatoes on this farm," he says.
The process starts with seed potatoes that come from Wisconsin. The seed potatoes get cut, placed in a warehouse at 55 degrees F for three days and then planted. Called "precutting," this is a process Carl has learned from large-scale growers in Michigan.
He used to cut potatoes the day before planting and then depended on the cool, 55-degree soil to heal them, but this is risky, he says, because a wet spring can destroy a crop before it gets a chance to set seed. Also, precutting saves a lot on labor.
"It saves on labor because we used to have two or three guys cutting seed while I was planting," Carl says. "Now, we cut it all ahead of time. All we need is someone to scoop it up and bring it to me in the field."
Potatoes are usually planted in clover after the ground is moldboard plowed. About 650 pounds an acre of dry fertilizer is placed in-furrow. "We don't use a lot of nitrogen; we spoon-feed as they grow. The tanks on the planter have micronutrients and a calcium product. We believe in calcium for self-strength," he says, adding that planting happens around May 15.
Fields are cultivated once, about five weeks after planting. They are then hilled to ensure the spuds do not get burned from the sun and that the plants grow vertically. This is about the time where Carl says he will sidedress nitrogen, but timing is critical.
"You want them to be big enough so you can put a big hill on them without burying the plant," he says. "But you have to watch the weather because if you have a bunch of rain coming, and you have 200 acres that are all close to the same stage, you won't be able to get to them quick enough before the rows close and you're doing damage to the plant."
The farm averages a 240-cwt yield, which is around the state average of 250 cwt. Harvest starts in late summer and goes through the end of October, depending on variety.
"With potatoes, it's how much water you'll get … the last four weeks of bulking," Carl says. "That's what makes your crop."
To improve yields, Carl says he has started planting earlier and with more seed. Since irrigation is not feasible, Carl says that he focuses more on improving soil health, using gypsum for soil structure and incorporating cover crops to hold more water.
Learning from mistakes
"We only know 10% of what there is" to know about potatoes, Carl says. "I mean, there is so much to learn from trial and error, and there are so many people across the country doing things so different."
But he and Betsy have shown their willingness to adapt and make investments when it benefits the farm's bottom line.
A few years ago, the couple bought a clodhopper to separate stones from the harvested potatoes. This has reduced labor, he says, because it was a job that used to take six people to do.
They also bought a second planter, which enables more planting to be done when the planting window is tight.
Capital investments are expensive, Carl says. It's one reason the couple always consults with at least two people to get another opinion before buying something.
"If you can see something that will pay for itself and benefit the operation, you go for it," he says.
More than 95% of the potatoes are sold through brokers for potato chips; a limited amount goes for other types of processing. This is something Carl says he wants to change.
"One thing when we started growing more potatoes, one thing we lost was our diversification," he says. "The income stream is very much all chip potatoes."
This year, Carl is doing the second year of a trial testing the viability of table potatoes. He is working with Penn State Extension and others on finding a variety of table potatoes that will grow in the Northern Tier. He is growing 50 acres this season.
Quality over quantity
Carl says that he does not go out and spend big money on the latest equipment. For example, his newest tractors — he's all John Deere — are an 8410 from about 2002, and a 7510 from about 2003.
"We are far from dealerships, and we need stuff that we can work with," he says.
When he first started growing potatoes, much of the equipment he got was from farms that were getting out of the business — in Pennsylvania, New York and Ohio.
The couple expect a good year for their potatoes. They say demand is good, prices are up, and processors want to keep production close.
Their focus is on growing the best quality potato, not the most potatoes.
"We're not fancy, we don't have new stuff," Carl says. "We're not the fastest or biggest operation. It's about quality, focus on quality, and building relationships with your customers."
Subscribe to receive top agriculture news
Be informed daily with these free e-newsletters
You May Also Like
---