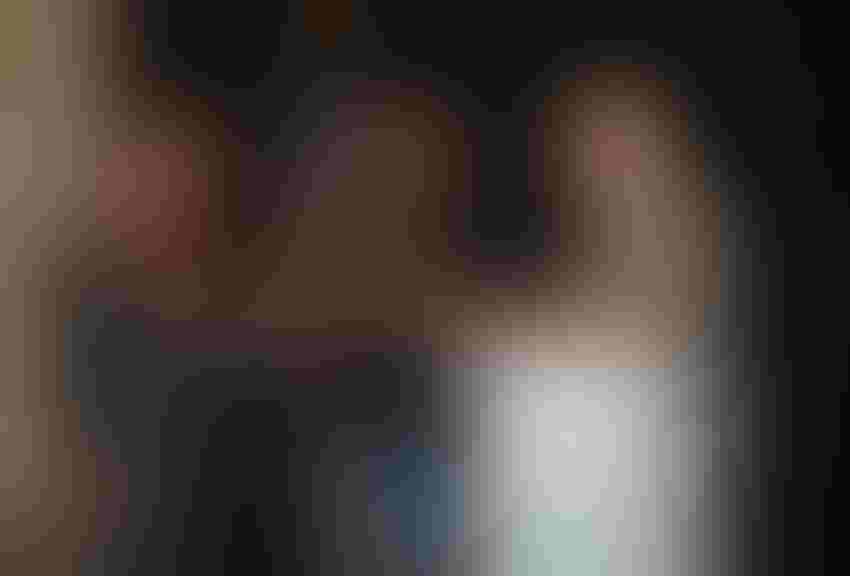 North Carolina Agriculture Commissioner Steve Troxler, right, recognizes Catawba County corn farm Russell Hedrick for his world-record dryland yield of 459.1 bushels per acre set last year. Looking on is Jeff Sparks, president Corn Growers Association of North Carolina and a Tyrell County farmer.
John Hart
At a Glance
North Carolina Agriculture Commissioner Steve will ask the legislature for $15 million for farmland preservation.
North Carolina Agriculture Commissioner Steve Troxler cautions that the No. 1 issue impacting agricultural sustainability in the Tar Heel State is rapid population growth.
Speaking at the North Carolina Commodities Conference on Jan. 12 at the Sheraton Imperial Hotel in Durham, Troxler noted North Carolina ranks third in the nation in terms of population growth.
"What do we do with this population?" Troxler asked. "Number one, we got to feed them. We can do that, no problem. But if you look at the infrastructure in North Carolina, I think we're probably pretty far behind to take that kind of population."
Troxler cited the rolling blackouts that occurred in parts of the state during Christmas as an example of strains on the infrastructure.
"Does that mean we don't have enough power generation in North Carolina, or the lines in place to take this population growth? How about all the businesses that are moving into North Carolina? There is a decree out there to put a million electric vehicles on the road. Where's the power going to come from to charge them? Where's the power to come from for the new industry?"
Troxler emphasized farmland preservation remains his key goal as commissioner.
"This past year put 30,000 acres of farm and forestland under permanent conservation easements in the trust fund," he said. "But that pales into comparison to the land we lost to solar development, and industrial development, and now all the houses that were built. We got to kick our game up some. And to get that game kicked up, it takes money.
"I'm going to ask the legislature for $15 million recurring for farmland preservation. I certainly hope that they listen. But what I know is the states that have the most robust farmland preservation programs are the ones that lost the farmland.
"New York State found out if they did not protect the farms in northern New York then New York City was not going to have good drinking water, so they have a really good program. Pennsylvania probably has one of the most robust programs. They have lost most of their farmland, Ohio the same way. We don't want to get to that point. We can't have a $100 billion industry if we don't have the natural resources to be able to farm and raise the product," he said.
Troxler stressed flood mitigation and prevention is a priority.
"When you move all these people in, all of these businesses in, build all these new roads, pour all this concrete, that waters got to go somewhere, and it flows east," he said. "Part of eastern North Carolina's problem with flooding certainly is clogged waterways and rivers, but it's also the lack of managing stormwater. When was the last time we built a stormwater control reservoir in North Carolina? I don't even know."
He emphasized messaging to the public has never been more important.
"We've done a good job being cohesive in agriculture. We're singing off the same page in the hymnal. But we ain't singing loud enough nor long enough, and we got to figure out more ways to do that."
He said the core problem facing both agriculture and the economy is bad policy.
"When we got away for energy independence, not developing our own energy resources, not using the things that we have here at home and being dependent on other folks, it was bad policy, and we're paying for it now," Troxler said.
"I had an ag econ professor that said you would think that weather is going to be the deciding factor in success or failure of agriculture. He said it's not true. He said policy will always be the biggest factor. After all the years farming and being commissioner, I believe exactly what he said. But I want to add one thing to that. Unless we have adequate agriculture resources, to take us forward, we're not going to feed the population, it's not going to happen."
Troxler emphasized North Carolina farmers can produce the food. At the conference, he cited Catawba County farmer Russell Hedrick who won the Corn Growers Association of North Carolina 2022 Corn Yield Contest with a world record dryland yield of 459.1 bushels per acre. Hedrick was recognized and honored by the commissioner at the meeting.
At the meeting, North Carolina State University Extension Corn Specialist Ron Heiniger notedthe yield of 459.1 bushels per acre achieved by Hedrick is the highest recorded dryland yield in the history of the world, with many experts believing a dryland yield of more than 450 bushels per acre is impossible. Hedrick beat the previous record of 442.14 bushels per acre set by the late Manchester, Iowa, farmer Francis Childs in 2002.
Subscribe to receive top agriculture news
Be informed daily with these free e-newsletters
You May Also Like
---