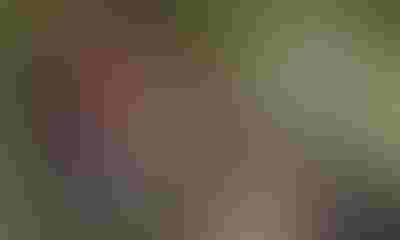 Women who are landowners, farmers or involved in ag retail services will be meeting once again this fall at a north-central Iowa and a southeast Iowa location. "Agronomy in the Field" is a program for women that is in its second year and currently serves nearly 100 women at three Iowa locations. The goal of the program is to increase agronomic knowledge from planting through harvest by spending time in the field. 

CROPS AND MORE: The goal of ISU's "Agronomy in the Field" program is to increase women's agronomic knowledge. The sessions are free. They start this fall and continue through winter, providing a great opportunity to learn more about agriculture.
These programs are hosted by Extension field agronomists Angie Rieck-Hinz, Meaghan Anderson and Rebecca Vittetoe. Sessions for "Agronomy in the Field" earlier this fall were postponed due to harvest preparation, but will resume this fall and continue through March 2017 in a classroom setting.
Opportunity to learn about crop management and agriculture
The meetings are free; there is no charge to attend. They are an awesome opportunity to learn more about crop management and agriculture. The upcoming meetings during winter will be in a classroom setting to learn about interpreting soil tests, fertilizer recommendations, GMOs and other topics the groups deem important to discuss.
The meetings will start on October 18 and November 7 and run through March 2017.
North-central Iowa: Sessions in north-central Iowa, hosted by Angie Rieck-Hinz, will meet on the third Tuesday of each month at 6 p.m. at the ISU Webster County Extension office in Fort Dodge, Iowa. The first meeting in north-central Iowa will be on Oct. 18; remaining sessions will be held Nov. 15, Dec. 20, Jan. 17, Feb. 21 and March 21.
Southeast Iowa: Sessions in southeast Iowa, hosted by Meaghan Anderson and Rebecca Vittetoe, will meet at 6 p.m. on Nov. 7, Jan. 17, Feb. 7 and March 7 at the ISU Washington County Extension office in Washington, Iowa.
You can also tune-in via a Web conferencing program if you wish
For the first time, the sessions will also be offered by a Web-conferencing program for those people who are unable to travel to the meeting location. "It can be hard to travel in the fall and winter months with the busy harvest season and with the weather challenges. So hopefully the Web-conferencing technology will allow women across the state to still be a part of this program, even if they are unable to physically meet in the same location," says Rieck-Hinz.
This spring and summer, women from across the state traveled to the Smeltzer Iowa Learning Farm location near Otho, Iowa. They also met at the ISU Northern Iowa Research Farm at Kanawha, and at the ISU Southeast Research and Demonstration Farm near Crawfordsville, for the "Agronomy in the Field" program.
Learn about useful, important crop-related topics and information
Information and resources on crop growth and development, seed treatments, weed identification and conservation practices were some of the topics discussed at the spring and summer meetings. Guest speakers presented information on insect and crop disease identification and water quality. The groups also spent time in the field, learning about corn and soybean growth stages and conducting population counts.
Planned learning sessions for this fall and winter include: soil sampling, phosphorus and potassium management for soil fertility; pH, lime and micronutrients; nitrogen management; managing for herbicide resistant weeds; a GMO discussion; and other topics chosen, by the current participants in the "Agronomy in the Field" program.
If you want to participate, contact an ISU Extension specialist
Any interested women landowners, farmers and service providers who would like to participate in the upcoming sessions should contact ISU Extension and Outreach field agronomist, Angie Rieck-Hinz, at 515-231-2830 or [email protected]; Meaghan Anderson, at 319-337-2145 or [email protected]; or Rebecca Vittetoe, at 319-653-4811 or [email protected]. Please contact them so accommodations can made for in-person attendance or via Web-conferencing.
"Agronomy in the Field" is sponsored by Iowa State University Extension and Outreach, the Webster County Extension Office, and the Washington County Extension Office.  For more information go to extension.iastate.edu/womeninag/agronomy-field-offered-three-locations.
Subscribe to receive top agriculture news
Be informed daily with these free e-newsletters
You May Also Like
---