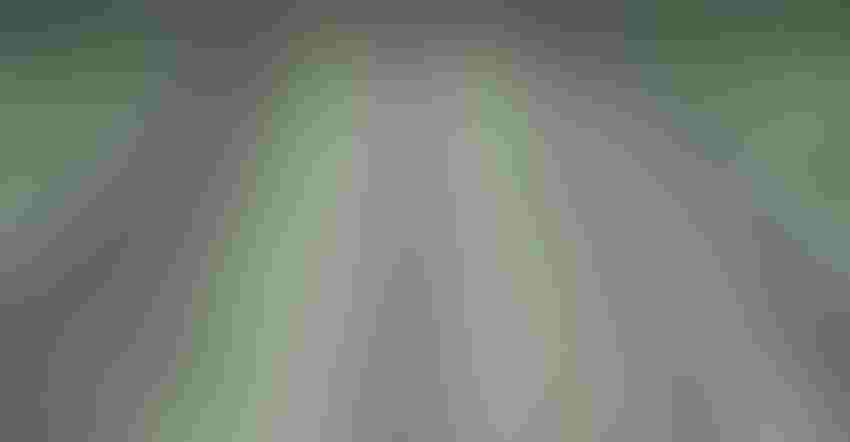 Field corn injury caused by the interaction of Counter 20G applied in-furrow and a postemergence application of Halex GT (6 DAT).
Eric Prostko, UGA Extension
Because more cotton and soybeans were planted, harvested field corn acreage in the Deep Southeast this year was down almost 15% in comparison to 2021.  Thankfully, current corn prices are pretty strong, and field corn rotations provide growers with an opportunity to diversify their weed control programs. 
Although corn planting is still several months away, it is never too early to start prepping for the 2023 season. 
I recently asked my friend, colleague, and Tailgate Talk collaborator Dr. Bob Kemerait the following question:  How bad are nematodes in Georgia field corn? 
"Nematodes are causing significant yield losses in many fields and are grossly underrated as a common/frequent pest problem!" he said.
Current recommendations for nematode control in field corn include using seed treatments, in-furrow applications, and/or soil fumigation.  The nematode control method that causes weed scientists like me the most heartburn is in-furrow applications of Counter. This is because a negative interaction can occur between in-furrow applied Counter and many herbicides.
Before I go any further, I would like to remind everyone that the US-EPA received a petition back in November 2021 from various groups to cancel 14 registrations (food-uses) of organophosphate insecticides, including Counter.  Public comments on this issue were due back in September.  No final decisions were made at the time I penned this article on Oct. 26.
So, back to my original story.  Why does this insecticide-herbicide interaction occur and how much can it impact field corn yields?
What happens to a pesticide after it gets into a plant is a rather complicated process which involves various pathways, enzymes, and other big words.  In this case, the simple explanation for the negative interaction that occurs when Counter and certain herbicides are applied is that a corn plants ability to metabolize (breakdown) these chemicals into non-toxic compounds is overwhelmed. 
This interaction occurs with ALS-inhibiting herbicides (WSSA/HRAC Group 2) such as Accent Q or Steadfast Q and some (not all) HPPD inhibiting herbicides (WSSA/HRAC Group 27) such as Callisto and Balance Flexx.
In terms of yield effects caused by this negative interaction, I have observed anywhere between 6% and 43% yield losses in some of my research trials over the years.  For a 200 Bu/A corn crop, that would equate to a loss of 12 Bu/A to 86 Bu/A or ~$84/A to $600/A (@ $6.97/Bu). 
That hurts your feelings and pocketbook!
If you have nematode problems in corn fields and decide to use Counter in-furrow, the following herbicides can be used without concern: AAtrex, Anthem Maxx, Basagran, Dual Magnum, Clarity, Impact, Laudis, Liberty, Outlook, Prowl, Roundup, Status, Shieldex, Warrant, Zidua, and 2,4-D.
The use of Counter in-furrow for nematode control does limit the choice of herbicides, but that's a pretty decent list of functional products. Check out AMVAC's website for a more thorough list of products that can and cannot be used when Counter is applied in-furrow.
According to my favorite grave-viewing, arrow-collecting plant pathologist, nematodes are more of problem than most folks realize.  The good news is that nematodes can be managed with seed treatments, in-furrow applications, and fumigation.  But when Counter is applied in-furrow, you must avoid the use of certain herbicides. 
As always, good weed hunting! 
About the Author(s)
Subscribe to receive top agriculture news
Be informed daily with these free e-newsletters
You May Also Like
---