Variable-rate nitrogen program tested
Variable-rate nitrogen program tested
Think DifferentAlthough Rhett Light is still evaluating Pioneer's nitrogen management program, he sees enough promise in the program's capabilities to consider investing in more equipment. "If this variable-rate program works as well as we think it will, we may gear up with a high-clearance rig to apply more nitrogen later in the season," he says. "That way, if a lower-nitrogen sidedress recommendation falls short, we could go back in with a rescue treatment."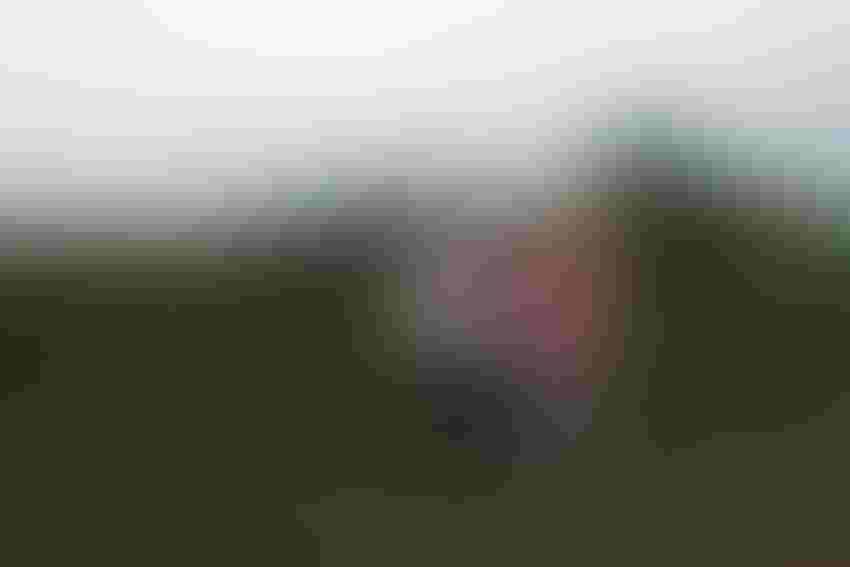 <p>Rhett Light, with daughters Raygan (left) and Kaylin (right), sidedresses about 90% of his corn&rsquo;s N, so making the variable-rate N applications recommended by the Pioneer program was straightforward. </p>
When Rhett Light signed up to participate in a trial run of DuPont Pioneer's new nitrogen (N) management service in 2014, he hoped it would help him fine-tune his fertility program and improve overall corn productivity.
Light, who farms with his father and a cousin in east central Indiana near Hartford City, says it's too early to give the program a final grade on whether it will help him achieve his goal.
But from what he's seen so far, the program's recommendations passed the first test. They left his corn crop with a solid nitrogen profile at tasseling, assuring him the crop had adequate nitrogen for grain fill – even in areas where nitrogen rates were reduced.
"With this program, we did not put on any less nitrogen overall," he says. "We moved it around where it needed to go, with some areas receiving less than our standard rate and other areas receiving more. The value is in knowing how much organic nitrogen is in the ground before you apply your nitrogen so you can adjust the rates you apply."
Nitrogen program basics
The Pioneer nitrogen management service, which is part of its Encirca Yield platform, uses a proprietary software-based crop and soil model with a goal of helping farmers use nitrogen more efficiently. After being tested by about 100 farmers on about 65,000 acres in 2014, the program is now available across the Corn Belt for 2015. It costs $10 per acre.
Pioneer agronomists estimate that the average Corn Belt farmer loses $50-60 per acre annually to nitrogen inefficiencies, notes Joe Hanson, senior manager for Next Generation Services at Pioneer. "The economic payoff for improving nitrogen use efficiency can be huge," he says.
The two-part program includes planning tools to develop field-by-field nitrogen management strategies that reduce the chance of over-fertilization. In-season, the software model assesses current weather and soil conditions affecting available nitrogen to develop variable-rate nitrogen prescriptions for the farmer's final nitrogen application of the season. The tool also can be used to assess current soil nitrogen levels and risk status throughout the growing season.
Participating farmers develop strategic nitrogen plans and prescriptions using online software tools in conjunction with about 80 certified service agents employed by Pioneer or participating agricultural retailers across the Corn Belt. The nitrogen management software is linked online to other Encirca Yield services.
Based on 50 years of historic weather conditions, strategic plans include least-risk dates for nitrogen applications as well as risk assessments for yields limited by nitrogen availability.
The Pioneer service joins two other programs that use computer simulations to identify organic nitrogen available in the soil. They include Adapt-N, developed by Cornell University scientists, and Maize-N, from the University of Nebraska-Lincoln.
Hanson says the Pioneer program capitalizes on "an explosion of high-quality data and analysis" in recent years. "In the past, we didn't understand soil dynamics the way we do now," he says. "We didn't have immediate access to accurate weather information. We didn't have a way for growers to provide planting information quickly and seamlessly. We didn't have the cloud computing resources."
Pioneer worked in collaboration with University of Missouri and USDA scientists to broaden its understanding of soil dynamics. The joint work included fine-tuning standard soil survey maps with high-resolution, Lidar-based field elevations to better understand soil and weather interactions. The company recently announced collaboration agreements with eight Midwest Land Grant universities to work with crop nutrition scientists, which will further refine its crop model.
Beta test details
As part of the precommercial testing program, Pioneer agronomists and certified service agents conducted nitrate N soil tests throughout the growing season to ground-truth changes in soil-available nitrogen. Pioneer also shot aerial imagery of program fields at tasseling to assess nitrogen adequacy at this critical period.
Dane Killam, a certified Encirca service agent employed by Elburn Cooperative, a multi-location retailer based in northeastern Illinois, worked with two farmers in the precommercial test.
"The program has played out very well," says Killam, who notes that aerial imagery confirmed the adequacy of nitrogen status in test fields at tasseling, despite a wet June. "My customers applied about the same amount of nitrogen as they had in the past. It just went in different places."
Light was in a good position to take advantage of the variable-rate capabilities of the Pioneer N management program. Typically, he sidedresses about 90% of nitrogen, following a 2x2 application of about 30 pounds of nitrogen with the planter.
On four of the five fields enrolled in the program, recommended nitrogen rates varied from 160 to 220 pounds per acre within each field, compared to the 180-pound, across-the-board rate that Light normally applied.
On the fifth field, the program recommended 125 pounds per acre in large areas based on a 2-foot nitrogen test. Light ran several strips at that rate, but on the rest of the field, he used a higher rate —165-210 pounds per acre, with an average of 185 pounds per acre. "We didn't want to take a chance because it was so low," he says.
The acres with the higher N rate yielded about 10 bushels per acre more than the test strips with the lower rate, which returned $10 to $12 per acre above the extra cost of N, says T.C. Huffman, Light's Pioneer agronomist.
Subscribe to receive top agriculture news
Be informed daily with these free e-newsletters
You May Also Like
---