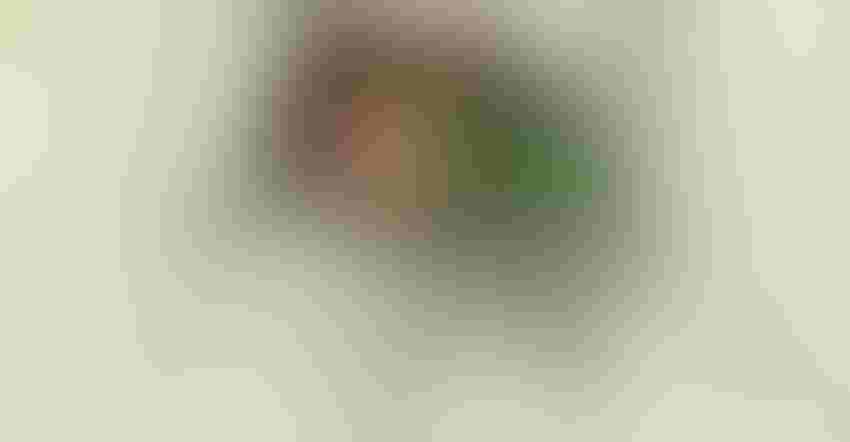 EMERGING THREAT: A fairly new pest to Nebraska, Japanese beetles pose the biggest threat at pollination time in corn.
James A. Kalisch, UNL
The 2017 growing season saw its share of new pests in Nebraska crops. Recently, Ron Seymour, Nebraska Extension educator, highlighted some of the emerging insect pests flying, crawling and buzzing around Nebraska corn and soybean fields in recent years at the Nebraska Crop Management Conference.
• Painted lady butterflies. One of these pests in 2017 was the painted lady butterfly. While these generally don't pose much of a threat, they can cause problems in extremely large numbers, Seymour says.
However, painted ladies can actually be beneficial early on.
"That whole group of butterflies is known as thistle caterpillars. We get some biological control of certain weeds, like thistles from the feeding of those insets. Early on, that's a good thing," Seymour says.
Later in the season, they can be more problematic. Their population depends on spring weather in places where they overwinter. El Niño conditions in Texas and California in 2015 and 2016 translated into higher survival of painted lady butterfly larvae that migrated to Nebraska last spring.
When painted ladies are present, farmers should be checking fields and evaluating defoliation, which also could be from Japanese beetles or bean leaf beetles. However, Seymour adds when evaluating defoliation, it's important to evaluate accurately and evaluate the entire canopy.
"At the vegetative stages, if we get more than 30% defoliation, then an insecticide would be warranted. In the reproductive stages, we drop it down to 20%," he says. "A lot of defoliators like the painted lady are concentrating on the top canopy, and the soybean plant can compensate for that, because if you take off foliage in the top part, you get more sunlight in the bottom canopy."
• Japanese beetles. Japanese beetles haven't been much of a problem in Nebraska until recently. They have spread into Nebraska usually through nursery stock in urban residential areas. So far, they've largely spread along the I-80 corridor, but have moved farther south into places like Fillmore and Thayer counties, Seymour says. While they've been found in Nebraska since 2005, they haven't become a significant threat until recently.
"In soybeans, the main issue is them feeding on leaves. In corn, they feed on leaves, but the bigger issue is they hone in on soft, succulent material, like corn silk. If you have a significant infestation at pollination you could see reduced pollination," Seymour says. "If farmers find three or more Japanese beetles per ear tip, if the silks have been clipped within half an inch of the husks, and you're not more than 50% through the pollination period, then they're going to want to spray."
"When their populations peak, the adults lay eggs in the soil, and they go through the winter in the soil and they emerge in May, but peak emergence isn't until late June or early July, so that's when people need to start looking for them," Seymour adds. "They peak just in time for corn silking."
• Wheat stem maggot. A new pest emerged in corn planted into standing cereal rye cover crop fields in 2017 — wheat stem maggot.
"We've been dealing with wheat stem maggot in wheat for years. It's been a pretty minor pest, but we know they're present. Milder conditions tend to be the best for them," Seymour says. "If you planted corn into a grass cover crop, and then killed off the cover crop, they likely moved from the dying crop to the corn crop. Then they would feed on the growing whorl and shoot, and it would kill the corn plant, so you get a dead heart condition. We saw up to about 30% stand loss in some fields due to wheat stem maggot this year."
Whether the grass cover crop was killed off prior to planting made a difference.
"Recent data showed by killing cover crops five to seven days after planting corn, that's when they saw the greatest number of corn plants that died from wheat stem maggot," Seymour says. "We really didn't see much of a problem if they terminated the cover crop before corn planting. It's tough, because some people want that cover crop as long as possible for grazing. Even if you just destroy it two to three days before planting, the data looks like you would still avoid wheat stem maggot issues."
• Bt-resistant bugs. While certainly not a new problem, Seymour advises growers to continue to rotate hybrids with different stacked traits to keep corn rootworm and western bean cutworm from developing (greater) resistance to Bt traits.
"People planting varieties like the Herculex, those varieties are valuable, but you want to check your fields for western bean cutworm, and you need to keep checking it," he says. "Under continuous corn, if you're using Bt to control rootworms, you certainly need to rotate your events or use stacks of events. You can get a three-way stack of events now that will do a pretty good job of controlling rootworm larvae."
Subscribe to receive top agriculture news
Be informed daily with these free e-newsletters
You May Also Like
---