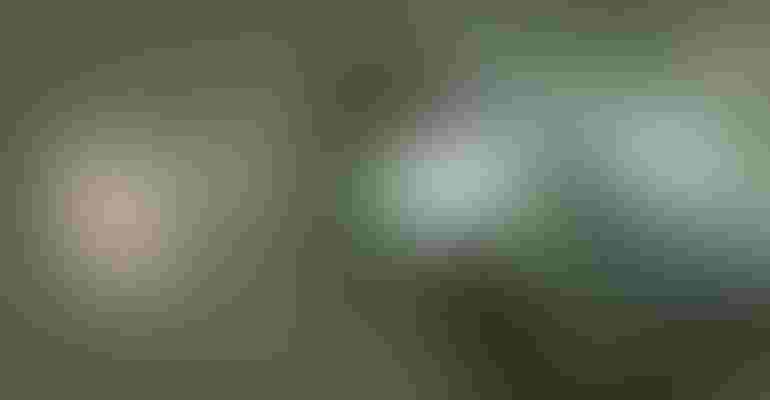 THINK SMALL: Gensource will create a smaller potash facility, as seen in the inset image, that's about a tenth the size of a traditional mine.
Courtesy of Gensource
The economics of the fertilizer market are strained these days. Supply issues combined with global upheaval are leading to shortages and high prices. Plus, the expense to enter into fertilizer production can be prohibitive. But for potash, a new approach may offer a unique solution.
Mike Ferguson, CEO of the Canadian company Gensource Potash Corp., says the potash industry is ripe for change. He points to the Bethune Mine (formerly the Legacy Project), the newest mine in Saskatchewan.
"It's what we call a 'conventional solution mine,' using the Belle Plaine method developed in 1960 for the Belle Plaine Mine," he says. "But during the development of the Legacy Project, we started to generate different ideas about potash production."
The "we" is a group of innovators that started at a small company called Potash One, which opened in 2007 and developed the Legacy Project. However, Ferguson notes this group was aware that things have changed from 1960 to 2000. "The world moves on," he says.
That last big mine cost more than $4.5 billion and took more than a decade to build, according to public numbers. "That took 10 years to develop from end to end with an initial production of 2.8 million tonnes per year, expanding to 4 million tonnes per year over the next couple decades," Ferguson explains.
That's a large barrier to entry for companies trying to enter potash production, and he notes five existing potash producers serve up to 80% of the global potash market.
Modular approach to mining
When a plant that size comes on line with that much capacity, it means a company doesn't have the opportunity to be strategic or choose its market, but must sell globally to move that capacity. At Gensource, Ferguson says the aim is to break down this huge project and provide a more sustainable approach to potash production.
Gensource is built upon two pillars. The first is to provide modular, efficient and environmentally sustainable production. "You don't usually say those words with potash production, or at least all at the same time," he says.
The second is to be vertically integrated, which means connecting a new production facility to a clearly identified market. That's also not usually done for the potash business.
For Gensource, that's the foundation of its first project near Tugaske, Saskatchewan. The region is known as a solid source of potash, and the new plant will engage new technology to mine this valuable crop nutrient. However, Ferguson isn't talking in millions of tons of capacity.
"The two pillars support one another on the project itself," he says. "At Tugaske, we will construct a Gensource module with a projected output of 250,000 tons, about one-tenth the size of a typical project."
That size allows Gensource to partner with a buyer and be strategic about selling. The company has a full off-take agreement with Helm Ag and Helm Fertilizer to take 100% of the production from the Tugaske plant. The material will move through the northern United States and the Pacific Northwest.
Yet the new plant design is modular, which allows Gensource to consider ramping up to 1 million metric tons or more if needed.
That initial plant is a manageable size, thanks to the new proprietary mining approach. Recently, Gensource acquired Innovare Technologies Ltd., a developer with significant intellectual property in the selective solution mining space, as well as patents and patent applications for aspects of selective solution mining and brine processing for the recovery of potash and other soluble minerals.
Ferguson notes that acquisition will give Gensource exclusive use and control of the unique selective solution mining technology. This technology allows the new Tugaske facility to achieve that sustainability pillar he says is key to the new approach.
Longer-term options
Ferguson says rethinking potash production and going to the more modular approach offers opportunities:
The company can expand as needed without the large capital expenditures a traditional plant requires.

The environmental footprint is head-and-shoulders above the rest of the industry.

The future may bring the opportunity to manufacture organic potash.
"With the modular approach, we can physically separate the facilities, which allows us to create a module that can be certified as organic," Ferguson says. "Of course, we can't be certified organic until we're actually producing product and they audit the facility, but the possibility of organic product opens the door to more opportunities in the future."
The Tugaske facility will begin construction this year. To learn more about Gensource Potash, visit gensourcepotash.ca.
Subscribe to receive top agriculture news
Be informed daily with these free e-newsletters
You May Also Like
---