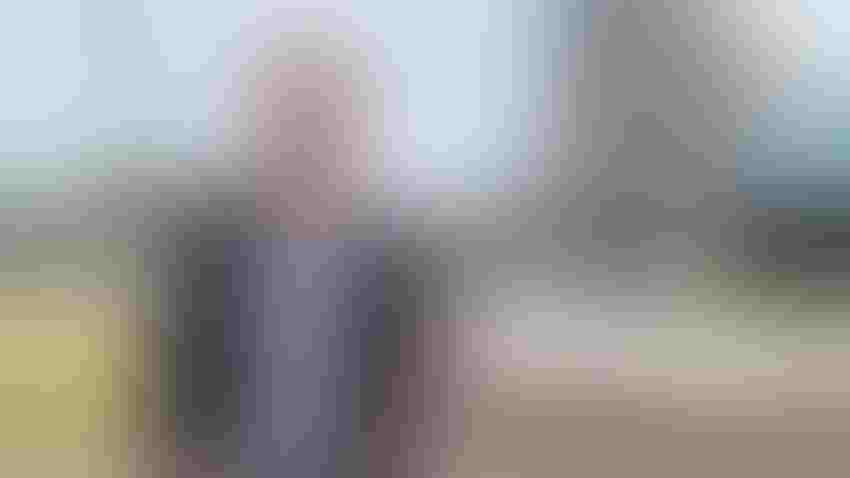 CropLife America CEO Chris Novak
Shelley E. Huguley
CropLife America CEO Chris Novak likened the pesticide industry to the 1963 movie title, "It's a Mad, Mad, Mad, Mad World," at the recent Texas Plant Protection Conference in Bryan. "There's a lot happening in the pesticide world right now," Novak told the crowd.  
First addressed were supply chain challenges. 
"I will start with a bit of good news. Part of what Ray (Smith,) and Ronnie (Schnell, TPPA leadership) wanted was a forecast on pesticide prices. I can't give you that," Novak said. "But I know in 2021, we had a lot of challenges within the supply chain. Some of that was related to natural disasters in Texas and across the Southwest where we saw the Texas freeze which shut down a number of your refineries where they were producing ingredients vital to pesticide manufacturing. 
"We also saw Hurricane Ida come through and idle one of the major pesticide production plants in Louisiana, so we did have a lot of challenges in 2021 in terms of ensuring supply was going to be available to farmers.We have also dealt with some of the barriers, including tariffs and trade restrictions that were limiting supplies." 
Pesticide company executives tell Novak they are working through the supply chain issues and that transportation issues are also improving.  
CropLife America (CLA) represents the pesticide industry. The organization works on legislative and regulatory policy at both a state and federal level, ensuring that regulations are both reasonable and fair, that farmers have access to pesticide products, and that the industry is accountable from an environmental protection standpoint. Members include companies such as Corteva, BASF, Valent, and Gowan and distributor members like Helena and Growmark. 
 Labor availability remains a concern. A CLA Texas member shared fears about the availability of people to work to ensure product movement.  
"I won't say the supply chain is back to normal yet," Novak said, but the forecast for having available supplies for producers in the upcoming season looks favorable. 
Pesticide space 
Turning to politics, Novak noted the divide in Washington D.C. "As we look at pesticides, we have a lot of people who play in our space. We have an environmental community interested in pesticides and pesticide policies. They will reach out to consumers and share their concerns about pesticides. I think their rhetoric is sometimes alarmist. They might call it education. But we can agree that activists play a vital role in setting the agenda in a number of places with respect to pesticide policy."  
Global pressures impact the U.S. industry as well. "As we look overseas, we see Europe beginning to restrict certain pesticides, and the fact that they are restricting their farmers from using those pesticides may mean because of maximum residue levels and import tolerances, the rules that the European community sets for importing agricultural goods, may restrict U.S. farmers from using some of those same pesticides." 
On a state level, Novak said city, county or other municipalities, are imposing pesticide restrictions. "Montgomery County, Maryland, north of Washington D.C., has banned or restricted specific pesticide use within their county. That sets an example for others to follow and, since Montgomery County is adjacent to Washington D.C., that action is communicated to a lot of the policymakers and staff who live in that area." 
Pesticide use is also drawing attention from food companies, as their grain processing and manufacturing customers are stipulating what pesticides they will or won't allow. "So, that's another place that the industry is impacted," Novak said. 
Federal/State Legislation 
The time required to bring a new pesticide to market also is a hurdle. "In 2016, Philips McDougal, an independent industry analyst firm, did a study that said it takes 11.3 years to bring a product to market. Since then, regulatory delays at EPA have gotten significantly worse. The EPA is taking three years now instead of the two required by law. At the beginning of 2022, EPA announced a new policy on endangered species, indicating that will take an additional 12 months. So, take that 11.3 number from 2015, add three more years and what you find is it takes 14 years for a company to bring a product to market.  
"Four of those years, that product is going to be in the regulatory process at EPA." 
Novak doesn't blame the lengthy process on EPA "dragging its feet," though some tell him they believe otherwise. "EPA is approving 50% more products today than it did 10 years ago," Novak added.  
In 2005, EPA completed 1,098 pesticide registrations. In 2021, that number jumped to 2,156, with a spike in 2020. "Guess what is a pesticide?" Novak asked the crowd. "Any product that says it kills germs and bacteria, particularly related to COVID."  
There was a "huge rush" of product applications for cleaners with a pesticide claim. "So, EPA's Office of Pesticide Programs had to approve those products." 
As EPA's workload has increased, funding has decreased. Rather than receiving $128 million in federal appropriations, CLA is telling Congress they needed $200 million, "simply to account for the added costs of inflation and maintaining the same employee base.  
"Less money has meant 30% fewer employees working in the EPA Office of Pesticide Programs approving new pesticides," Novak said, extending approval times. 
Lobbying efforts 
As a result, CLA has shifted its lobbying efforts to focus on increased EPA funding. While farm groups tell Novak they don't always like EPA's decisions, Novak reminds them that EPA is having to make quick decisions so that we can bring new pesticides to market.  
CLA is proposing the replacement of lost EPA personnel and that they have the necessary science, "not only to do the job but to do the job in a timely manner."  
CropLife is also working to reauthorize the Pesticide Registration Improvement Act, a law that was first passed over 20 years ago. "It was the industry going to Congress, going to EPA, to say we're willing to pay user fees for every new pesticide that we register to help fund the EPA staff to get the job done in a timely manner – the user fees were supposed to be in exchange for EPA meeting specific deadlines.  
"We've held up our end of the bargain," Novak said. "EPA hasn't, so we are working to fix that."   
Next? Read why Novak said the Endangered Species Act is important to farmers.  
Subscribe to receive top agriculture news
Be informed daily with these free e-newsletters
You May Also Like
---