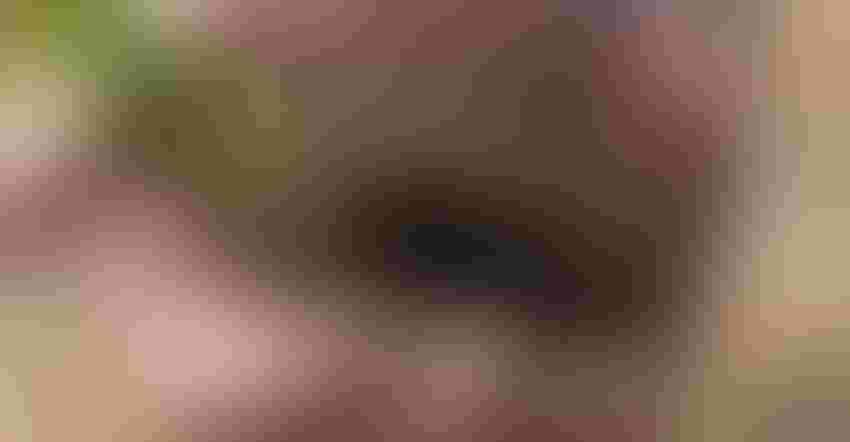 GROWING THREAT: A wireworm feeds on wheat roots. Populations of the pest have been increasing in western no-till wheat fields and sunflowers.
Courtesy of BASF
The wireworm threat to some crops in the Northern Plains is growing. Wireworms can reduce stands — sometimes dramatically — and weaken seedlings, according to Janet Knodel, North Dakota State University Extension entomologist.
Wheat in no-till and minimum-till fields west of the 100th meridian have seen the most pressure.
Wireworms are worst in continuous small grains, but they are also showing up in significant numbers even in fields where other crops are rotated with small grains, according to Patrick Beauzay, North Dakota integrated pest management coordinator and NDSU research specialist.
Part of the problem is recent wet weather. Wireworms like moist soils. Cancellation of organochlorine insecticides, particularly lindane, has made the situation worse, too. Since the cancellation in 2007, wireworm populations have slowly built up to levels that are now causing economic loss in small grains and in some rotational crops, especially sunflowers, Beauzay says.
The trouble with wireworms
The big problem is that wireworms live three to seven years in the soil before turning into adult click beetles.
"Once they are detected at high densities, the field will remain high risk for several years," Knodel says.
Wireworms prefer grasses and grass crops, and adult click beetles target grassy areas and grass crop fields for egg laying.
When soil temperatures reach 50-55 degrees F in the spring, wireworms will move to the soil surface and become more active, feeding on seeds and roots and tunneling into stems and seeds.
Wireworm populations can build rapidly. Two adult click beetles in a field in year one grow to more than 200 adults and 1,000 wireworms by year three.
What to do
You can apply insecticides in fields where wireworm populations are high. Options have included neonicotinoid insecticide seed treatments or, for row crops, an in-furrow pyrethroid insecticide.
Neither kills wireworms, however. Neonicotinoids intoxicate but don't kill them, and pyrethroids are repellent to wireworms but generally don't kill them. However, treating fields with either will result in higher yields than with no treatment, Knodel says.
Some farmers have resorted to using both insecticide classes at the same time. However, recent NDSU sunflower research shows than even together, the two insecticide classes don't reduce wireworm numbers.
Promising new product
Teraxxa, a new insecticide from BASF, looks promising. The company says it will likely be labeled for small grains this fall and become available for use in 2021. Teraxxa has a new mode of action through the active ingredient broflanilide.
"We tested Teraxxa in small plot trials in spring wheat under moderate wireworm pressure at two field sites south of Mohall, N.D, in 2018 and 2019," Beauzay says. "Our results showed that the Teraxxa plots had very little stand reduction and excellent grain yield. In our studies, Teraxxa compared equally with the neonicotinoids thiamethoxam and imidacloprid for stand and yield, and our results were consistent across both years."
"Teraxxa will be useful in controlling wireworms in small grains which are typically planted at 1.25 to 1.5 million seeds per acre, with the hope that wireworm mortality in the small grain crop will be high enough that we'll see very little wireworm pressure the following year when rotating to a low population crop, such as sunflower. As such, Teraxxa will be a good addition to wireworm control in continuous small grain production, and in crop rotations using small grains."
Subscribe to receive top agriculture news
Be informed daily with these free e-newsletters
You May Also Like
---