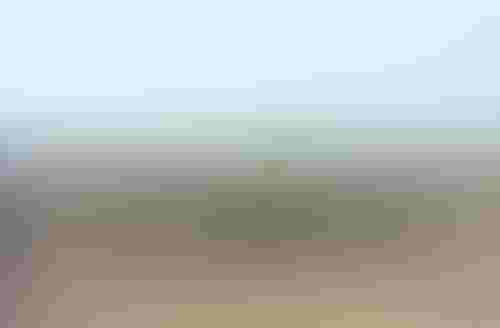 If you see yellow leaves, stunting, or midday wilting in your cornfields next summer, the problem could lie beneath the soil. Microscopic worms (or nematodes) could be the culprit. The only sure way to find out is to collect soil samples and send them to a lab for diagnosis (see "Sampling for nematodes"). Or you may use yield maps and field histories to identify and treat potential hot spots.
Corn nematodes weren't a problem from the 1950s to the 1980s. Soil-applied insecticides were used and some of them had activity on nematodes. This changed in the 1990s with the advent of transgenic traits for in-plant control of pests. Soil-applied insecticide use dropped dramatically. In the meantime, nematodes have been largely ignored, reports Greg Tylka, plant pathologist, Iowa State University.
One reason for this is because yellow or stunted corn can be caused by other factors like insect pressures and soil compaction, according to Keith O'Bryan, agronomy research manager, Pioneer Hi-Bred.
Treating nematodes
Reports of nematode pressure across the Midwest were few in 2010. But there were some hot spots, primarily in the western Corn Belt's sandy soils. Paul Vaculin, marketing manager, Amvac Chemical Corporation, says there also were hot spots in the sandy soils of central and southern Illinois and southern Indiana.
Agronomists in Pioneer's Central Business Unit (Iowa and Missouri) pulled samples and developed maps from various nematode hot spots. They have established economic thresholds for treatment and are sharing information with growers. 
"Using Poncho 1250 insecticide, we've seen very good control of seed corn maggots, corn rootworm and wireworms, and now, with the addition of Votivo, feeding damage from nematodes can be reduced," O'Bryan says. "Hybrid selection and crop rotation also can be used to help manage nematodes. When you plant corn on corn, nematode numbers build."
Treatment options include Counter, the only granular formulation registered for nematode control, and seed treatments, such as Poncho/Votivo and Avicta Complete Corn.
Counter may be applied using Amvac's SmartBox system, a closed application and handling system for insecticides and nematicides. Counter was changed to a 20G formulation in 2010 so that each fill covers one third more acres than in the past, Vaculin says. The system also may be used to apply Aztec from Bayer, Force from Syngenta, and Smart Choice from Amvac. 
Votivo is a biological that is used along with Poncho in seed treatments. Avicta Complete Corn combines separately registered seed treatments Avicta nematicide, Cruiser insecticide, and Maxim Quattro, a new fungicide containing thiabendazole and the active ingredients in Apron XL, Maxim XL, and Dynasty fungicides.
2010 field trial results
In grower fields and seed company trials in 2010, Poncho/Votivo-treated corn yielded 6 bu./acre more than seed treated with the 250 rate of Poncho 600 alone, according to Jennifer Riggs, product development manager, Bayer CropScience. The biological seed treatment was tested throughout the Corn Belt. In comparisons with Avicta Duo, Poncho/Votivo yielded 2 bu./acre, notes Riggs. Poncho 1250 and Votivo yielded 3 bu./acre more than the 1250 rate of Poncho 600, she adds.
In replicated trials conducted at eight locations in 2010, Activa 500 (0.5 mg a.i./seed) and Cruiser, and Avicta 1250 (1.25 mg a.i./seed) plus Cruiser yielded 4.9 and 3.4 bu./acre more than Poncho 500 plus Votivo and Poncho 1250 plus Votivo, respectively, says Palle Pedersen, technology manager, Syngenta Seedcare. The study was conducted by a third-party research firm on behalf of five independent seed companies, Pedersen adds.
Because visual symptoms of nematode damage are generally apparent, it may be cost-effective to use GPS technology to spot treat for the pest. Scott Monfort, Extension plant pathologist, University of Arkansas, says there is a relationship between nematode damage and soil type. He is using electrical soil conductivity mapping tools to detect soil texture variation.
Sandy soils have less electrical conductivity and tend to have a greater potential for nematode populations. Silt to clay soils have increasingly more conductivity. Measuring electrical conductivity can help growers construct management zones and then apply nematicide only in areas of the field that need it based on sample results from each management zone.
The SmartBox can be used to automatically apply Counter to corn nematode hot spots using a GPS interface to turn the system on and off. Currently, it is compatible with the Mid-Tech Legacy 6000 GPS controller. Amvac is working to broaden compatibility between the SmartBox and other GPS systems, Vaculin says.
Using GPS and variable-rate technology could make sense because nematodes are relatively immobile and are fairly predictable in a field, Iowa State's Tylka says. "If you can determine the location of the hot spots, it would make sense to spot treat," he says. 
NOTE: Force CS, Force 3G and Avicta Duo Corn are Restricted Use Pesticides and are for use by certified applicators only. Growers planting Avicta Duo treated seed are not required to be certified applicators. Avicta Complete Corn is a combination of separately registered products.
Sampling for nematodes
Greg Tylka, plant pathologist, Iowa State University, provides the following guidelines for collecting soil samples to determine whether your fields are infected with nematodes:
Collect 15 to 20 12-in.-deep soil cores from the root zone of corn plants showing symptoms.

Collect four root masses.

Place soil cores in a sealed plastic bag; roots can be placed in a separate plastic bag.

Protect the samples from temperatures above 80°F.

Place samples gently in your vehicle.

Send samples to a lab as quickly as possible.
University plant diagnostic and private labs can help determine the species of nematodes affecting your fields and provide a good idea of the pest populations you have.
Because of the dry weather in parts of the Midwest in 2010, nematodes may have moved deeper into the soil. This could make sampling a bit more difficult this year.
Sampling can generally be done at the V6 to V8 stage in the early corn-growing season, says Keith O'Bryan agronomy research manager, Pioneer Hi-Bred. If you are unable to sample fields, you can also use yield maps and field histories to identify and treat potential hot spots.
Photo: John Deere 1790 CCS planter with Amvac's SmartBox system for nematicides and insecticides
Photo courtesy of Amvac Chemical Corporation
About the Author(s)
Subscribe to receive top agriculture news
Be informed daily with these free e-newsletters
You May Also Like
---