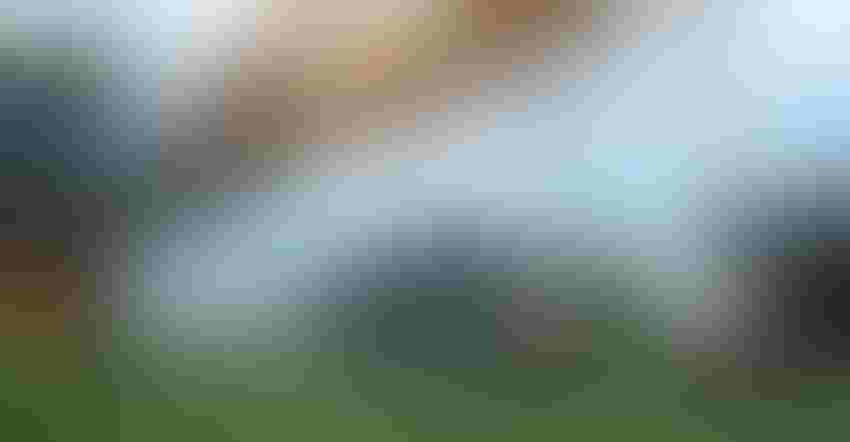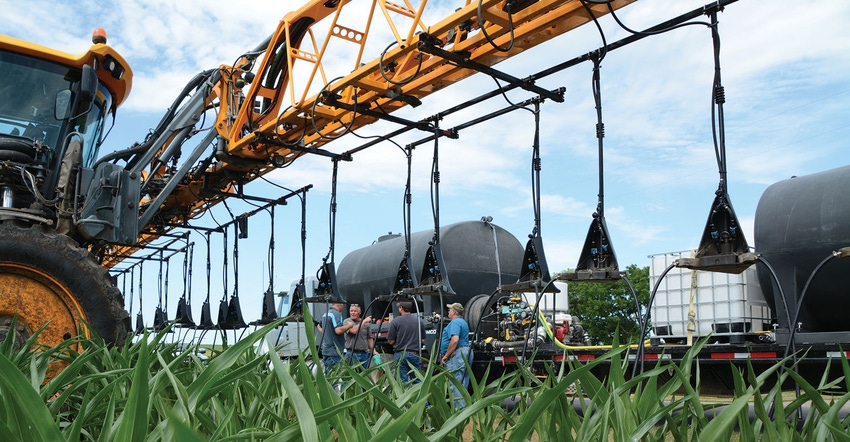 With anhydrous ammonia at $1,500 per ton, farmers should be clamoring for ways to cut nutrient costs. Right?
Nitrogen-fixing soil microbes may be the answer — at least, according to back-of-the-napkin math. At current rates, conventional fertilizer costs over twice as much as microbial products like Pivot Bio40, Source (Sound Agriculture) and Envita (Azotic). The biologicals won't fully replace synthetic fertilizer, but they are designed to free up 25 to 40 pounds of soil nitrogen per acre, allowing farmers to shrink synthetic fertilizer rates.
So if N-fixing microbials can cut a crop nutrition bill, why isn't everyone applying them? Three challenges make adoption difficult:
1. No urge to innovate. When everything works fine, it's hard for a new input product or process to get established. Farmers tend to be risk averse, and historically, fertilizer has been more affordable.
Yet, skyrocketing fertilizer prices the past year may induce more farmers to do microbial field trials to heal pocketbooks — and improve soil health and reduce runoff. Though, agronomists say it takes three to five years to see a long-term return from microbials, as the main benefit is better organic matter and soil health.
2. Too many choices. "This market is flooded with product claims," says corn and soybean farmer Michael Johnson, who farms with son-in-law Andrew Sturtevant near Chadwick, Ill. "There are sooooo many products hitting the marketplace; it's tough to separate the science from slick marketing."
Johnson's Ideal Farms Partnership has been doing on-farm tests with biologicals but hasn't yet chosen a program for their crop plan.
Sturtevant says they've relied on  third-party results from Becks Seed and PTI Farms at Precision Planting to help "thin the herd" before they focus limited resources and time on what shows promise.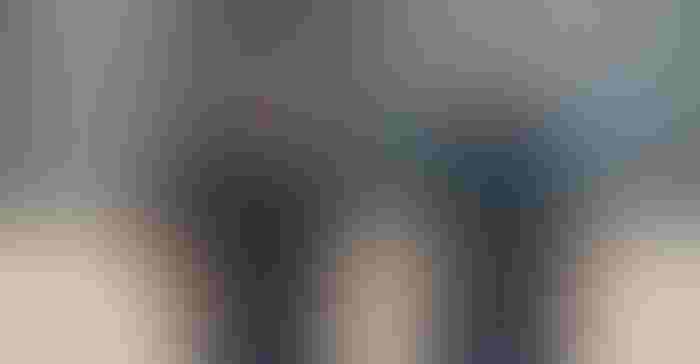 Last summer, Illinois farmers Andy Sturtevant (l) and Mike Johnson (r) experimented with 32% liquid N with Bio-Sul, as well as several biological additives.
3. Reluctant to change what works. Lots of profit is at stake when costs and grain prices are high. It's safer to apply a microbial on top of full fertilizer rates in hopes of getting an extra 5 to 10 bushels per acre than to cut rates in hopes a microbial will make up the difference.
"When fertilizer is inexpensive, it's very hard to go out on a limb and cut back a program that works and add one of these products," Sturtevant says. "But I am hopeful that biologicals could lower some fertilizer needs, to use what's already in the soil."
Key to ROI
"There is one key to getting a return on investment on products that create plant-available nitrogen, and it's really simple: Under-apply nitrogen," says Brian Arnall, Oklahoma State University Extension agronomist. "If you apply enough or more N than the crop needs, then there is zero value in a product that creates more N. … I have a hard time understanding the thought process behind paying for an N-fixing product and not lowering your fertilizer rate," he says. But he offers two possibilities:
You historically under-apply N and are losing yield.

You're in an environment that has a high potential of late-season N losses and can't make recovery applications.
Fort Dodge, Iowa, corn and soybean farmer Dave Nelson agrees. He has done on-farm trials on microbials for three years. This year he plans to split a field with 170 units of N (40 units with a sprayer after planting and then 130 units sidedressed) on one side. On the other side of the field at planting will go PivotBio's ProveN40 (with 130 units liquid N sidedressed). He'll run a similar test with Envita, which claims to replace 25% to 50% of the plant's nitrogen needs.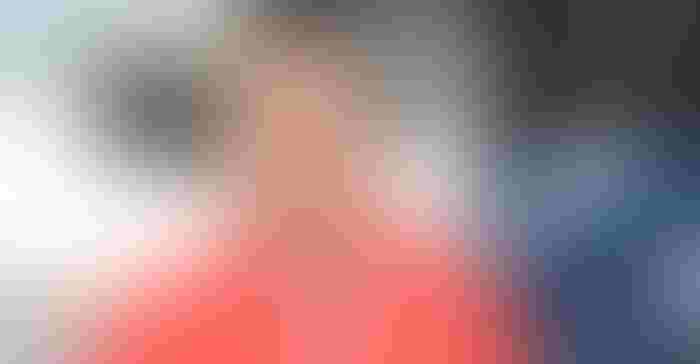 "If we were not looking at high nitrogen cost and supply issues, we probably wouldn't be doing this," Nelson says. "I have to set it up for myself and see what response we can get, especially at a time like this with high prices and potential shortages."
Nelson is also trying a crop residue digester called MicroChop. Made by Soil Matrix, the product sprayed after the crop is harvested works to reduce crop residue at 50 degrees F soil temperatures. A residue degrader like MicroChop or Meltdown by Biodyne is different from a microbial, but it has similar results.
"It's eating up residue left out there to return nutrients to soil," Nelson says. "It's unreal — the reduced trash out there come springtime. There is definitely an action happening out there, so we're putting it on cornstalks and bean stubble to get nutrients unlocked and back into the soil for crop use."
Expensive fertilizer was one reason why Kasey Bamberger began experimenting with soil microbials three years ago. The Washington Court, Ohio, farmer and partner at Bryant Agricultural Enterprise manages input purchasing and oversees farm research plots. She is also one of six growers on Sound Agriculture's Grower Advisory Council.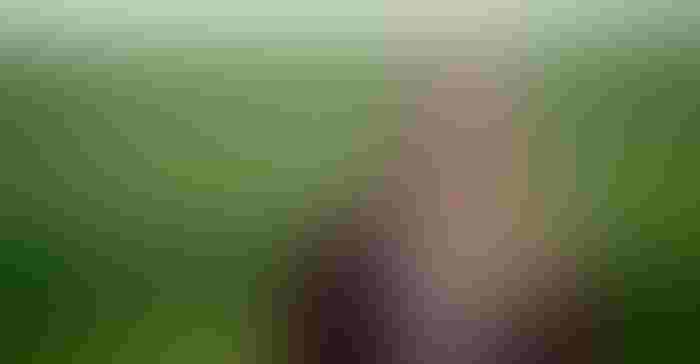 "Today the big question is, how do we maximize yield with the weather patterns we have, and still reduce synthetic N or other fertilizers we use?" asks Ohio farmer Kasey Bamberger. 
"We do a lot of on-farm research and had a chance to test Source two years ago and saw a great response in corn," she says. "It was intriguing. This allowed me to utilize lower-priced N, filter in higher-priced N and spread it across multiple years. We reduced N fertilizer by using Source."
Soil health benefits
Bamberger is also keen to learn how soil microbes can boost soil health, noting that synthetic fertilizer can run off and harm groundwater.
"We want to think first how to be a good steward of the land, and secondly, what's most financially beneficial and will complement sustainable practices," she says. "So I think about nitrogen efficiency often. We know we have to produce a high-yielding crop now, but also have to be sure that 30 years from now, that we can push those yields and an even higher-yielding crop with the soils available to us."
Bryant started years ago with grid soil testing, applying variable-rate liquid N only where needed. "We were early adopters of that technology, so we're constantly looking at what's next," Bamberger says. "Today, the big question is how do we maximize yield with the weather patterns we have, and still reduce synthetic N or other fertilizers we use? That's why we're looking at complementary products, such as Source or nitrogen stabilizers, to allow the plant to more efficiently use the nitrogen that's available to them." 
3 tips for working with biological products
Biological or microbial products will be used on more and more farms as farmers begin to weigh the high cost of commercial fertilizer and the benefits of microbes working to improve soil health. Just remember that these products should be treated differently than conventional fertilizer.
1. Use it or lose it. "When you're working with biology, it's a live bug. You can't just put it in a fertilizer bin to use what you want to this year and use what's left next year," notes independent Iowa agronomist Larry Eekhoff, founder at Agronomy Rx. "You have to manage it as a live being." Because it contains living organisms, biologicals should be used in the same season purchased. "Inventory management is very important," he says. "I want it as fresh as possible."
2. Watch the thermometer. Be mindful of seasonal temperatures. "I don't want to get it delivered until it's at least 50 degrees F, just to keep the biology as healthy as we can," Eekhoff says. "If possible, I want it delivered between 50 and 80 degrees."
3. Water sources matter. Because biologicals are living, consider what's in the water you use to spray it with. "Most of the time you put them on with liquid, and the quality of water is important," Eekhoff says. "If you pull water from a municipal facility with chlorine in the water, you're going to kill some of the biology. If you have a choice, I would pull water from a well that doesn't have chlorine."
Subscribe to receive top agriculture news
Be informed daily with these free e-newsletters
You May Also Like
---