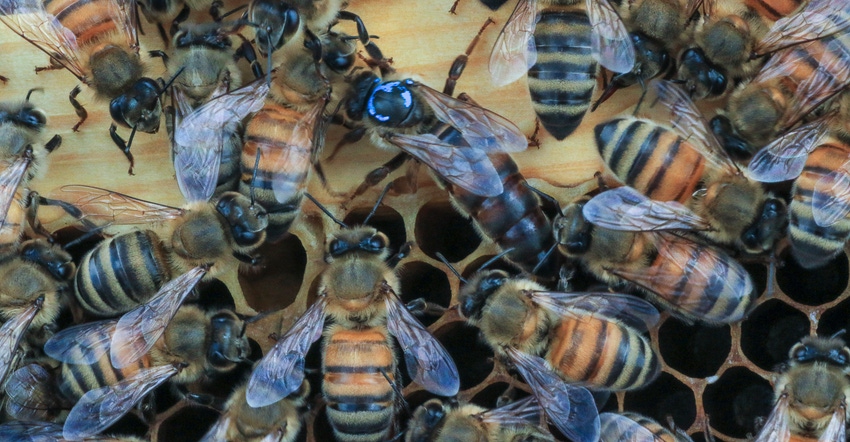 California beekeepers say state Parks and Recreation officials did not notify them before spraying aquatic weeds with herbicides on the Tuolumne River. Beehives could be seen next to the river. About 300 hives of honeybees were killed during the spray operations.
Todd Fitchette
A judge has ordered the California Department of Food and Agriculture to suspend its pesticide spray program, ruling that state officials failed to adequately assess the chemicals' health risks.
Sacramento County Superior Court Judge James Arguellas ordered a halt to sprays under the Statewide Plant Pest Prevention and Management Program within two months, exempting projects whose environmental impact reports have already won court approval.
His order follows a state appeals court's decision in October that found the CDFA understated the amount of pesticide it uses and failed to account for potential harm to waterways, bees and other pollinators. The injunction will stay in place until the agency corrects violations of the California Environmental Quality Act cited by the courts.
The CDFA told the San Francisco Chronicle it is complying with the order "as we fulfill our mandate to protect California's agriculture, environment and habitat from invasive pests and diseases."
Related: Beekeepers say state's sprays killed their bees
The rulings come as state agencies have faced criticism from both environmentalists and farmers over their spray programs on public and some private lands. Late last summer, two Stanislaus County, Calif., beekeepers reported significant bee losses after they discovered state officials directly spraying their bees with herbicides used to treat invasive aquatic weeds on the Tuolumne River southeast of Modesto.
When questioning crews spraying hyacinth and Egeria densa from air boats, Steve House, one of the beekeepers who lost tens of thousands of dollars' worth of bees, was told the crews were using Roundup on the aquatic weeds, which were covered with bees using them as platforms to drink water from the river.
House told Farm Press in January that he contacted the Stanislaus County Agricultural Department, who referred him to the California Parks and Recreation's Aquatic Invasive Species Programs. In a letter to that agency from House's wife, Merinna May-Wesely, she spelled out the loss of 243 strong hives that months later would be used for almond pollination efforts. A neighboring beekeeper reportedly lost 66 hives from the spray activities.
State exempt from own rules?
House complained that state law exempts its own agencies, ncluding vector control companies treating for mosquitos, from notifying beekeepers while those same beekeepers are encouraged through legal penalties to register their hives in local counties through the Beewhere Program.
"I'm just amazed that growers have to report to us and give us the option to move our bees, yet the state, county and cities don't have to do that," House said.
State Parks spokeswoman Adeline Yee told Farm Press in January that the agency follows established rules.
"The California State Parks Division of Boating and Waterways follows all county, herbicide label, and Pest Control Recommendation requirements during the applications of herbicides," she said in an email. "Additionally, stakeholders are notified, including the County Agricultural Commissioner's offices as part of our communication plan for the Aquatic Invasive Plant Control Program prior to all applications of herbicides."
The rulings against CDFA resulted from consolidated suits brought by the North Coast Rivers Alliance and Environmental Working Group.
Subscribe to receive top agriculture news
Be informed daily with these free e-newsletters
You May Also Like
---