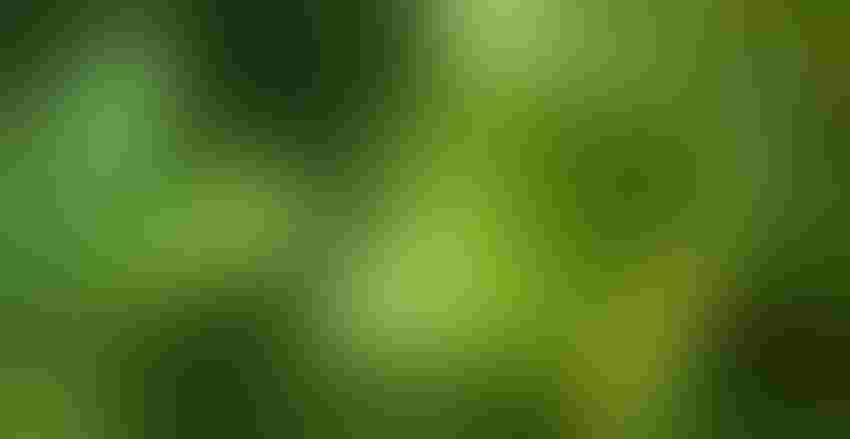 Fungicide resistance is widespread for the pathogen causing frogeye leaf spot in soybeans. Resistance is also growing among other fungal pathogens causing foliar disease in soybeans.
Heather Kelly
Fungicide resistance does not get the publicity that comes with herbicide resistance. That worries Carl Bradley, plant pathologist with the University of Kentucky.  
"Fungicide resistance is something that you're not going to notice immediately. Weeds are sometimes easier to notice. You can drive by and see them. It takes a closer look to see some of these diseases," Bradley said during a recent United Soybean Board Take Action live-stream discussion. "However, over the past decade we've started to see the herbicide-resistance story repeat with soybean foliar fungicides." 
Bradley was one of the first Extension pathologists to document populations of frogeye leaf spot resistant to QoI, or strobilurin fungicides back in 2010. Resistant FLS has now been documented in more than 20 states.  
Additionally, more foliar fungal pathogens now have resistance to QoI fungicides. Strobilurin-resistant target spot and Septoria brown spot pathogens have been discovered in a handful of states. Resistant populations of cercospora leaf blight and rhizoctonia aerial blight have been documented in Louisiana, according to Bradley. 
Like the herbicide-resistance saga, Bradley said troubles began years ago when growers started heavily relying on strobilurin fungicides with only one active ingredient. Today there are more foliar fungicide options and most contain multiple active ingredients from different chemistry classes. But if one of those active ingredients is a strobilurin, and it is being applied on a strobilurin-resistant pathogen, applicators are back to a solo ingredient. 
"Part of the reason producers may not be seeing fungicide resistance issues is the other active ingredient in the fungicide they are applying might be doing all the heavy lifting. The fearful part of that is that if you have a fungicide with a triazole and strobilurin, for example, and you apply it to your soybeans to manage FLS, and let's say you get pretty good management, that's only because of that triazole," he said. 
"So, it may only be a few years of repeating that application that we start to see resistance to the triazole. That's where we are. Strobilurins are not working, and that puts a lot more pressure on the very few active ingredients we have for foliar fungicide products," Bradley added. 
How to protect fungicides? 
"Unfortunately, we only have four to five different chemistry classes that are available as foliar fungicide active ingredients for soybean, and really only about three of those are heavily marketed and used — QoI, DMI, SDHI," Bradley said. 
"The main goal is to preserve what we have." 
Management practices such as selecting resistant varieties and rotating crops will help slow pathogens from building resistance to fungicides. Bradley also advised an increased emphasis on scouting — using more fungicides on an as needed basis, rather than a blanket application. 
"Every time you apply a fungicide you are putting some selection pressure on that pathogen population. Think about scouting, understand the disease risk for the environment in which you live, watch weather patterns, and then align those practices with resistant varieties and rotation to help slow down resistance," he said. 
Know your risk 
With much of the Midsouth dealing with dry weather and even drought conditions, foliar fungicide applications may not be high on the priority list. Most university research does not show a beneficial yield response when applying fungicide in areas of water-stressed plants. 
However, fungicide recommendations can never be made "across the board" and those weather patterns can change quickly. 
Local Extension specialists and agronomists are a great resource. For those looking for online tools to help in decision making, Bradley recommended the resources available on the Crop Protection Network website, as well as a soybean disease risk score sheet, that takes into account crop rotation, tillage, variety susceptibility, overhead irrigation, weather conditions and planting date. The score sheet can be found on the Take Action website. 
Subscribe to receive top agriculture news
Be informed daily with these free e-newsletters
You May Also Like
---