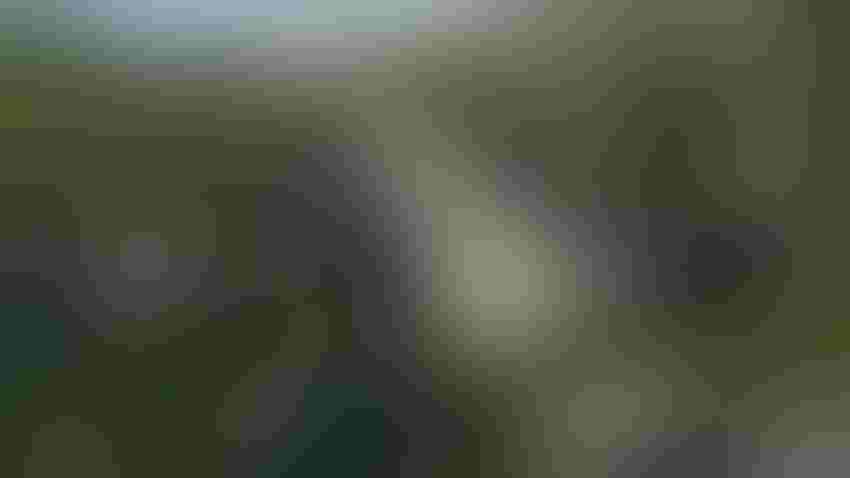 Submitted by Beck's Hybrids
Sponsored by Beck's Hybrids
Foliar feeding has been the topic of much debate over the last several years. Does it work, or is it a waste of time and money? Traditionally, all nutritional needs have been supplied as soil-applied nutrients for crop production as either organic material (manures) or synthetic fertilizers. The reason is that soil-applied nutrients are the most efficient way of providing proper levels of nutrients to the plant. Roots are adapted to take in nutrients and water and then transport them through their vascular system to the growing tissue.
On the other side of this is the plant tissue. By its composition and structure, it is designed to keep materials out of the plant. This makes it a less effective way of supplying enough nutrients to the plant to support proper nutrition. However, foliar feeds do have a place in today's crop production system and have some advantages over soil applied. One of these advantages is the quick uptake through the tissues. During periods of stress or higher nutrient needs, this will allow you to fix a deficiency more quickly as compared to soil-applied, which must go through more complex chemical and biological processes before it even goes into the soil solution.
Many factors within the soil affect nutrient availability. It is not just a question of the presence or absence of a nutrient within the soil but whether it is in a form that can be assimilated by plants. Interruption in nutrient assimilation can be caused by numerous properties of the soil, including pH-related issues and antagonism from other nutrients.
So, what do we need to look at when choosing a foliar nutrient plan?
What Nutrients are Needed
One of the most important things to remember is the best time of day to apply foliar nutrition. Dew and respired water are more abundant on the leaf in the morning. The added moisture will serve as additional carrier volume to get more in the plant. Cooler temperatures will allow plants to retain water longer and slow evaporation rates. In the morning and evening, the stomata (small pores on the underside of the leaf) are open, allowing for increased uptake!

Photo submitted by Beck's Hybrids
The second thing to remember is the carrier rate. As previously mentioned, getting good coverage of these foliar feeds is essential in getting good absorption into the plant. Typically, we apply most chemicals, insecticides, fungicides, etc., at a 15 GPA volume. However, the more you can apply when it comes to foliar nutrition, the better.
We also must consider the growth stage in which the plant uses a particular nutrient. When is the best stage to apply secondary or micronutrients to a particular crop? Remember, not all nutrients are required at vegetative growth stages as much as they are needed at the reproductive. Through their Practical Farm Research (PFR)® studies, Beck's has found some insightful things as far as growth stage and timing of nutrients.
For example, in the chart below, it's evident that boron and molybdenum tend to have a more consistent ROI when applied at the reproductive stages R1- R3 (yellow). However, in the second set of data, you will find that manganese and sulfur turned out to be more profitable when applying them at the vegetative (V4) growth stage timing in soybeans (green). In saying this, we must always look at when, where, and at what time we should apply certain nutrients.

Photo submitted by Beck's Hybrids
In conclusion, it's evident that foliar nutrition does fit in modern intensive management cropping systems. However, nothing takes the place of a properly managed soil and tissue testing program. There are many things that we have to put into place in order for these programs to be profitable. If followed and executed properly, they can help take your production to a higher level.
Beck's - Farmers At Heart® - revolutionized the customer seed buying experience by remaining true to a foundation built on faith, family, and farming. Founded in 1937, Beck's appreciates the farmers who have helped them become the largest family-owned retail seed company and the third-largest seed brand in the United States. The Beck family is now in its fifth generation of family members who work in the business to honor God and help farmers succeed. The Beck family and team of employees help farmers achieve success from generation to generation through authentic customer experiences, product diversity, seed quality, and performance. With a home office located in Atlanta, Ind., Beck's serves farmers throughout the Midwest and Mid-South. For more information about Beck's Superior Hybrids, Inc., visit www.beckshybrids.com.
Subscribe to receive top agriculture news
Be informed daily with these free e-newsletters
You May Also Like
---