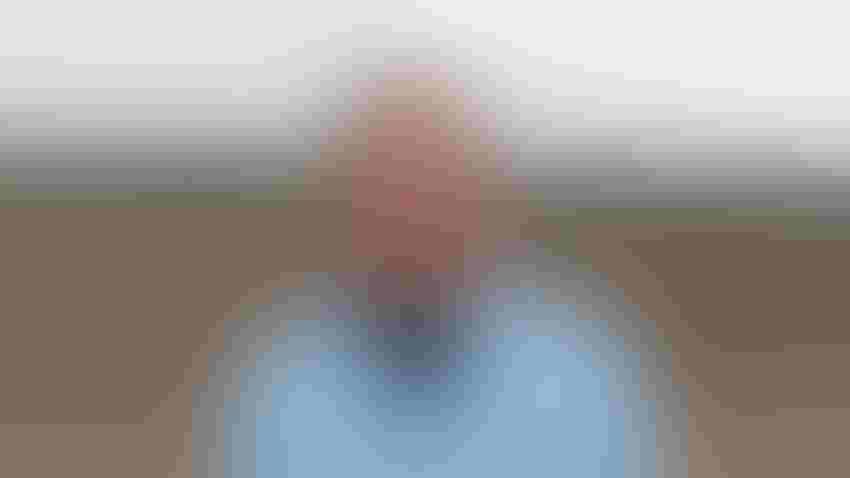 American poet Robert Frost said, "Nature's first green is gold." That saying is true for soybean growers — that first pop of green in a field can make farmers feel like they have struck gold. It also is true for insects — lush plants make for a gold mine for the pests to feed on.
Several stages of soybeans are present in Arkansas fields, so insects are able to prey upon the lush green plants throughout the growing season. That insect feeding keeps Paul Wilson, a crop consultant in Wynne, Arkansas, busy scouting fields throughout the growing season.
"Insect pressure varies from year to year," Wilson says. "We have some years when we have a lot of looper complexes come in. It can be isolated but very intense." The intensity can impact up to 40,000 acres in his consulting area.
Wilson explains the insects may follow the Mississippi River, entering his area in east-central Arkansas from the south. The insects tend to not be particular about the stage of the beans when they appear, sometimes as early as emergence.
Intrepid Edge® insecticide is an effective tool Wilson uses for control of soybean loopers and other lepidoptera species. With the knockdown power of spinetoram and the residual control of methoxyfenozide, Intrepid Edge insecticide is an excellent rotational option for resistance management.
"Intrepid Edge is a great looper product," Wilson says. "We like to use it so we can stay away from diamide products, giving us a good alternative to not put too much pressure on that chemistry. We have to preserve our chemistries as long as possible, and Intrepid Edge fits that mold very well."
With every crop in the area getting sprayed for pests at some point, Wilson explains, the likelihood of resistance coming on is very high. The importance of adding Intrepid Edge insecticide into the rotation is key, as it contains two active ingredients and is the only Insecticide Resistance Action Committee Group 5 insecticide.
In addition to serving as a good rotational partner, Intrepid Edge insecticide offers control of the lepidoptera complex, including bollworms, saltmarsh caterpillars and armyworms — insects Wilson often sees while scouting.
In areas where soybeans follow wheat, Wilson says, farmers' fields are likely to get worms of some kind.
"We start cutting wheat around Memorial Day and then drill soybeans into the straw, or sometimes we burn the straw off and work the ground to plant soybeans," Wilson explains. "Because the soybeans are the most luscious greenish thing around, you can almost guarantee those wheat beans are going to have some kind of worms in them."
Wilson says worms, especially armyworms, will move out of grassy areas and start feeding on the soybean plants around the edges of fields. He recommends catching that early and spraying the field edges, resulting in a more economical application.
To determine the spray threshold for treating worms, Wilson uses the University of Arkansas sliding scale based on the value of beans per bushel. The scale helps consultants and growers determine the best threshold of defoliation before spraying.
Another reason Wilson notes for using Intrepid Edge insecticide is the minimal impact it has on beneficial insects, so they can do their work in the field.
"With Intrepid Edge, the soybean pests very quickly stop feeding," Wilson says. "The insects will still move around a little bit, but the more they move around, the more they come in contact with the product."
Protecting the green and gold of soybean fields is important to Wilson. That means controlling pests such as loopers and worms, and Intrepid Edge insecticide is one way he's found success in doing that.
For information on how to best control soybean pests in your area, visit IntrepidEdge.corteva.us.
™®Trademarks ofCorteva Agriscience and its affiliated companies.Intrepid Edge® is not registered for sale or use in all states. Contact your state pesticide regulatory agency to determine if a product is registered for sale or use in your state. Always read and follow label directions. © 2023 Corteva.
Subscribe to receive top agriculture news
Be informed daily with these free e-newsletters
You May Also Like
---