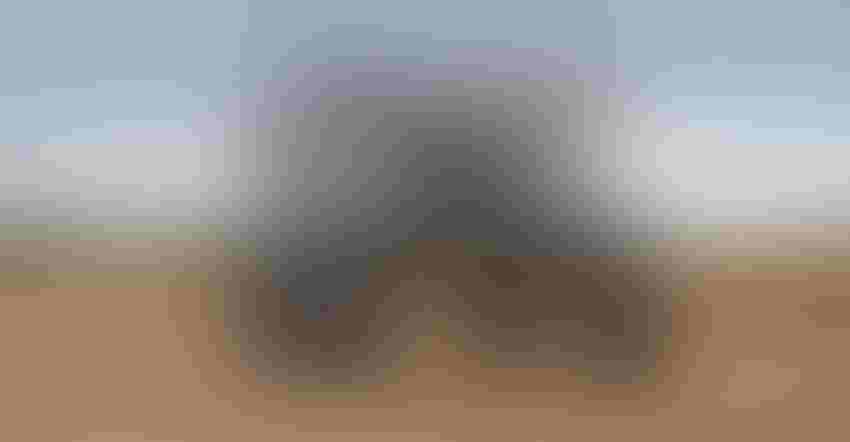 LOOK MOM — NO POWER UNIT! This autonomous spreader applied fertilizer on 40 acres at the Boone, Iowa, Farm Progress Show site in 2020 without a tractor or driver.
Tom J Bechman
Just how did we get from drop-fertilizer spreaders to the Dot autonomous fertilizer applicator? Equipped with a New Leader bed and guided by Raven Technology, the autonomous Dot spreader applied fertilizer on 40 acres at the Boone, Iowa, Farm Progress Show site in 2020, even though an in-person show wasn't held.
It was featured at the virtual FPVX show and is scheduled to demonstrate live at the 2021 show. Once everything is programmed, the operator walks away and Dot applies fertilizer based on a prescription map loaded into computer controls.
The beginning
Many companies have made fertilizer applicators, but here's a look at products New Idea offered farmers once commercial fertilizer came on the scene and application equipment was needed. The New Idea name is now owned by Agco, but parked. No new equipment carries the New Idea name.
New Idea, which began as manure spreader company, was purchased by Avco Manufacturing Corp. in 1945. In 1953, Avco/New Idea purchased the Ezee-Flow Corp. It was the world's largest producer of fertilizer spreaders at the time, and was based in Collegeville, Penn. Early spreaders were typically 8-feet to 10-feet wide and dropped fertilizer or lime in bands usually spaced 6 inches apart under the spreader.
Avco/New Idea started branding these spreaders as New Idea models, but also kept the Ezee-Flow line. After a few years, the company moved manufacturing of both lines of fertilizer spreaders to Fort Dodge, Iowa. Avco/New Idea purchased the Horn Co., most famous for manure loaders, at Fort Dodge in 1951. By the time they moved the spreader lines to Fort Dodge, the plant was modernized and expanded.
EARLY FERTILIZING: New Idea offered fertilizer spreaders that could drop either fertilizer or lime through slots directly onto the ground. This unit was featured in a 1960s brochure.
By the early 1960s, New Idea was offering 8-, 10- and 12-foot models in their lineup. Even with the 12-foot model, that meant lots of trips across the field. Capacity was also limited. The 12-foot model held 1,330 pounds.
Spinner spreaders
By winter 1963, New Idea was offering a single-spinner spreader with a typical spread pattern of 40 feet and a capacity of 3,000 pounds, or 4,000 pounds with sideboards. It featured a patented agitator and delivered fertilizer to the spinner with a horizontal auger.
Literature accompanying the spreader claimed that with some materials you could spread accurately up to 56 feet. The brochure included graphs of spread patterns for the New Idea model vs. two competitors. Naturally, the New Idea spread pattern was more uniform.
SPINNER SPREADERS: Farmers wanted to spread fertilizer faster than with a drop spreader. New Idea sold this model in the early 1960s.
Since the 1960s, other companies have taken fertilizer application to a whole new level. Some offer double spinners and even section control by computer, bringing even spinner spreaders into the precision technology realm. Look for them at the Farm Progress Show.
There are also self-propelled spreaders with air-booms for application. Many of them utilize precision technology, too.
Here's a video with more detail on the DOT and how it works:
Subscribe to receive top agriculture news
Be informed daily with these free e-newsletters
You May Also Like
---