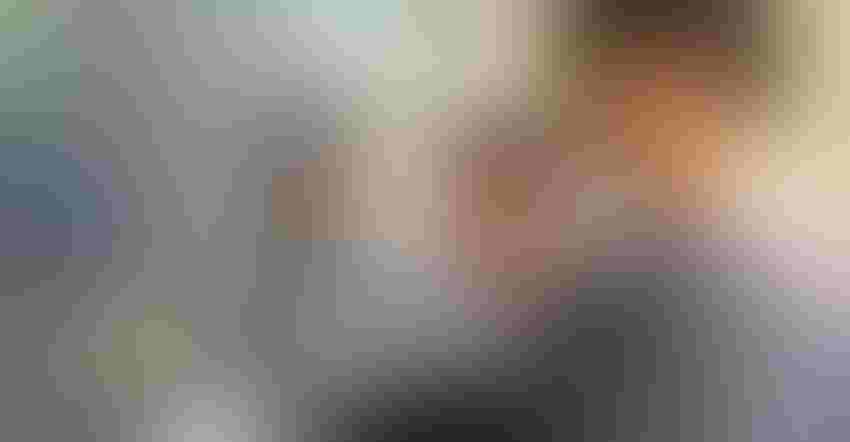 DISCOVERED THE N LEAK: Caranto (front) and Lancaster believe that knowing fertilizer's nitric oxide component could help reduce its cost-benefit ratio for farmers and other ag producers.
Cornell University
Call it a missing "leak" — a newfound "hole" in the nitrogen cycle that allows the potent greenhouse gas, nitrous oxide, to escape soil into the atmosphere. The discovery by Cornell University chemists may lead to plugging that hole with modified nitrification inhibitors.
"We now know where the holes are," says Jonathan Caranto, postdoctoral research chemist. "Nitrous oxide is made from nitric oxide — that's the immediate precursor."
"The holes in the N pipeline can be sealed. If you don't fully understand the biochemical pathway, you can't know where the pollutants come from," adds co-author Kyle Lancaster, assistant professor of chemistry.
The two identified a critical step in the nitrification process that's partly responsible for agricultural emissions of harmful nitrous oxide and its chemical cousins into the atmosphere, contributing to global climate change. A specific soil bacteria, Nitrosomonas europea, was found to be a major player in converting ammonia to nitrate, explains Bob Kratochvil, University of Maryland agronomist.
Nitrous oxide is one of the first chemicals formed during that conversion. Released into the atmosphere, it interferes with ozone.
"Current N stabilizers help reduce this risk," adds Kratochvil. "But these scientists allude that developing a new nitrogen stabilizer to interfere with this specific bacteria's ammonia conversion could perhaps reduce nitrogen fertilizer needed for crop production." 
The amount of ozone breakdown occurring from nitrous oxide leakage is getting much more attention from environmentalists and European scientists than from U.S. scientists at this time, says Kratochvil. If a mechanism is identified to control it, agriculture and the environment would benefit. That's the next step.
N's role in greenhouse emissions
In 2015, nitrous oxide comprised about 5% of atmospheric greenhouse gas emissions, compared with carbon dioxide at 82%, according to U.S. EPA. Nitrous oxide, however, is an ozone-depleting gas with a global warming potential that's more than 300 times greater than carbon dioxide, notes Caranto. Nitric oxide also contributes to ground-level ozone and produces acid rain.
Greenhouse gas and nitrite production are commercial N fertilizer byproducts. "If you can slow down the formation of these species, slow down the oxidation of ammonia in fertilizer, this will raise the 'dwell time' of nitrogen in soil," theorizes Kyle. "Agriculture can become more efficient, more economical and more sustainable."
Subscribe to receive top agriculture news
Be informed daily with these free e-newsletters
You May Also Like
---