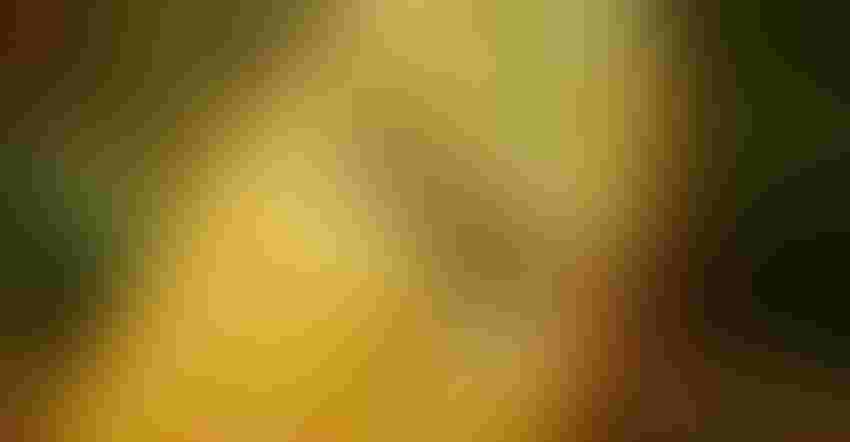 OVERCOMING BT: European corn borer resistance to the Cry1F protein was found in Nova Scotia in 2018. Experts say to rotate Bt proteins to avoid bug resistance and to preserve current crop protection tools.
Jan Samanek, Phytosanitary Administration, Bugwood.org
You've likely finished your seed shopping for the upcoming growing season. But if you're still looking for seed options, or already are looking to 2021, be sure to look at the Bt traits your hybrids are expressing.
Just like with herbicide modes of action, it's also a good idea to rotate crops with different Bt proteins.
"You can think of it as a slightly different mode of action," says Liz Bosak, a field crop entomologist with Penn State Extension.
Bt corn — developed in the 1990s by modifying corn to produce the naturally occurring Bacillus thuringiensis that is found in soils — has been a much more cost-effective way to control corn pests, including European corn borer, which Bosak says cost the ag industry $1 billion a year in yield losses.
Bugs feed on the bacterium that's in the plant and then die, effectively controlling them without using an insecticide. But European corn borer and other bugs have found a way to overcome the Bt protein.
European corn borer resistance
In 2018, scientists in Nova Scotia found Herculex single-traited corn that European corn borer was able to overcome. Art Schaafsma, field crop pest management professor with University of Guelph, says European corn borer feeding was found in four fields in the province.
Later research, he says, found that corn borers overcame the Cry1F trait in the fields.
Nicholas Storer, global regulatory advocacy lead for Corteva, says the corn was shredded and the farmers were encouraged to plant pyramided varieties in 2019. No issues with European corn borer resistance were reported in 2019, he says.
Bosak says that Western corn rootworm resistance to the Cry3BB1 trait in Yieldgard has been found in a field in Mifflin County, Pa., where three years of continuous corn were planted.
Western corn rootworm is unique, she says, since the larvae mainly feed on roots and breeders have been unable to get roots to produce as much toxin as the leaves. As a result, the bugs get a lower dose of toxin.
But the same lesson applies here: Planting a hybrid with the same Cry proteins can potentially expose a farmer to resistance.
One thing to keep in mind is that if you buy seed from a single company you need to make sure the hybrids you plant each year don't have the same Cry toxins, even if they are marketed as different hybrids.
"You're essentially spraying one mode of action every single year for the same insects. And so that's not a rotational strategy," she says.
Texas A&M's AgriLife Extension service provides a handy Bt trait table with common varieties and the Bt traits they express. Keep in mind, though, that seed companies label the traits of their hybrids differently.
The chart also includes hybrids where pest resistance has been reported. Bosak says that this doesn't mean that there is widespread resistance to the trait, only that resistance has been reported in some locations.
Some hybrids have up to four different Cry toxins, but not all of these toxins are equally effective against every pest.
Long wait for new proteins
Storer says that Corteva has switched over seed production and seed supply to exclusively pyramided varieties in the U.S.
He says that no resistance to European corn borer has been reported in the U.S. The Nova Scotia farmers, he says, were told to plant pyramided Bt corn, including traits with Cry1F and Cry1AB.
He says the situation in Nova Scotia is unique because of its relative remoteness and the fact that single-traited corn was still being sold there. He also says that farms there are surrounded by woods, disrupting areas where corn borers could move, and that nearby potato fields are places where corn borers like to congregate.
He says the company is investing in the discovery of new proteins, but new products with these proteins are still seven to 10 years down the line, so the focus right now is preserving what's already on the market.
For hybrids with a single mode of action, a 20% refuge is required. For pyramided varieties, most have refuge in a bag of 5%.
"Obviously, we're continuing to invest in discovery of new proteins that will provide us additional years of control of European corn borer," he says.
Storer says growers should remain diligent and report any possible damage. Insecticides can be effective, he says, but that depends on the time of year and damage already done.
"If it's too late, take the crop through to harvest, disk the fields and shred the crop," he says.
Schaafsma says that pyramided varieties are the way to go, so long as they are completely different Bt proteins.
"Dual and triple traits is the way to go, but it's the traits that are stacked. That's the point that I make, and most of my public sector colleagues would agree with me," he says.
New products available
John Fietsam, North American corn systems lead for Bayer, says the company's products strongly lean toward multiple modes of action to ensure long-term durability. He says there has been no reported resistance to any Bt proteins relative to European corn borer or Southwestern corn borer, but there has been research and studies that have suggested resistance to the Cry3BB1 protein, a component of the company's SmartStax corn.
"But broadly, we continue to bring very strong performance of our SmartStax," and they haven't seen product-level resistance, he says.
Fietsam says that best management practices for farmers are rotating to a nonhost crop, using pyramided products and putting in a refuge.
By and large this is taken care of in refuge in a bag, but in more coastal places, he says, a structured refuge is still required.
Single-moded products the company makes require a 50% refuge, Fietsam says.
"It's really important for the growers to watch what technology they're planting, and specifically, in the county what requirements there are," he says. 
The company recently released Trecepta, which added a third mode of action for corn rootworm larvae control. Still to come is the planned SmartStax PRO, which adds RNA interference, or RNAi, targeting Western corn rootworm. Brian Leake, spokesman for Bayer, says the company expects to release SmartStax PRO "early this decade."
Subscribe to receive top agriculture news
Be informed daily with these free e-newsletters
You May Also Like
---