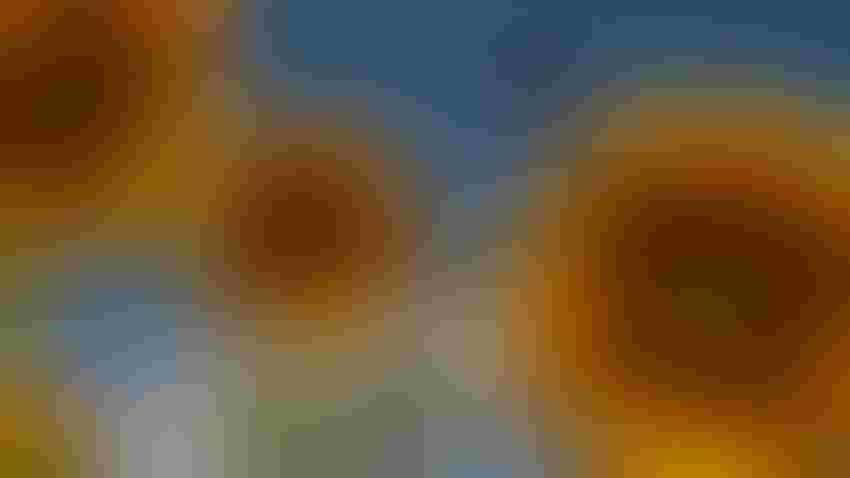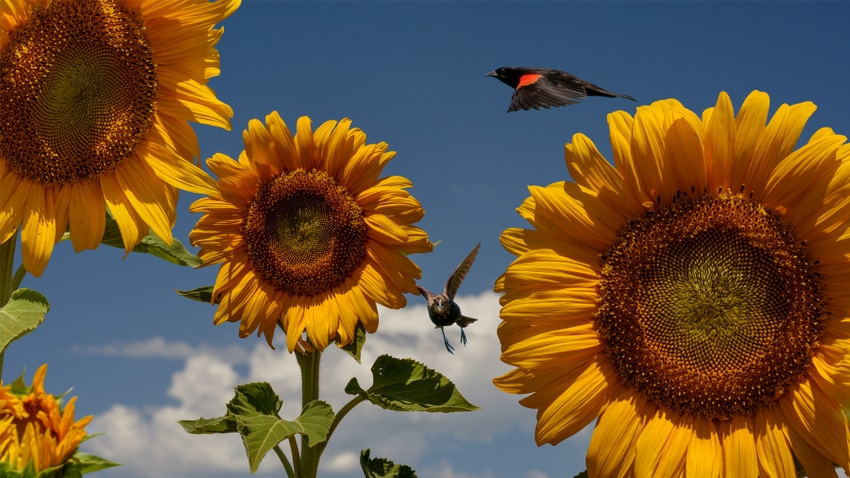 BIRD HARASSMENT: The National Sunflower Association says that an integrated approach using propane cannons, pyrotechnics and shotguns is most effective to protect sunflower crops from blackbird damage.
Supercaliphotolistic/Getty Images
Damage done by blackbirds in sunflower fields can lead to extensive yield losses. Up to 50% of blackbird damage occurs in the first two weeks after petal drop, according to the National Sunflower Association.
Blackbirds are the single-largest bird population in North America and cause an estimated damage of $200 million annually to crops and livestock, NSA says. The most common assailant? Red-winged blackbirds.
One way to limit blackbird damage is to avoid planting sunflowers close to cattail sloughs, which often serve as blackbird roosts. If you do plant close to cattails, consider a glyphosate application or mowing sites close to your fields. NSA says cattail elimination is the single-best weapon in reducing damage.
Early planting dates can ensure that harvest is over before blackbird migration occurs, saving fields from the brunt of damage. Desiccation can accelerate maturity and shorten the time that fields are vulnerable to birds.
NSA says glyphosate, labeled as a late-season weed control for sunflowers, works as a desiccant. Other products labeled for this use include Sharpen, Valor SX Herbicide, Paraquat and Drexel Defol.
Harass the birds
Discouraging birds to move from your field can be done in several different ways. Propane cannons, pyrotechnics or shotguns are the most common techniques. An integrated approach using all three provides the best protection.
Propane cannons are costly and can be a fire hazard to dry fields. Keep cannons off the ground to reduce the hazard and keep mouse populations from moving in and causing damage. Sound resonates better if the cannon is raised, such as on top of chemical totes, metal or plastic drums, or a T-post.
These cannons should be inspected often to ensure proper function. Adding a timer to your cannons can help prevent the birds recognizing a pattern and will save on propane costs. They should be moved around the field periodically and used in conjunction with occasional shooting to be most effective.
Bring along a shotgun while maintaining or moving cannons, shooting at birds when possible. Birds do not like to be harassed in the evening as they settle into roosts or fields, and shooting into roosts might prompt the birds to leave after a few nights. Always practice safe gun handling when using this harassment method.
New research shows that unmanned aerial systems have potential to serve as a nonlethal blackbird control. NSA has funded research to assess the effectiveness of harassment, as these systems have been used by airports and vineyards successfully.
No matter your method of defense, be sure to take a stand against blackbirds and save your sunflowers.
The National Sunflower Association and USDA contributed to this article.
Subscribe to receive top agriculture news
Be informed daily with these free e-newsletters
You May Also Like
---