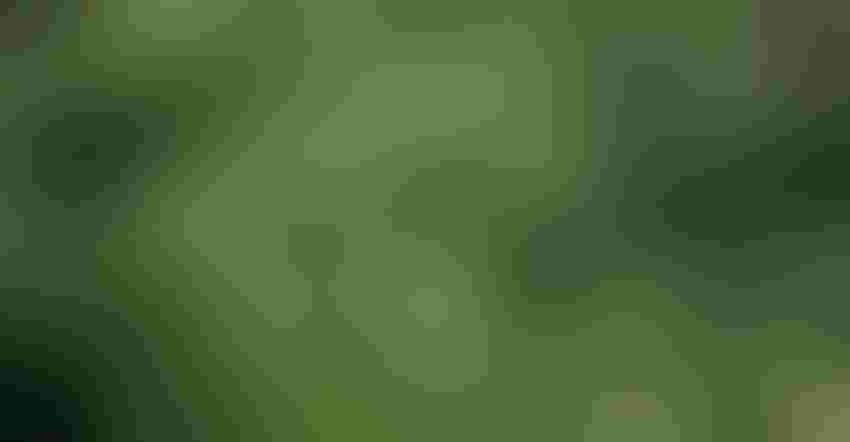 HERBICIDE SOURCE: Harpe Bioherbicide Solutions has identified a compound from mint plants that acts as an effective nonselective herbicide. even with resistant weeds. It's just one source for potential new products in the future.
Willie Vogt
Talk to any weed scientist, and they'll tell you the industry needs more modes of action. A North Carolina startup — Harpe Bioherbicide Solutions Inc. — is working on that challenge and has a platform of products in development that shows promise even against resistant weeds.
"We wanted to do this from the beginning," says Chad Brommer, co-founder and chief technology officer, Harpe. "We wanted to find some products, some pathways that we could develop into herbicides, but would come from natural sources."
Biologicals have been discovered and used for insect and disease control, but the big potential benefit is stopping weeds. And that's what Brommer and his team discovered, a series of plant-based chemical compounds effective against weeds. Harpe bioherbicide is a nonselective herbicide showing quick action when applied on a wide spectrum of broadleaf and grass weeds, and it exhibits equal efficacy when used during preemergent applications.
In fact, it was that quick action that pulled veteran business leader Bill Buckner in as CEO for the company. "I got a call about this new technology and invited them to my farm in North Carolina to demonstrate the product," Buckner says.
That demonstration convinced him that Harpe was onto something, and he was interested in being a part of it. A look at the leadership for the company includes familiar names from the crop protection industry, including Buckner and Daniel Pepitone, a co-founder and chief operating officer. The board of directors has familiar names as well.
Those industry veterans bring something many startups lack — understanding of how the crop protection business works. Buckner was with Bayer, but also the Noble Foundation before "retiring." His insight into the industry has helped with connections. He explains that major crop protection companies are following along with development of the Harpe products. "We have developed this company and product line to be divested when it's ready for market," Buckner says. That means Harpe won't come from the startup — but from a familiar major name in the industry yet to be determined.
Plants and chemicals
Stepping back, it's important to note that nature is quite complex. Plants and animals have developed their own defenses against pests and diseases. And for plants, that even includes weeds. There are other examples of natural products that became popular in their original form, or later in a synthetic version.
Pyrethroid insecticides were developed from natural compounds found in chrysanthemums. Mesotrione was derived from a warm-climate plant that exuded a compound that controlled weeds.
For Harpe's founders, the key was to identify tech that could be patented and was highly effective. "We have developed a series of products we feel are very close to being deployable in terms of putting it out on the market," Brommer says.
There are two versions of Harpe technology. The first is on its own as an organic product to serve an industry that could benefit from improved weed control. The other is a version premixed with postpatent products in a way that gives the legacy product improved efficacy, including a boost against resistant weeds.
The organic product is already being tested and showing promise in weed control, either as a preemerge product or as a post. The premix version is being tested with such active ingredients as glyphosate, glufosinate and pedimethalin.
Brommer notes that plants are fighting each other all the time. "We just listened in on them a little bit, and we were able to put some of these pieces together," he says.
Source of a herbicide
A series of unique genus and species plant extracts were identified by Brommer. Each has a set of natural compounds that serve as the active ingredients in Harpe formulations, one of which is the Mentha plant species — mint, to be exact. There are a wide range of varieties of this plant around the world, and Brommer sees more opportunity there.
Interesting fact about a plant extract acting as a herbicide is that the product is not a single molecule doing the work. Brommer explains that it is a complex of molecules that take down these weeds, which helps mitigate the development of resistance.
The key is having enough mint to mass-produce the product. Buckner notes the company will be looking at global suppliers. "A lot of mint is grown in India," he says. "And we see an opportunity there to expand the market. We also have the option of sourcing synbio versions of the necessary molecules."
Whether organic or synthetic, having a new mode of action to take on major resistant weeds will be welcome news for farmers. Buckner explains that the product is in development and should come to market in 2024 or soon after.
You can learn more at harpebio.com.
Subscribe to receive top agriculture news
Be informed daily with these free e-newsletters
You May Also Like
---