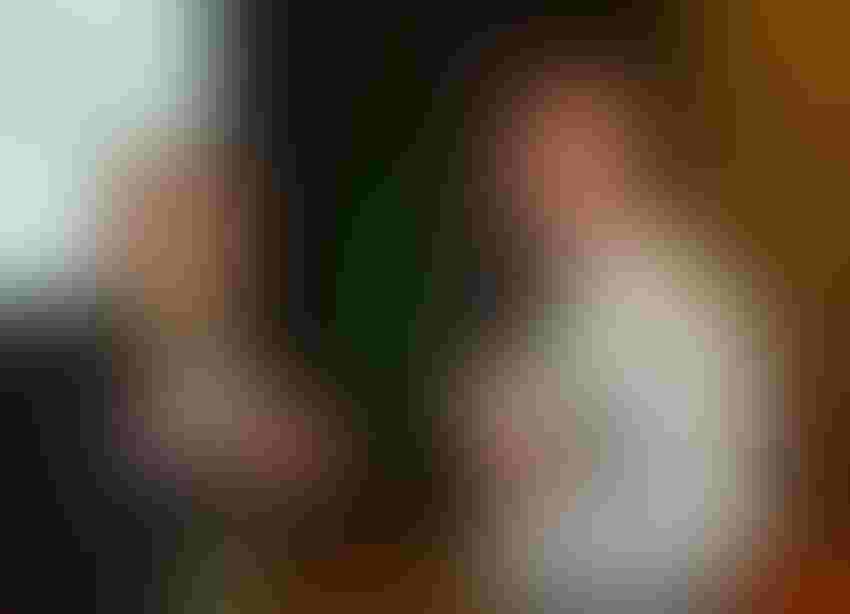 Lori Berger, left, academic coordinator with the University of California Statewide Integrated Pest Management Program at U.C. Davis, discusses integrated pest management with Walid Al-Akhdar, regulatory and governmental affairs manager for biologicals with BASF, during a symposium on biologicals sponsored by the Biological Products Industry Association in Orlando.
Biological pesticides can play a key role in a successful integrated pest management program and can be useful in increasing sustainability on the farm.
Speaking at a symposium on the role biological crop protection products can play in sustainable agriculture in Orlando Oct. 11, David Epstein, senior entomologist with USDA's Office of Pest Management Policy, said integrated pest management, or IPM, is all about ecosystems and a systems-based approach to controlling pests.
"IPM includes everything. You can use biopesticides in an IPM program," Epstein said. "IPM is not limited to one approach. It takes everything into consideration. IPM is applicable across all farming systems. It is a philosophy of pest control formed on the principles of ecology."
IPM acknowledges that farmers use pesticides. "Organic farmers use pesticides. They are not synthetics. They are naturally sourced," Epstein emphasized.
IPM is an informed and wise use of pesticides. "This is probably the best kept secret in the country. Farms are not natural ecosystems and pests are going to have to be managed. And we need pesticides to do it. Whether they are biopesticides, synthetic pesticides or natural pesticides, we have to control pests," Epstein said.
Michael Braverman, senior scientist at Rutgers University and manager of the IR-4 Project for Biopesticides, said biologicals can clearly play a role in both organic and conventional crop production programs, but better information and literature is needed for instituting thresholds.
"Pesticides, whether conventional or biopesticides, are certainly part of the IPM and sustainability processes," Braverman said. "Part of being able to have the ability to select a less environmentally impacting product such as a biopesticide involves knowing what products are available."
Through the IR-4 Project, Rutgers and USDA are maintaining a label database for biopesticides. The project helps make more information on biopesticides readily available to the growers who want to use them.
"If you don't know what product to look for, you're not going to find it. But a grower does know what crops they have and they hopefully know what pests they have. Through this database, they can put in their crops and pests and they will get feedback on what the tools are based on those particular parameters," Braverman said.
In the meantime, Lori Berger, academic coordinator with the University of California Statewide Integrated Pest Management Program at U.C. Davis, said IPM is basically stuck due to such challenges as invasive pests, drift incidents and maximum residue limit issues.
 "We've also seen few people going into the sciences or into Extension and agriculture. We don't have the people that are available, so IPM is really bogged down," she said.
The California Department of Pesticide Regulation and the University of California statewide IPM program are working together to enhance IPM programs across California. Through policy, innovation and communication, the two will make recommendations to further IPM efforts across the state. Berger said it is all about establishing an ongoing dialogue about IPM.
"We are trying to take a more systems-thinking approach," Berger said. "In order to optimize the whole we must understand the relationship of the parts. That makes it a lot more complicated but it also makes it a lot more interesting."
About the Author(s)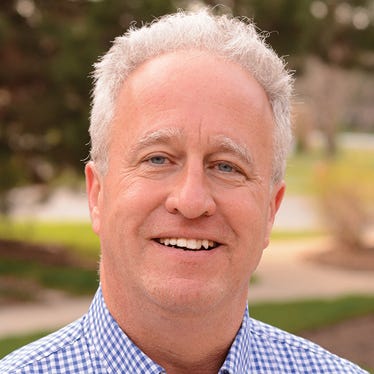 Associate Editor, Southeast Farm Press
John Hart is associate editor of Southeast Farm Press, responsible for coverage in the Carolinas and Virginia. He is based in Raleigh, N.C.
Prior to joining Southeast Farm Press, John was director of news services for the American Farm Bureau Federation in Washington, D.C. He also has experience as an energy journalist. For nine years, John was the owner, editor and publisher of The Rice World, a monthly publication serving the U.S. rice industry.  John also worked in public relations for the USA Rice Council in Houston, Texas and the Cotton Board in Memphis, Tenn. He also has experience as a farm and general assignments reporter for the Monroe, La. News-Star.
John is a native of Lake Charles, La. and is a  graduate of the LSU School of Journalism in Baton Rouge.  At LSU, he served on the staff of The Daily Reveille.
Subscribe to receive top agriculture news
Be informed daily with these free e-newsletters
You May Also Like
---